Coronet
Art Deco former cinema providing an important entertainment venue for London. Currently threatened with demolition as part of the redevelopment of the Elephant and Castle shoping centre.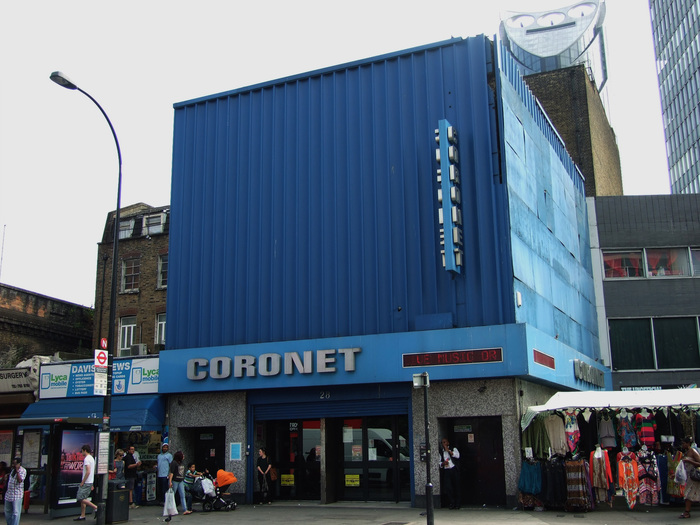 Address

26/28 New Kent Road, London SE1 6TJ

Risk Rating

8 (risk rating: 3. star rating: 2. community rating: 3.)

Local Authority

Local Group

Architect

William Riddell Glen

Date of Construction

1932

Listing

Not listed

Capacity

2,600

Database Link
Significance
The Coronet provides a popular and viable large multi-purpose entertainment venue for London and the local area, and is best known for live music events. The Coronet was constructed in 1932, to designs by renowned cinema architect William Riddell Glen for the ABC Circuit, incorporating fragments of an earlier theatre by Frank Matcham. The auditorium, originally two-tier, remains intact as an early example of Glen's designs for ABC. It is in an Art Deco style with modern, clean lines. Key features are a grille and lay light in the ceiling and the grille work surrounding the large square proscenium. Externally, the original Art Deco façade survives under the blue cladding. The Coronet is the only venue that remains from Elephant and Castle's cultural heyday when it was known as the 'Piccadilly of South London'.
Why is this theatre at risk?
Despite much lobbying and over 3,000 people signing an online petition to save the venue, the Coronet is threatened with demolition as part of the redevelopment of the Elephant and Castle shopping centre site for housing, retail and leisure use. The proposed scheme will also provide a new campus for the London College of Communication, including a new cultural venue on an adjacent site, but this has a considerably smaller capacity than the Coronet, and does not represent an adequate replacement for it. A retained Coronet would be an asset in the regenerated Elephant and Castle and further consideration should be given to integrating it into the current scheme.
Current situation
The current operator's lease has been extended until January 2018, but the threat of demolition remains very real. The proposed redevelopment is currently being considered by Southwark Council.
Image: Coronet, Theatres Trust