Futurist Theatre
A a rare survival of a pre-talkies cinema that seats in excess of 2,000. Situated in a prime seafront location it is at imminent risk of demolition.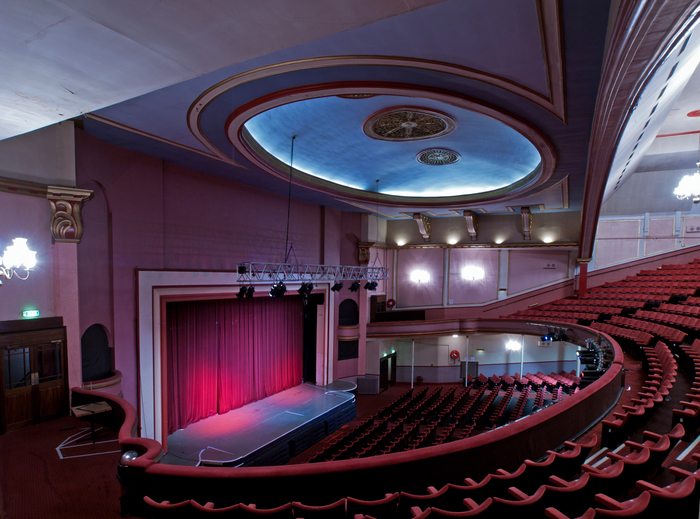 Address

Foreshore Road, Scarborough, North Yorkshire, YO11 1NT

Risk Rating

7 (risk rating: 3. star rating: 1. community rating: 3.)

Local Authority

Local Group

Architect

F A Tugwell

Date of Construction

1921

Listing

Not listed

Capacity

2,155

Database Link
Significance
The Futurist is a large, well equipped theatre in good condition, despite three years' closure. It has a deep, wide stage and full flying facilities. It is in a prime seafront location and has an attractive original Italianate style faience façade, currently obscured by yellow cladding. Unusually for cinema buildings of this period, its huge auditorium remains undivided. There is ever-growing local support for the building with recent public meetings being oversubscribed and social media recordings of the events being watched by thousands
Why is this theatre at risk?
The theatre was closed in January 2014 because Scarborough Borough Council considered it not to be sustainable. In January 2017, the council voted by 22 votes to 21 (with 1 abstention) in favour of demolishing the Futurist.
Current situation
Several attempts have been made to list the Futurist, with no success. A possible future plan for the site is to demolish the theatre to create a leisure attraction which will include a roller coaster, botanical garden and aviary. In the meantime, the council plans to carry out the demolition and subsequent retaining works to the cliff face beyond themselves at an estimated cost of £4 million.
Image: Futurist Theatre, Ian Grundy