Bradford Odeon
One of the largest ciné-variety theatres of its day, boasting a ballroom, restaurant and 3,000+ seat auditorium with many restorable original features.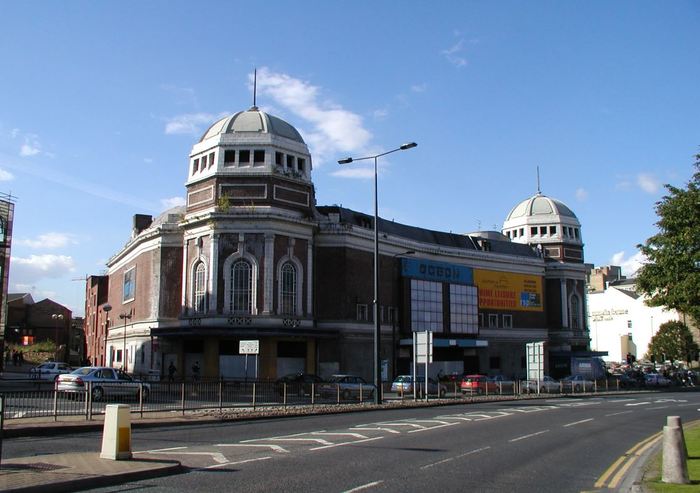 Address

Prince's Way, Bradford, West Yorkshire, BD1 2BS

Risk Rating

5 (risk rating: 2, star rating: 1, community rating: 2)

Local Authority

Local Group

Architect

William Illingworth

Date of Construction

1930

Listing

Not listed

Capacity

3,500

Database Link
Significance
Opened as the New Victoria in 1930, this was the largest ciné-variety theatre outside of London and the third largest in England. It also housed a grand ballroom, restaurant and tea room. Many of the original features are currently concealed behind a late 60's fit-out which saw the building converted to cinema and bingo use, but are restorable. The building contributes materially to the Bradford townscape, makes a good neighbour for the Alhambra Theatre and would help to regenerate this area as a cultural quarter for Bradford.
Why is this theatre at risk?
The Odeon Cinema closed in 2000 and other than urgent repairs has not been properly maintained. It has been the subject of various applications for demolition, all vehemently opposed by Theatres Trust. Despite approval for demolition being granted in 2009, works were not commenced. In 2014, following an Expressions of Interest competition Bradford Live was awarded the right to re-develop the building. Bradford Live has been working with the local authority and other potential investors to reopen the venue since this time. Essential repair works to secure the building fabric and ensure that the building is weathertight were completed last year. However this is a large building and the cost of restoration is significant.
Current situation
In 2016 Bradford Live announced that it had been awarded Leeds City Region Enterprise Partnership (LEP) funding for enabling works to the building which would enable the strip out of the late 60's cinema structure and allow the enormity of the original 1930 auditorium to be fully revealed. Funding was dependent on securing an operator for the building and in September 2017 Bradford Live announced Birmingham's NEC Group as their operating partner. The NEC Group will take on a 30-year lease on the building and invest £2 million towards the restoration costs. Further good news was received in December 2017, when the Council Executive agreed 'in principle' to provide a £12 million loan to Bradford Live towards the anticipated £20 million restoration costs. The LEP Board also announced the Odeon as its preferred project to receive a share of up to £4m from the Government's Northern Cultural Regeneration Fund. This positive funding news provides a much firmer foundation for the building's restoration. Works are due to commence in spring 2018 and it is hoped that the building will be opened in 2020.
Campaign video (from 2016)
https://www.youtube.com/watch?v=xUUwQFW2BJ0
Image: Bradford Odeon, Ian Grundy