Century Theatre
Britain's oldest surviving travelling theatre. Unique and ingenious, it toured England in the 1950s, 60s and 70s.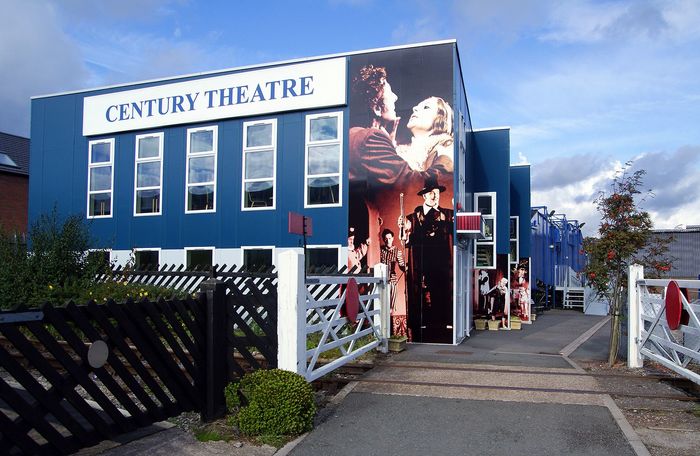 Address

Former Snibston Colliery Site, Ashby Road, Coalville, Leicestershire, LE67 3LN

Risk Rating

6 (Community Value: 3 Star Rating: 2, Risk Factor: 1)

Local Authority

Operator

Architect

John Ridley

Date of Construction

1948-1952

Listing

Not listed

Capacity

200

Database Link
Significance
This unique mobile theatre was conceived after the Second World War and finally took to the road in 1952. The theatre (stage, dressing rooms, auditorium with fixed seating and entrances) comprised four large ex-RAF tractors, each pulling a 30ft trailer with a 10ft trailer hitched on behind. The rest of the convoy consisted of support services comprising six living quarters trailers, a dining car, kitchen, scenery van, booking office, double decker bus, an office and bathroom and a conventional caravan and jeep. The Century Theatre toured for 23 years before becoming a permanent fixture in Keswick, where it gained the nickname the 'Blue Box'. One of the aims of touring was to raise interest in theatre and 17 of the towns visited eventually built permanent theatres of their own. The theatre made its final journey as a mobile structure in December 1996 to become a permanent performance space and museum exhibit at Snibston Discovery Museum.
Why is this theatre at risk?
Snibston Discovery Museum was closed in July 2015 due to local council budget cuts. It was physically demolished in 2016. Although the Century Theatre is currently operating as a receiving theatre, part of the former museum site was being considered for residential development thereby placing the theatre at potential risk of noise restrictions. It was also feared that access and necessary car parking could be under threat.
Theatres Trust's attempt to list the theatre in 2015 was unsuccessful due to current legislation being unable to cover mobile structures, however, Historic England did note the structure as being of 'considerable significance as an ingenious engineering solution to the question of how to take a theatre to places where a permanent place for theatrical productions did not exist, and for its inspirational effect in helping to secure permanent theatre facilities in many of the places it visited.'
Current situation
In 2016 Leicestershire County Council unveiled proposals for a masterplan for the entire Snibston site. The plans consist of new housing and offer improved access to the theatre and listed headstocks that sit adjacent, with new heritage trails and facilities linking to the Country Park. A revised masterplan for the site was released in spring 2018, which further strengthens integration of the theatre in the proposals thereby affording it improved future protection. Theatres Trust has been feeding into the proposals and providing comment through its role as a statutory consultee on planning applications.
Anticipated future reductions in the council's budget have necessitated the council and the theatre's local volunteer group to begin formulating a new operational structure. Theatres Trust has supported these discussions and has been offering business planning advice.
While the masterplan proposals are certainly positive, approval is still pending and until both this and the operational structure has been resolved, it has been considered prudent to retain the Century on the Theatres at Risk Register.
Image: Century Theatre: Brain Vollar