Theatre Royal Hyde
A beautiful and atmospheric Edwardian theatre, which could be restored as a large community venue.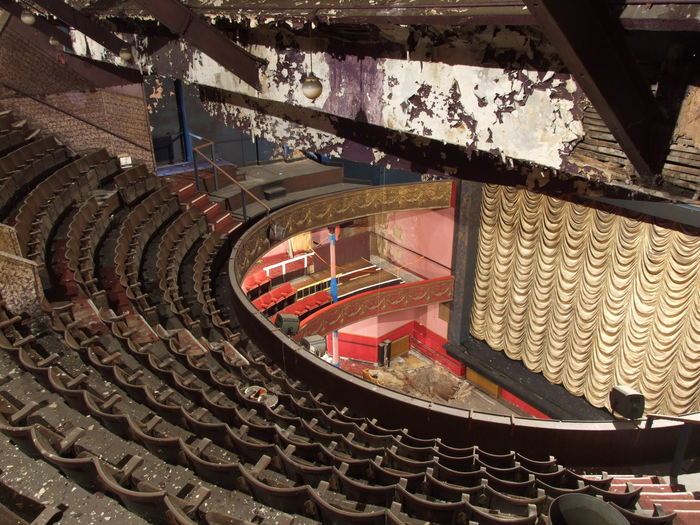 Address

Corporation Street/Henry Street, Hyde, Cheshire, SK14 1AB

Risk Rating

5 (risk rating: 2, star rating: 2, community rating: 1)

Local Authority

Local Group

Architect

Campbell & Horsley

Date of Construction

1902

Listing

Grade II

Capacity

Estimated at 1,000

Database Link
Significance
Theatre Royal Hyde is an Edwardian Grade II listed theatre with a handsome decorative terracotta façade and intimate, richly decorated auditorium. Despite prolonged disuse, the auditorium retains much of its theatrical atmosphere. It is a functionally sound and intact theatre which could be viable as a community amateur theatre and cinema facility, providing a much larger auditorium than the adjacent Festival theatre.
Why is this theatre at risk?
Theatre Royal Hyde was closed as a cinema in 1992 and was threatened with demolition for a housing development, but was saved by spot-listing in 2000. It is in need of extensive repair and restoration.
Current situation
In November 2016, the theatre was purchased by Hyde Islamic Resource Centre, and a change of use application was approved by the local council. This is despite Theatres Trust's objections that this could result in the loss of a potential cultural and entertainment asset for Hyde, at a time when there is considerable community support to return the building to live performance use. Theatres Trust continues to keep a watching brief on the building to ensure that any development plans respect its listed status, retain access for the community and do not prohibit future use of the building for live performance.
Image: Theatre Royal Hyde, Ian Grundy