Theatre Royal Hyde
A beautiful and atmospheric Edwardian theatre, which could be restored as a large community venue.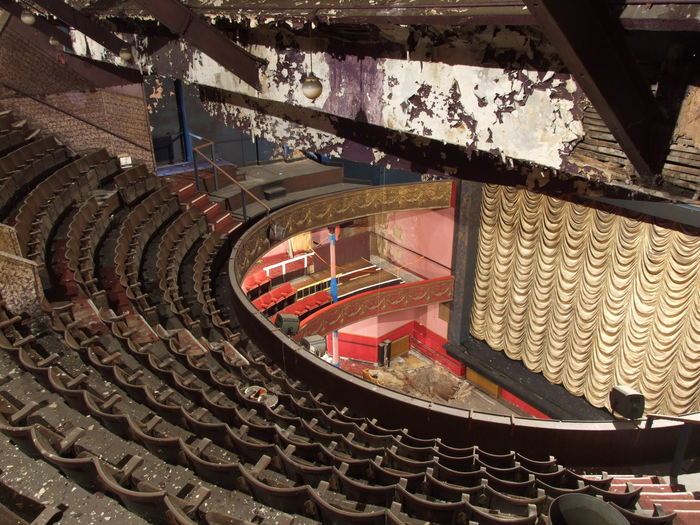 Address

Corporation Street / Henry Street, Hyde, Cheshire, SK14 1AB

Risk Rating

4 (Community Value: 1, Star Rating: 2, Risk Factor: 1)

Local Authority

Architect

Campbell & Horsley

Date of Construction

1902

Listing

Grade II

Capacity

1,000 (estimated)

Database Link
Significance
Theatre Royal Hyde is a Grade II listed Edwardian theatre with a handsome decorative terracotta façade and an intimate, richly decorated auditorium. Despite prolonged disuse, the auditorium retains much of its theatrical atmosphere.
Why is this theatre at risk?
Theatre Royal Hyde has been on the Theatres at Risk Register since 2006 when we started the list.
The theatre was closed as a cinema in 1992. It was threatened with demolition for a housing development but was saved by spot-listing in 2000. It is in need of extensive repair and restoration.
The building was purchased by the Hyde Islamic Resource Centre in November 2016, who, despite objections from the Theatres Trust and local community group Theatre Royal Onward, gained permission for a change of use. This means the building has lost the sui generis status, which is an important form of protection as once a theatre moves into another use class, there is a possibility (dependent on use class) of further changes of use without permission, which may lead to alterations harmful to future theatre provision. Theatre Royal Onward has since disbanded.
In the meantime, large areas of the building remain empty and there are concerns that the condition may further deteriorate.
Theatre potential
Theatre Royal Hyde is a functionally sound and intact theatre, which could be viable as a community amateur theatre and cinema facility, providing a much larger auditorium than the adjacent Hyde Festival Theatre.
Current situation
Theatres Trust continues to keep a watching brief on the Theatre Royal to ensure that any development plans respect its listed status, retain access for the community and do not prohibit future use of the building for live performance.
Since taking ownership the Hyde Islamic Resource Centre has been granted listed building consent to carry out repair works on the roof. It has also been granted permission to screen off areas of the building to allow partial reuse at stalls level of the auditorium and front of house. The rest of the building remains vacant. Theatres Trust remains concerned about the condition of the unoccupied areas.
In September 2020 Theatres Trust objected to a listed building consent application for alterations to the exterior and interior of the theatre to facilitate its use as a cultural centre. While maintaining the building in active use will help protect it from the vulnerability of lying vacant and a cultural centre can be a sympathetic reuse of a theatre, our objection was due to the nature of the alterations and the level of harm caused to the building's significance. We were disappointed that our views were not taken into consideration and that listed building consent was granted. We will continue to monitor the situation to ensure that any further proposed works are carried out in a sympathetic and sensitive manner and hope to work more closely with both the owner and Tameside Council to achieve this.
Main photo Theatre Royal Hyde, Ian Grundy; exteror by Theatres Trust.