The Charles Cryer Studio Theatre
The Charles Cryer Studio Theatre, and its neighbour the Secombe, are the only two theatres in the London Borough of Sutton. Both are currently closed, and face an uncertain future.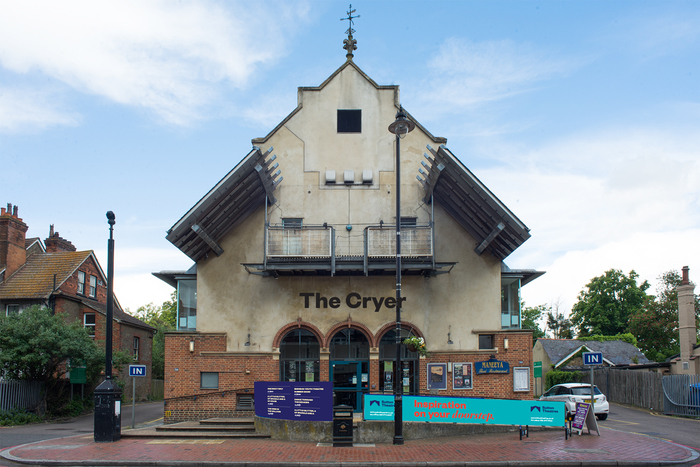 Address

High Street, Carshalton, SM5 3BB

Risk Rating

7 (risk rating: 3, star rating: 1, community rating: 3)

Local Authority

Architect

Edward Cullinan Architects

Date of Construction

1991

Listing

Not listed

Capacity

125

Database Link
Significance
Originally built as a public hall in 1874 for Carshalton village, this building has been used as a roller skating rink, cinema and theatre. The venue was rebuilt and re-opened as the Charles Cryer Studio Theatre by Edward Cullinan Architects in 1991. Despite some criticism at the time of its reconstruction, the 1992 RIBA Downland Design Award judges commented that 'the project makes a significant social contribution to the High Street. The theatre is in constant use and well-liked.'
Why is this theatre at risk?
In August 2014 the London Borough of Sutton announced plans to close both the Secombe and Charles Cryer Studio theatres. The theatres were offered to community groups, individuals and companies interested in taking over the venues and a bid from newly formed Sutton Theatres was accepted. However, the new operator went into administration in August 2016. Both theatres have closed and their future is now uncertain. It is understood that most of the theatre equipment has been removed from the theatres as part of the administration asset sale. Whilst it was hoped that the London Borough of Sutton would consider bids to reopen the theatre, the council has since confirmed that it will only offer the buildings on a commercial lease. Whilst there are separate community groups interested in both theatres which could provide both with a new lease of life, the cost of a commercial lease is untenable for a theatre of this scale. Theatres Trust has been supporting and providing advice to these local groups. Not only does the current situation leave both buildings at risk, but also the London Borough of Sutton is the only London Borough without a theatre, and the largest council in the country without any theatre provision.
Current situation
Theatres Trust has been in discussion with the council regarding the substantial benefit to the borough of the retention of both the Cryer and the Secombe theatres. Theatres Trust has also been offering advice regarding theatre operation and the necessity of offering the right lease terms to allow for sustainable business operation.
The council has recently advertised the theatre as available for a commercial lease. Theatres Trust believes the council's expectations of a commercial rent for this community asset are unreasonable and Theatres Trust will oppose applications to change its use while there is such clear demand for a theatre from the local community.
Theatres Trust continues to support the community groups which want to see theatre returned to this borough.
Image: The Cryer, Sutton Theatres