Granada Theatre
Former ciné-variety theatre with a richly decorated and atmospheric auditorium. There is significant local community and council support for a return to theatre use.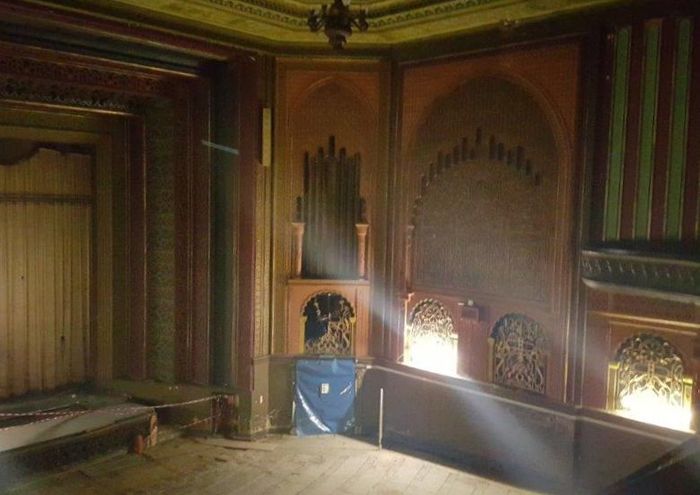 Address

186 Hoe Street, Walthamstow, Waltham Forest, London, E17 4QH

Risk Rating

7 (risk rating: 2, star rating: 2, community rating: 3)

Local Authority

Local Group

Operator

Architect

Cecil Aubrey Masey

Date of Construction

1930

Listing

Grade II*

Capacity

1,000

Database Link
Significance
The Granada was built in 1930 by architect Cecil Masey with interior decoration by Theodore Komisarjevsky. It operated initially as a ciné-variety theatre, later becoming a live music venue hosting the Beatles and the Rolling Stones, and cinema. It is now Grade II* listed. In the main auditorium, the richly decorated proscenium arch and gilded decorated wall grilles are reminiscent of details from the Palace at Cordoba, overlaid with seventeenth-century Baroque features. The 'Hall of Mirrors' lobby and part of the auditorium were stylishly redecorated to their original splendour in 1995, and the central kiosk in the foyer designed to match. The building could provide a new performance space for Waltham Forest, a borough which does not currently have a major permanent theatre or performance space. There is widespread support among local residents and businesses for this venue to return to entertainment use.
Why is this theatre at risk?
The cinema closed in 2003 when the building was bought by the Universal Church of the Kingdom of God. Lobbying by local residents with support of the council prevented conversion to a church. In 2014 pub group Antic London backed by Downing LLP acquired the freehold of the building.
Whilst the foyer spaces are currently in use as a pub and a small cinema screen in use as a small-scale entertainment space, the auditorium and stage areas are now in a poor condition and if not brought back into use, there is a strong risk that the auditorium and stage areas will deteriorate further and the venue will be lost permanently to live performance use.
Current situation
Soho Theatre have worked with the building's owners Downing and architects Pilbrow & Partners to create a high quality proposal for a new comedy and theatre venue at the Granada. Soho Theatre have developed a business plan, with input from the Theatres Trust, which would not require ongoing revenue funding although there is a significant gap in capital funding. The plan would be for Soho Theatre to deliver a high quality programme of entertainment cherry-picked from their existing acclaimed programme of theatre and comedy, alongside an annual panto and a wide-reaching community education programme building on the existing programmes it offers in Waltham Forest.
The London Borough of Waltham Forest is supportive of the scheme and has been successful in an expression of interest to the Mayor of London's Good Growth fund which has allocated £50,000 towards developing the scheme concept further.
Update
In March 2018 Waltham Forest Council were named London Borough of Culture 2019. Two weeks later they announced their commitment to purchasing the Granada, pledging to restore and reopen it.
The plans, which the Council have been working on in conjunction with operator Soho Theatre, are for a 1,000-seat venue which would see a focus on comedy and fill a gap in the London comedy scene. The programme would also feature an annual pantomime alongside screenings, theatre and community education work.
The proposals are being taken to Waltham Forest Councillors for approval on 20 March. Included within the cabinet report outlining the move to purchase the site is the estimate that once renovated the site could add between £34 to £52 million to the local economy over a ten year period.
Image: Granada Theatre, Nicholas Allott