Granada Theatre
Former ciné-variety theatre with a richly decorated and atmospheric auditorium, in an area without a major permanent theatre. There is significant local community and council support for a return to theatre use.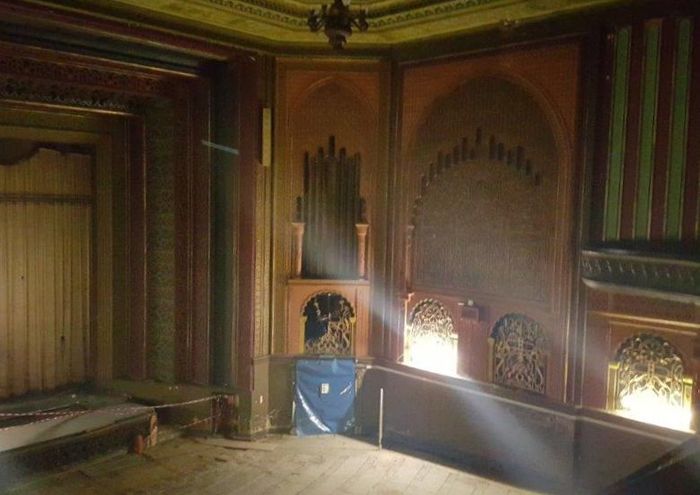 Address

186 Hoe Street, Walthamstow, Waltham Forest, London, E17 4QH

Risk Rating

7 (risk rating: 2, star rating: 2, community rating: 3)

Local Authority

Local Group

Owner

Operator

Architect

Cecil Aubrey Masey

Date of Construction

1930

Listing

Grade II*

Capacity

1,000

Database Link
Significance
The Granada was built in 1930 by architect Cecil Masey with interior decoration by Theodore Komisarjevsky. It operated initially as a ciné-variety theatre, later becoming a live music venue and cinema. It is now Grade II* listed. In the main auditorium, the richly decorated proscenium arch and gilded decorated wall grilles are reminiscent of details from the Palace at Cordoba, overlaid with seventeenth-century Baroque features. The 'Hall of Mirrors' lobby and part of the auditorium were stylishly redecorated to their original splendour in 1995, and the central kiosk in the foyer designed to match. The building could provide a new performance space for Waltham Forest, a borough which does not currently have a major permanent theatre or performance space. There is widespread support for this venue to return to entertainment use.
Why is this theatre at risk?
The cinema closed in 2003 when it was taken over by the Universal Church of the Kingdom of God. Lobbying by local residents with support of the council prevented conversion to a church. In 2014 pub group Antic London acquired the freehold of the building. It is believed that the auditorium and stage areas are now in a poor condition. If the auditorium is not brought back into use, there is a strong risk that the auditorium and stage areas will deteriorate further and the venue will be lost permanently to live performance use. It is also believed that that the freeholder may be looking to put in for planning permission for residential units on the site, which could further risk bringing the auditorium back into use for live performance.
Current situation
The council has been brokering discussions between Antic London and Soho Theatre, with the aspiration of ensuring a shared use of the building. The plan would be for Soho Theatre to deliver a high quality programme of entertainment, alongside a wide-reaching community education programme. The pub is currently operating from the foyer, and has opened the former second cinema screen as a space for film, music and comedy.
Image: Granada Theatre, Nicholas Allott