Alexandra Palace Theatre
One of the oldest surviving theatre auditoria in London, with a wealth of historically important Victorian wooden stage machinery.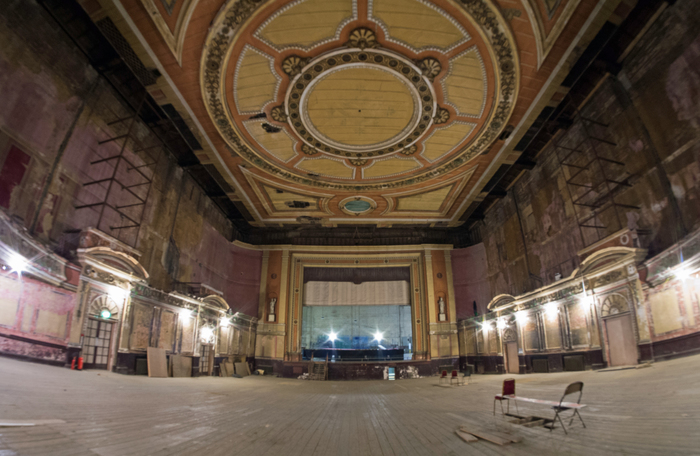 Address

Alexandra Palace Way, London, N22 7AY

Risk Rating

4 (risk rating: 1, star rating: 1, community rating: 2)

Local Authority

Local Group

Architect

John Johnson

Date of Construction

1875

Listing

Grade II

Capacity

Originally c. 3000, proposed up to 1500 dependent on configuration

Database Link
Significance
The theatre is one of the most architecturally significant and historic parts of the Alexandra Palace entertainment complex. The auditorium is one of the oldest now surviving in London and its rarity makes it architecturally, historically and archaeologically of interest. It is a great rectangular room with a raked floor. There were originally two balconies but today only one remains, facing and far distant from the stage. Much ornamentation survives from both 1875 and 1922 when the theatre was remodelled. The plasterwork and sculpture is of a high quality and the figure sculptures, in niches either side of the proscenium, are probably original. The existing faded 'toy theatre' colour scheme, although not original, is highly evocative. The most interesting survival is the stage, designed for elaborate transformations. It has a fine complex of wooden machinery both below stage and in the fly tower. The intactness of this theatre, its historical associations, and its novelty and rarity as an example of once-popular culture, make it very special.
Why is this theatre at risk?
When it was added to the Theatre Buildings at Risk register in 2007, the theatre was closed, the building fabric was deteriorating and it was unsafe to use. Thanks to grants from the Heritage Lottery Fund and Haringey Council, a significant proportion of Alexandra Palace's East Wing will be restored. This includes the theatre, which will be refurbished as an adaptable performance and events space. With the Enabling Works package completed in spring 2017, the Main Works are well underway and are due for completion in mid-2018. Works completed to date include stripping back the old office fit-outs to the front of house areas, revealing once more the huge volume of these spaces, and extensive ground works to provide new sleeper walls to support a new flat floor within the auditorium. The works to create the new timber structure for the Circle Balcony are nearly complete, and the steelwork for the new Technical Balcony is now in place. Consolidation and repairs to the ceiling are ongoing – decades of under-investment and water ingress have left the ceiling in a very poor state of repair. Alexandra Park and Palace Charitable Trust has launched a fundraising campaign to complete the restoration of the East Wing, however it would be prudent to still consider the theatre to be at risk until this phase of restoration is complete.
Current situation
The main works are due to complete in mid-2018, with plans for an autumn 2018 reopening.
Campaign video (from 2016)
https://www.youtube.com/watch?v=3AW5TTceHTw
Image: Alexandra Palace Theatre, Ian Grundy