Opera House
A well located theatre which could be reopened with minimal adaptation to provide Workington and the surrounding area with a good sized theatre.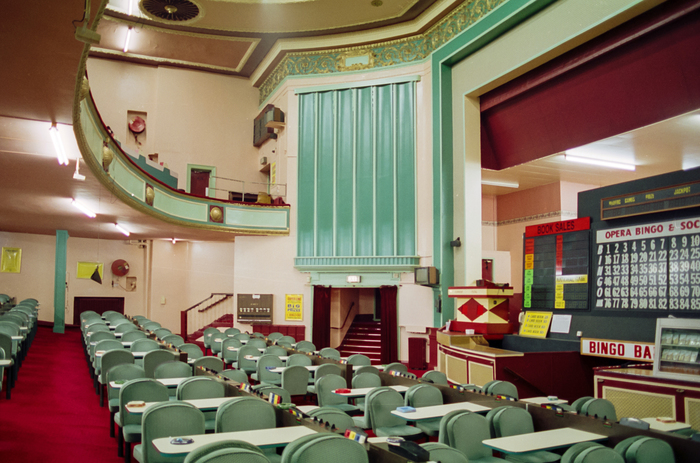 Address

Pow Street, Workington, Cumbria, CA14 3BA

Risk Rating

5 (risk rating: 3, star rating: 1, community rating: 1)

Local Authority

Owner

Graves (Cumberland) Ltd

Date of Construction

1927

Listing

Not listed

Capacity

Estimated at 1,400

Database Link
Significance
Workington Opera House has a fine, wide auditorium with good sightlines and a large stage with flying facilities. With careful and minimal adaptation the building could function well as a community facility, providing Workington and the surrounding area with a good sized Lyric theatre to complement the amateur-owned Theatre Royal. It is in a good location in the centre of Workington.
Why is this theatre at risk?
In 2010, and again in 2013, Allerdale council approved outline plans by Graves (Cumberland) Ltd for new shops and apartments on the site of Workington's Opera House. The basic structure of the building appears sound, but the roof has two sections and a gully has not been repaired, allowing water penetration which has done serious damage to roof beams and the internal plasterwork. There is also an area of dry rot. Local group Opera Action (Workington) Limited (OAL) did have plans to purchase, restore and reopen the theatre and had mounted a fundraising campaign. A 2014 Viability Study concluded that it would be difficult to attract the funding required to fully restore the building, however, did see potential for a project rooted in heritage and community culture.
Current situation
With Graves not prepared to lease the Opera House, and Workington's Carnegie Theatre and Arts Centre being transferred to a charitable not-for-profit company, OAL has disbanded. Former members, however, have said that if there were any signs of progress they would be happy to join with others to aid in the restoration of this wonderful theatre. Recent conversations with the owner have indicated that they have no current plans for the building, but also it is unlikely that they would be looking to carry out any restoration works.
Image: Opera House, Ian Grundy