Hulme Playhouse
A former theatre, cinema and recording studio, which suffers from water penetration and damp due to the poor condition of the adjacent Hulme Hippodrome, which is also a theatre at risk.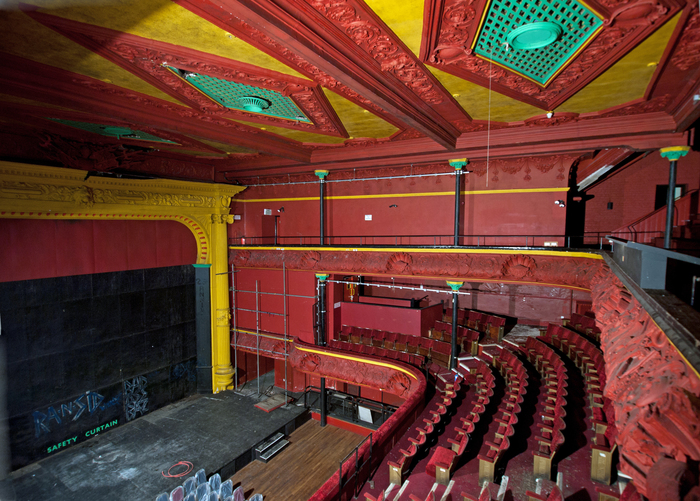 Address

Warwick Street, Manchester, M15 5EU

Risk Rating

4 (risk rating: 1, star rating: 2, community rating: 1)

Local Authority

Owner

GLC Estates Ltd

Operator

Architect

J J Alley

Date of Construction

1902

Listing

Grade II

Capacity

Estimated at 700

Database Link
Significance
Designed by J J Alley and built alongside Hulme Hippodrome, this theatre is a smaller architectural partner for its grander neighbour. When built the two theatres were connected by an arcade, and had uses which complemented each other – the Playhouse presenting music hall and the Hippodrome melodrama. Originally this theatre was named the Hippodrome, but in 1905, the names of the two theatres were changed so that the larger of the two became the Hippodrome and also became the place for music hall. The building has also been used as a cinema as well as a BBC recording studio for radio and television. In 1990 it was converted into an arts centre promoting Afro-Caribbean culture and became known as the Nia Centre. Since March 2012 when the Fountain Gate Chapel took over the building, it has been cleaned up and repaired and used for worship, and wider community, conferencing and events use. The Playhouse is situated in an area targeted for regeneration. The area has been substantially redeveloped in the last 20 years, and has good road links to central Manchester. It is a functionally sound and intact venue.
Why is this theatre at risk?
Hulme Playhouse adjoins Hulme Hippodrome, which is also on the Theatre Buildings at Risk Register. The poor condition of the Hippodrome continues to place the Playhouse at risk as it is causing problems with damp on the party wall between the two buildings.
Current situation
Hulme Playhouse has been leased by the Fountain Gate Chapel since July 2012. It is maintaining the building and the auditorium, stage area and foyer are now usable. However, the Playhouse still suffers problems from a leaking roof with the operator carrying out localised repairs as and when problems become apparent.
In June 2017 the building was put up for auction and subsequently purchased by real estate company GLC Estates Ltd.
Update November 2018
In 2018 the NIAMOS Radical Art & Music Cultural Centre begun renting the Playhouse. NIAMOS offer a co-operatively run exhibition, arts, and performance space with a micro bakery, music studio's, a kitchen and a holistic well-being space. One of their aims is "to restore the historic NIA centre building, and reignite community involvement in theatre, health and well-being, and the creative arts".
Image: Hulme Playhouse, Ian Grundy