Grand Theatre
A Grade II* listed theatre with surviving Edwardian stage machinery. Potentially the best traditional theatre in North Wales not in theatre use.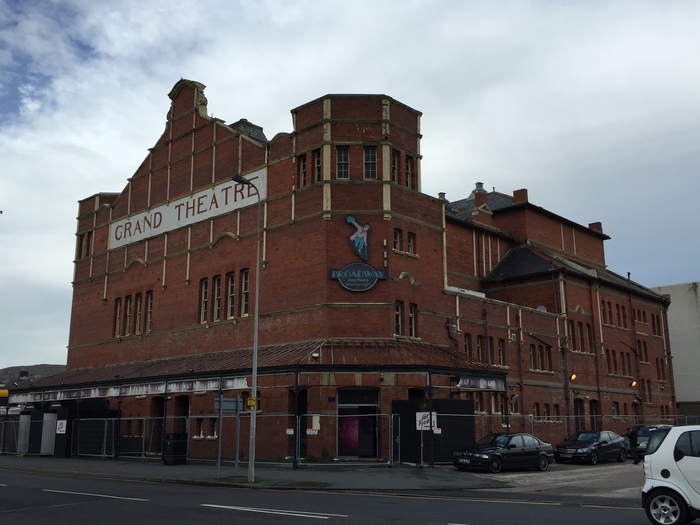 Address

Mostyn Broadway, Llandudno, Gwynedd, LL30 1YR

Risk Rating

5 (risk rating: 1, star rating: 3, community rating: 1)

Local Authority

Owner

Enigma Leisure

Architect

George Humphries with Edwn O Sachs

Date of Construction

1901

Listing

Grade II*

Capacity

Estimated at 1,000

Database Link
Significance
Llandudno's Grand Theatre is an imposing, large, free-standing building. The interior was designed by the internationally renowned Edwardian theatre architect, Edwin O Sachs. The auditorium is very fine, intimate and richly decorated with lavish plasterwork of excellent quality. The auditorium was subdivided for nightclub use, but the work is easily reversible. The under-stage machinery is a particularly rare survival, including original wooden traps in working order and an old wind machine. This is potentially the best traditional theatre in North Wales not in theatre use.
Why is this theatre at risk?
The Grand Theatre closed as a nightclub in 2013 after its owner, Atmosphere Bars and Clubs Ltd, went into administration. It reopened as a nightclub in 2016 under new ownership. The building has severe cracking to the south west tower and there are also ongoing concerns regarding roof repairs. If this necessary maintenance and repair work is not carried out to the required standard the theatre's original stage machinery and decorative plasterwork, which are integral to the building's listing, could be at serious risk.
Current situation
The Conservation Officer at Conwy County Borough Council has confirmed that the stage workings, backgrounds, seating and what remains of the lighting system are intact and stored on site. He has also confirmed that the theatre's plasterwork is currently in a good condition, with only a small amount of historical damage. The new owner has been undertaking repairs and to date the roof has been repaired and all the rainwater goods have been cleared. A structural engineer's report (not yet seen by either the Council or Theatres Trust) apparently states that movement to the south west corner is no longer happening. Structural stitching and repointing of the South West corner has now been completed, and the owner plans to restore the canopy in 2018 as well as replace the failing concrete floor in the tower. Theatres Trust remains in discussion with the Council regarding the condition of the building.
Image: Grand Theatre, Theatres Trust