Swansea Palace
Occupying a triangular site with a 4-storey tower at the apex this attractive and charming theatre was in public use for over 100 years and now lies vacant.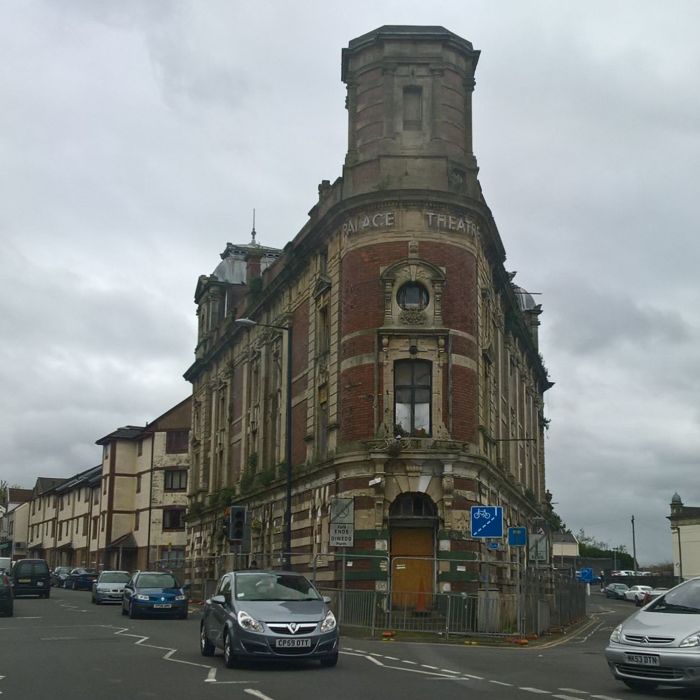 Address

156 High Street, Swansea, SA1 1NE

Risk Rating

5 (risk rating: 2, star rating: 2, community rating: 1)

Local Authority

Local Group

Owner

Private owner

Architect

Bucknall & Jennings

Date of Construction

1888

Listing

Grade II

Database Link
Significance
The charming Swansea Palace Theatre opened in 1888 as a music hall, Swansea Pavilion Theatre of Varieties. It is often compared, architecturally, for its similarity to the Flatiron building in New York, with its dramatic exterior on a triangular site. Despite later use as a cinema, bingo hall and nightclub the early form of the first floor auditorium is still apparent. It is very intimate with two steeply raked balconies which curve round to the proscenium, now without boxes, and retains its original gallery seating.
Why is this theatre at risk?
Swansea Palace theatre closed as a nightclub in 2006 and had been in a dangerous state of disrepair both internally and externally, becoming increasingly water and plant growth-damaged. In 2015 Swansea Council made £75,000 available to the owner to carry out emergency repair work to the building, which was reportedly match-funded by the owner. Work completed in 2016 and the building was weathertight and vegetation free. Unfortunately the weathertightness works involved completely blocking up all openings in such a way that there is now no ventilation of the interior, compounding the risk of significant structure and fabric damage due to years of water ingress. There has since been regrowth of vegetation on the façade in contravention of the agreement made with the council.
Current situation
The Council has been proactive in its intervention in the building, providing match funding for the urgent repair works, and has held discussions with the owner and Cadw regarding a business plan for the building. The council has also providied advice on funding routes.
In early 2016 the owner engaged an architect to carry out a feasibility study for a mixed-use redevelopment of the site, alongside early stage concept designs and a cost estimate. However it is understood that lack of funding has stalled progress towards further design development and external funding applications.
Unfortunately it is unlikely that re-opening the building for theatre use will be viable, but any regeneration should provide an element of community use. The council is continuing to liaise with the owner and it is hoped that this will see the constitution of a Building Preservation Trust to carry out the necessary works to revive this building.
In the meantime, local group Friends of the Palace Theatre has been working with Swansea Music Art Dance and Swansea University to secure funding to run Swansea Scenes, an oral history project on Swansea's High Street. They have been awarded a Heritage Lottery Fund grant to carry out the project. It is hoped that a project with Swansea Music Art Dance and Swansea University documenting the history of the Palace, interviewing and recording the oral history of the building, could be revived with the building owner's support.
Image: Swansea Palace, Rob Firman