Centre Stage – artist and audience at the heart of theatres
Theatres Trust Conference 19: Centre Stage will look at theatres from the perspective of the people they are there to serve. It will ask how we ensure serving the needs of artists and audiences sits at the centre of our theatre buildings.
Sessions will explore:
how artists are making use of space though current and emerging artistic practice
the creative possibilities and challenges of running a theatre
the latest developments in theatre design and the people considerations informing them
the possibilities of non-traditional theatre spaces for artistic practice and audience engagement
creating welcoming and inclusive theatres for all
engaging users and stakeholders in your capital project through a human centred design process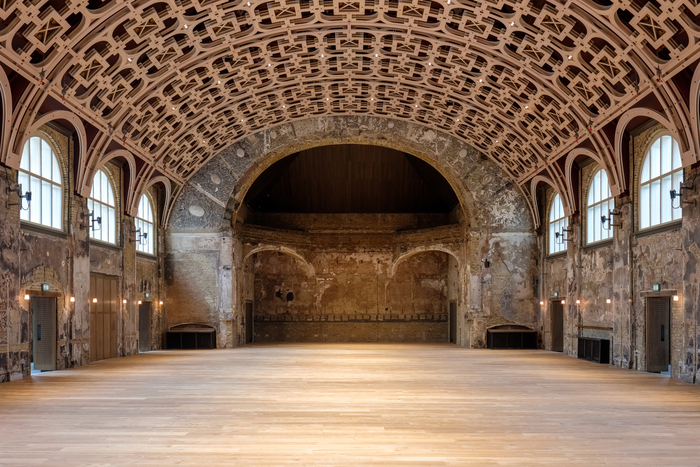 The programme will include presentations from a range of artists, theatre operators, and architects from across the UK.
Plenary speakers include celebrated sociologist and urbanist Professor Richard Sennett, who chairs Theatrum Mundi, a network of artists, critics and scholars who explore the relations between stage and street, Rebecca Holt, Battersea Arts Centre and the architect who worked on its recent restoration, Martin Lydon, Haworth Tompkins.

Taking part in an Artists' Panel Discussion are: Nadia Fall, Artistic Director, Theatre Royal Stratford East, Tarek Iskander, Artistic Director & CEO, Battersea Arts Centre, Joe Douglas, Artistic Director, Live Theatre, Newcastle and Bryony Shanahan, Associate Artistic Director, Royal Exchange Manchester.
David Micklem, 64 Million Artists, Hannah Fox, Derby Museums and Matt Fenton, Contact, Manchester along with members of the Con:Struct young people's capital project team will offer their thoughts and experience of democratic design.
Punchdrunk, Theatre Absolute, Theatre Deli and Troubadour Theatres – undoubtedly some of the biggest names in working in non-traditional theatres – will discuss their motivations for working in these spaces and the possibilities they create for artists and audiences.
Devonshire Park Theatres, Polka and Theatre Royal Wakefield will talk about how to adapt and use theatres to make them truly accessible, inclusive and welcoming to all audiences
A lightening round will give conference attendees a taste of current theatre building trends across the UK and the people considerations informing them. Featured theatres include: Birimingham Repertory Theatre, Bolton Octagon, Fairfield Halls, Leeds Playhouse, Shakespeare North, Theatr Clwyd
Look out for further announcements here and on social media #CentreStage19.
Book your place now
Book before 23 August to take advantage of the Early Bird Rate. Theatres Trust Friends and Corporate Supporters can benefit from a discounted rate – please email events@theatrestrust.org.uk for your discount code.
Members / subscribers of our promotional partners will also receive a discount code through their newsletters. Promotional partners include: ABTT, Creative Industries Federation, ITC, Federation of Scottish Theatre, The Stage, SOLT and UK Theatre.
Prices - including VAT and booking fees.
£191 - Early Bird rate
£172 - Early Bird with supporter / membership discount
£222 - Standard price
£199 - Standard price with supporter / membership discount
A special rate is also available for the community / campaign groups working with theatre on our Theatres at Risk Register. Please get in touch with us for further details.
Timings
Exact timings will be confirmed nearer the event, but the formal conference programme will finish no later than 5.30pm. The conference will be followed by a drinks reception, sponsored by Robe, that is open to all conference attendees. We hope you will be able to stay for networking and refreshments.
Sponsors
Conference 19: Centre Stage is made possible thanks to the generous support of our sponsors.
Find out more about sponsorship opportunities.
Bursaries
Thanks to the support of ETC, GDS and HQ Theatres, we are pleased to be able to offer bursary places to students, emerging artists and representatives from small (less than three members of staff) and unfunded theatre organisations. Find out more and apply.
Photo credit: Grand Hall at Battersea Arts Centre. Fred Howarth