Theatres support vaccine effort
Theatres temporarily closed because of the coronavirus are performing another crucial role supporting their communities through the pandemic by opening as NHS vaccine centres to aid the government's mass vaccination effort.
Theatres and arts centres, already hubs for the community, have spacious foyers and auditoria to manage large numbers of visitors, as well as good transport links and parking. There are over 400 vaccinations centres set up in range of buildings across the country.
We've updated this article with more theatres as vaccine centres - new additions in bold.
Bolton Octagon has partnered with the local NHS vaccination centre to host patients for post-vaccine observation, keeping space at the centre clear to boost distribution of the vaccine. Observation patients are able to see inside the recently refurbished theatre ahead of its reopening.
Battersea Arts Centre announced it had partnered with the NHS to become the community Covid-19 Vaccination Centre for Wandsworth in early March. The vaccine will be administered in a clinical and contained area while theatre artists and community groups can carry on working in other parts of the building.
The Corn Exchange in King's Lynn has been used as a Covid-19 Vaccination Centre since mid-February.
Clair Hall in Haywards Heath opened as a vaccination centre last year, vaccinating its first patient on 29 December.
Llandudno's multi-purpose Venue Cymru, the first temporary hospital in North Wales in summer last year, opened its doors to care home staff for Covid-19 vaccinations in December.
Peepul Centre Leicester, Thornton Little Theatre, Lights Theatre in Andover and Hertford Theatre had also already been in use by local health services for flu vaccines and blood donations before becoming vaccine hubs. The clinic at Hertford Theatre will be able to continue to run in its studio theatre once the venue reopens for performance.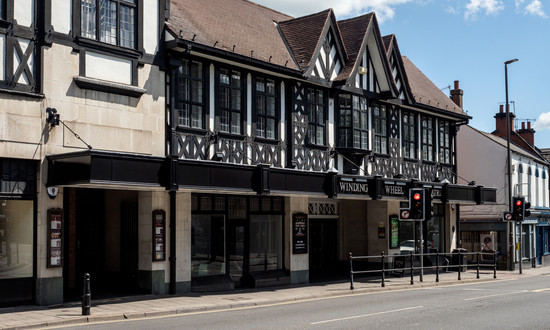 From mid-January, the Grade-II listed Winding Wheel Theatre in Chesterfield and the council-owned GLive arts centre in Guildford have hosted clinics to vaccinate local healthcare workers, and subsequently for public immunisation.
Bromsgrove's Artrix, which ceased trading in spring 2020, became Worcestershire's first vaccination hub at the end of January. The venue's three floors have been converted to hold inoculation stations, with the auditorium set up as a post-vaccination observation area – Theatres Trust is supporting the venue's management team with its next steps.
At the end of January, Blackpool's iconic Winter Gardens become one of Lancashire's largest vaccination centres to open.
In early February Cliffs Pavilion Southend opened its doors for the NHS, the lower circle of the auditorium seating has been removed for vaccine stations.
Another theatre offered a new lease of life having been closed because of lockdowns is the Woodville Theatre in Gravesend, becoming Kent's second large-scale vaccination hub.
In Scotland, Motherwell Civic Theatre and Fife's Lochgelly Centre join a network of venues across the country to host community Covid-19 vaccination clinics.
Note: Appointments at vaccination centres are administered by the NHS and by invite only.
Read about other ways that theatres have supported their communities and how theatres have kept audiences entertained during the pandemic.
Lead photo: Venue Cymru by Theatres Trust. Exterior, Winding Wheel Theatre Chesterfield by Ian Grundy.