Viable future for Streatham Hill Theatre
Viability Study and Economic Impact Assessment carried out by a team led by arts consultancy, FEI suggests a sustainable way forward for the Theatre at Risk.
Theatres Trust was pleased to support the Friends of Streatham Hill Theatre with a grant from our Theatres at Risk Capacity Building Programme, which contributed towards the indepedent study, the results of which have now been published.
The report says that the theatre has the potential to generate footfall, jobs and economic growth, adding over £70m to the local economy over 30 years.
The study recommends a phased, incremental and collaborative approach, with the immediate focus on making meanwhile use of parts of the building. Following on from this, a 'minimal refurbishment' of the theatre could be implemented as a sustainable operating model in the medium term, while longer term plans are developed for full refurbishment and operation as a fully commercial theatre.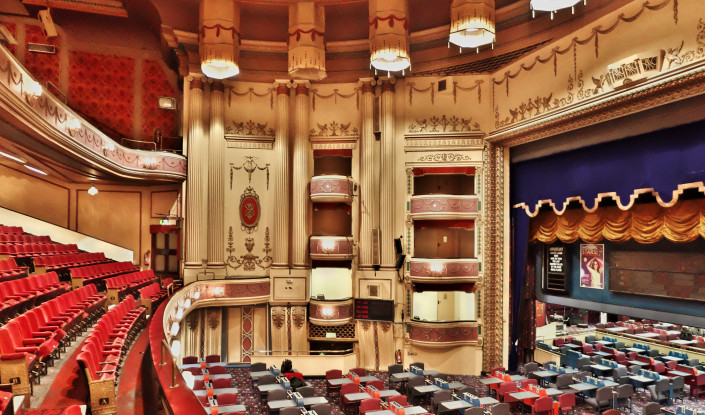 Designed by eminent theatre architect W G R Sprague, it has a capacity of 2,800 and is on a similar scale to the London Palladium. It presented shows until 1962, and then became a bingo club until 2017. Apart from hosting a small slot machine lounge, the rest of the large Grade II listed building now remains inactive. Streatham Hill Theatre was added to our Theatres at Risk Register in 2017 in recognition of its architectural significance and potential to return to community use.
Read the summary of the Viability Study and Economic Assessment.
The 2020 round of the Theatres at Risk Capacity Building Programme was funded by Historic England, The Pilgrim Trust and Swire Charitable Trust.
Photo credit: Streatham Hill Theatre, Tim Hatcher