New Wolsey Theatre Ipswich wins at RIBA East Awards
The NW2 Participation Building and Theatre Square project at New Wolsey Theatre in Ipswich has been recognised at the 2022 RIBA East Awards, celebrating great architecture across the UK.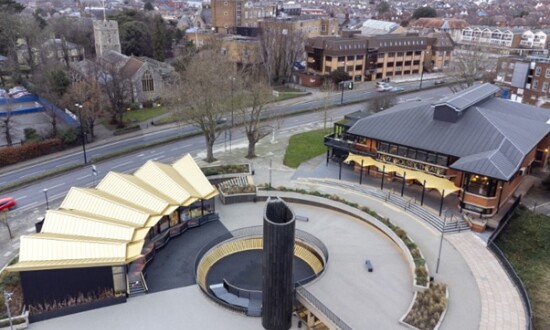 Congratulations to WGP Architects, and Charterhouse Investments with New Wolsey Theatre for their recent project that won a RIBA East Award 2022 and RIBA East Client of the Year Award 2022.
Taking the top layer of a spiral car park ramp adjacent to the New Wolsey, the new low-carbon NW2 Participation Building establishes a series of accessible spaces for community engagement, sitting on a newly created Theatre Square for outdoor public performances and other events in the round. It forms phase one of the theatre's refurbishment project.
Details about the project can be found on the RIBA website.
View our theatres database entry for New Wolsey Theatre Ipswich.
Cover image, NW2 Participation Building by Shaun Barber. Article image by Peter Cook.