Conference 19 Q&A: David Lan and Steve Tompkins
We invited artistic director David Lan, who led the Young Vic for 18 years and leading theatre architect Steve Tompkins to reflect together on the themes of Centre Stage.
(Unless otherwise specified David and Steve collaborated on their responses.)

How is the artist and audience relationship changing and how does that affect the way we plan and run our theatres?
In mainstream theatre neither the theatrical or physical relationship is changing much. Most theatre experiences still take place in the same way they have for centuries, with the audience arranged in various well-tested physical relationships to the performers, the seats sold at prices normally varied according to proximity to the stage and clarity of view.
Audiences generally still expect to remain apart from the performer and for the only relationship between them to be through the performance. So called 'immersive' performance differs from more conventional performance formats in that the physical relationship between audience and performers is, to some degree, unpredictable and might vary during the course of a performance. The sense that audience and performers occupy the same reality is, of course, an illusion. In fact, both groups of participants adhere to an implicit set of rules and expect the ritual of separation to be well-regulated. If this is contravened the performance breaks down.
Even stand-up tolerates only a narrow range of variation in the audience's response. Within these bounds what is new is the desire among some theatre makers to exercise greater control, though still only marginal, over the detail of how the relationship of distance is articulated. For example, they may ask for aspects of the permanent design or decoration of an auditorium to be obscured in order to continue the aesthetic created on stage for that particular performance to extend into the auditorium.

In terms of new theatre design and management, a willingness to allow this to happen is appreciated by artists. Outside purpose-built theatre buildings, there is more latitude to frame the artist audience relationship in different ways. This is the paradox for theatre designers: it is the 'imperfect' or 'unfinished' spaces that tend to draw artists rather than the fully resolved and architecturally pristine.

How should or does the design of our theatre buildings respond to changing artistic practice?
Many new auditoria enable a range of different spatial relationships between audience and performance to be created depending on the conception of the performance – in-the-round or on a thrust stage and so on. This is one aspect. Another is that theatre design can enable an egalitarian conception of society to be expressed by the way in which the audience is constituted in the space. This doesn't necessarily need to mean perfect sightlines from every seat, not least because a wide range of seat prices is more democratic. Clear acoustics, equal comfort levels, a sense of connection with each other and a geometry that reinforces intimacy and intensity are more important.
Artists are questioning the historic conventions of auditorium design as digital or less frontal design becomes more prevalent. Many of our most successful spaces have no fly tower for example, and more organisations are looking for auditoria that can adapt quickly between formats to support the widest possible range of productions within a given season. The Bridge Theatre is one such attempt to design a midscale space that is equally intense in thrust, end on, in-the-round and promenade formats. Outside conventional theatre, organisations like Battersea Arts Centre are experimenting with the risky idea of 'permanent found space', where the physical, non purpose-built architecture is little altered but the technical capability and flexibility of connections is vastly expanded.

Is there anything we can learn from the rise of temporary, pop-up spaces that might inform the future design of theatres?
Haworth Tompkins' design for two pop-up theatres for the Almeida influenced the studio's subsequent theatre designs in terms of the use of materials and in general the sense of provisionality – this theatre space responds to the wider environment in which the theatre is built (the Young Vic) rather than clearing a site for a new building which itself set the scale and the style for its vicinity (the National Theatre). Like the Almeida pop-ups, the NT Shed influenced the artistic programming and audience demographic because it was rough, intense and ephemeral.
Permanence on the other hand can get confused with stasis. These spaces also proved that audiences and artists share a less mediated relationship when the historic tropes of luxury and class are stripped away from the architecture.

Is there such a thing as a truly inclusive theatre building?
If by inclusive we mean a building and organisation that actively seeks to demolish the physical and cultural barriers to entry and participation by every member of society, then yes there are many theatre buildings which aspire to that within the subsidised sector, for example the Arcola, the Bush or The Yard.
Non subsidised theatres, by contrast, generally need to maximise ticket return as a top priority. Whether theatre as an art form is an inclusive medium is open to debate.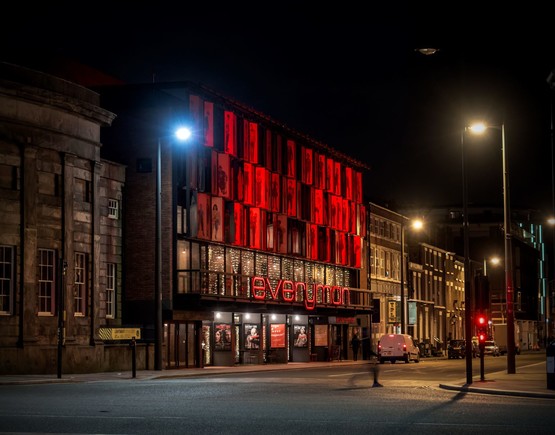 If you could build a fantasy 'democratic' theatre, what would it look and feel like?
David Lan (DL) The Liverpool Everyman.
Steve Tompkins (ST) No such thing as a fantasy theatre, but our main task as a theatre design team has been to search for a democratic architecture. It's partly about physical and cultural porosity, partly about abolishing the iconography of privilege and partly about a material and detail language that is approachable and legible to all.

In a rapidly changing world what is or should be the civic role of theatre buildings?
To affirm our common humanity – they should be the places where strangers can still meet in peace. Society is in danger of fracturing and the environment is in danger of collapse, so public cultural buildings have to be exemplary in terms of open heartedness, inclusivity and intelligent use of scarce resources. Publicly subsidised theatre buildings can't only be about entertainment, they have to be part of building social cohesion, community resilience and environmental justice.

Which theatre building do you feel most puts people at the heart?
DL In terms of audience as well as performers, Young Vic, Liverpool Everyman, Odéon-Théâtre de l'Europe and Théâtre des Bouffes du Nord in Paris, Rabozaal Stadschouwburg, Amsterdam, La Fenice in Venice, The Yard in Hackney.
ST For me, Teatro Oficina in Sau Paulo.

What advice would you have for an architect designing their first theatre?
DL Study the above theatres.
ST When we started out on the Royal Court, our rule was: assume you know nothing, listen as hard as you can for as long as you can to people who know theatre, and see as many different productions as you can. Oh, and read Iain Mackintosh's book Architecture, Actor and Audience.

Sacred cathedral or messy factory?
Messy cathedral and sacred factory.
This article was originally published in the Autumn 2019 issue of our supporters' magazine TM.
(Liverpool Everyman photo by Ian Grundy)