Theatre Super Auction
We are delighted to have been chosen as one of the partner charities for the Theatre Super Auction.
The auction will raise funds to save our forgotten but vital local theatres and support the freelancers who make theatre happen. Money raised will be split between Theatres Trust, Theatre Artists Fund, and Acting for Others.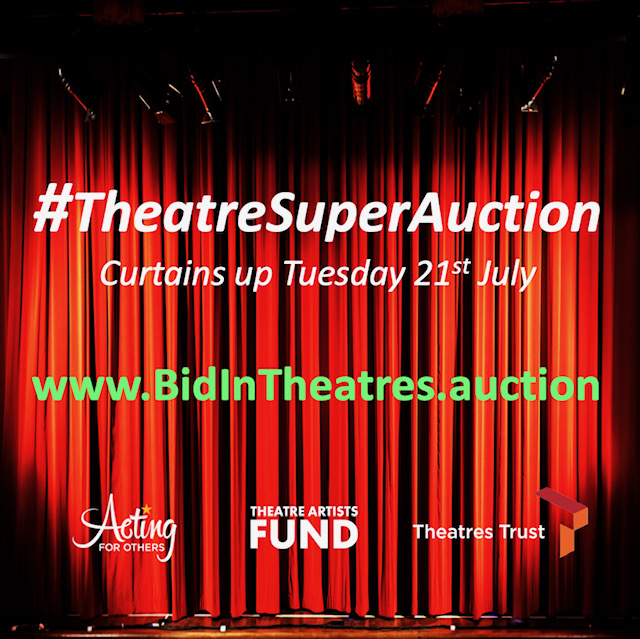 Launched on the Chris Evans Virgin Radio Breakfast Show the initiative has been put together by the committee that ran the Scrubs Glorious Scrubs auction to raise money for the NHS and would now like to help the performing arts.
There really are some amazing prizes, that ordinarily money just can't buy. We are incredibly grateful to all of the celebrities, theatre producers and companies who have so generously donated prizes.
Prizes include:
Lord Lloyd Webber has donated two VIP tickets to see Phantom of the Opera on Broadway; the prize also includes two BA Business Class flights and a three-night stay in New York hotel.
Dame Judi Dench has donated a painting.
Martin McDonagh has offered his own hand-annotated shooting script of Three Billboards Outside Ebbing, Missouri his BAFTA award-winning film.
Miriam Margolyes has offered tea at home as well as some incredible Harry Potter memorabilia.
Jamie Wilson has donated a VIP Package to Sister Act - two tickets to the press night performance and after-show party, meet and greet with Whoopi Goldberg and Jennifer Saunders, and an overnight stay in a hotel.
Jo Brand, comedian, presenter, and Theatres Trust Ambassador has donated Afternoon Tea for two with her at the Mayfair Hotel.
Actor and Theatres Trust Ambassador Pippa Bennett Warner has invited you to join her on the set of Gangs of London and meet with the cast as they film series two of the hit drama next February.
Be the guest of Radio 4's Front Row and Theatres Trust Ambassador Samira Ahmed at a press night and after-show party and discuss the show in the interval
Visit the Theatre Super Auction
Do take a look and get bidding!
The auction runs until 10pm on Sunday 26 July 2020.
Note that the auction site does not work in Internet Explorer so please use another browser.
Huge thanks to the committee consisting of Cassidy Janson star of many West End shows; Gary England Director of the English National Opera; Charlie Davey, LikeMinded PR; Ben Davey, media executive and ex-Hello magazine publisher, Es Wilson who owns the auction company; and fundraiser Sunita Shroff. They have all given their time for free and worked tirelessly to put the auction together.
#TheatreSuperAuction