Chancellor increases financial support
Chancellor Rishi Sunak has announced a range of measures including changes to the Job Support Scheme and grants for businesses in high alert level areas.
The key announcements are:
For the core Job Support Scheme, the government will now pay at least 62% for hours not worked, with the employer contribution cut from 33% to 5%. Employees now take home at least 73% of pay for working a new minimum 20% of hours.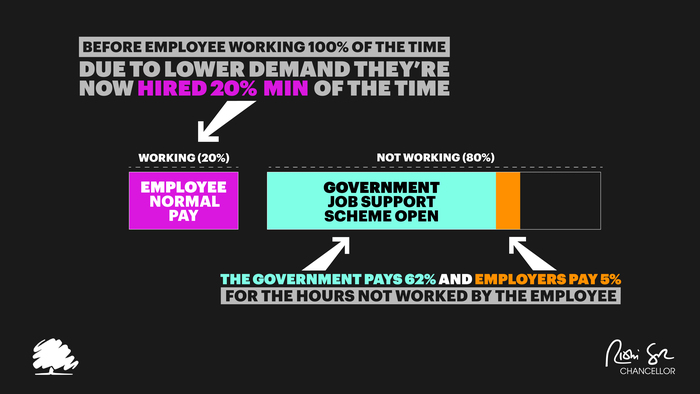 A new grant scheme has been introduced for businesses impacted by Tier 2 restrictions, even if they aren't legally closed for hospitality, leisure and accommodation sectors. Businesses can apply to their local authority a grant worth up to £2,100 for every month Tier 2 restrictions apply – the level is based on property rateable values. These will be retrospective grants, so they can be backdated to August if they are in areas that have had enhanced restrictions since then.
Self-employed grants have been doubled from 20% to 40%, meaning the maximum grant will go up from £1,875 to £3,750.
Full details are available on the Government website.
Theatres Trust Director Jon Morgan responds:
"Theatres Trust welcomes the Chancellor's announcement today of more support for businesses affected by Covid-19 restrictions. Theatres who have managed to reopen under Tiers 2 and 3 are likely to suffer a downturn in attendance, however, as they have not been forced to close under either tier they cannot access the enhanced Job Support Scheme available to pubs and restaurants in Tier 3. The more generous core Job Support Scheme along with the monthly grants for businesses in high alert-level areas will therefore provide much–needed additional support to struggling theatres.
However, it remains the case that most theatres in all areas are unable to reopen viably under social distancing. We therefore urge the Chancellor to implement a sector specific support scheme for theatres and other events spaces which cannot reopen and are rapidly running out of money. This is vital to prevent further job losses on top of the 7,500 plus the industry has already suffered".