RICS Awards Shortlist 2022
Congratulations to the theatre building operators and the architects for their shortlisted projects at the RICS Awards 2022 which celebrate inspirational initiatives and developments in land, real estate, construction, and infrastructure in the UK.
The restoration and redevelopment of the former Theatre at Risk Stockton Globe by SPACE Architects has seen the historic Grade II listed Art Deco building shortlisted in three categories, Heritage, Public Sector, and Refurbishment and Revitalisation.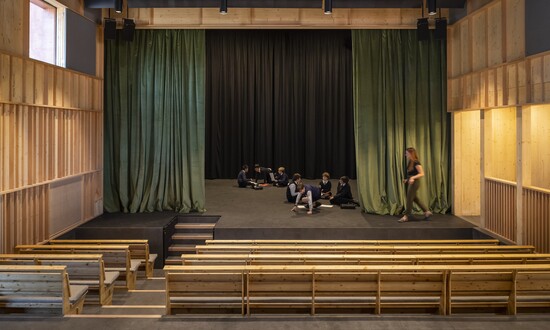 Burrell Foley Fischer's refurbishment and remodelling of Grade II* Hall for Cornwall and Jonathan Tuckey Design's David Brownlow Theatre a new multi-purpose performance space for Horris Hill School in Newbury were shortlisted in the Refurbishment and Revitalisation category.
In the Community Benefit category is Soham Spencer Mill, a conversion of a disused former mill building into The Viva Theatre led by Viva Arts and Community Group.
Aedas' RSC Costume Workshop Redevelopment that upgraded facilities at the largest in-house costume-making department of any British theatre is shortlisted in the Heritage category.
The design of David Brownlow Theatre was featured in the Summer 21 Theatres Magazine for supporters and the restoration of Stockton Globe was a showcase article in the Winter 22 edition.
Find out more about the RICS Awards nominations. The winners will be announced in late May.
Main images: Stockton Globe by Sally Ann Norman. Image in article: David Brownlow Theatre by Jim Stephenson