New Patron Scheme launched at The London Palladium event
We launched our new Patron Scheme at a fundraising event on 3 October.
Part of a wider fundraising drive, the new Patron Scheme will enable supporters to deepen their relationship with the Theatres Trust and its work. The Theatres Trust is increasing its fundraising to support its ambitious plans, which include providing more grants to theatres to improve accessibility, viability and sustainability, increased support for community groups campaigning for local 'Theatres at Risk' and providing expert advice services to more theatres.
Theatres Trust Trustee, presenter and comedian, Dara Ó Briain introduced the evening to an invited audience that included philanthropists, charitable trusts and foundations, and leading figures from the culture and heritage sectors, as well as Theatres Trust Ambassadors Samira Ahmed, Jo Brand and Beverley Knight.
Speaking at the event, actress and singer Beverley Knight said "My earliest memory of theatre is of Wolverhampton Grand. I had the opportunity to be on that stage from an early age because my ordinary comprehensive school understood the value of the arts and I have been lucky to play in some amazing theatres throughout my career. The thought of theatres being taken away is terrible - especially for the kids who depend on them - to work out their angst, find out who they are. They are the heart of any community. I believe in 'paying it forward' - it is my duty to save these spaces so kids from same background as me have the same chances I had - and I hope other people will get involved with the Theatres Trust and do the same."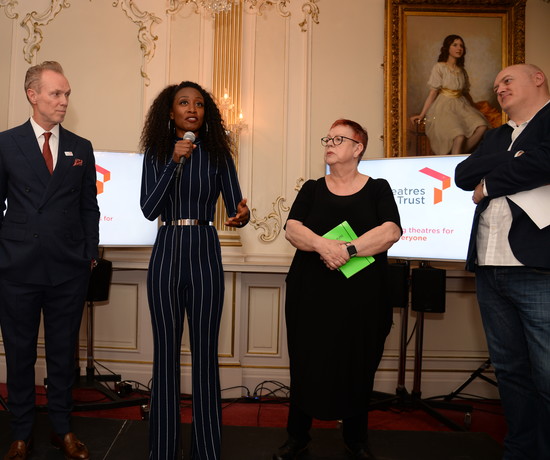 The event also included the first screening of a film showcasing the Theatres Trust's work, featuring Ambassadors including Samira Ahmed, Michael Ball, Pippa Bennett-Warner, Alexandra Burke, Jack Dee, David Hare, Lenny Henry, Kwame Kwei-Armah, David Morrissey and Siobhan Redmond.