Blog: Putting artist and audience at the heart of theatres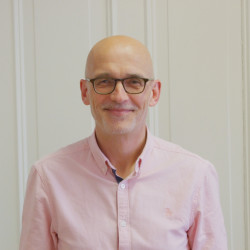 Jon Morgan, Theatres Trust Director, introduces the themes for Conference 19.
Theatres are so much more than bricks and mortar. Theatres are about people. People who want to create and communicate and people who want to participate in a shared experience which is unique to those artists and that audience on that evening.
Our theatres are living working factories; Joan Littlewood imagined them as fun palaces, which facilitate that artistic expression, exchange and engagement. Needless to say how and where we build and adapt our theatres needs to reflect the way artists want to work and audiences want to experience theatre.
It is fashionable in some circles to say that 'traditional' theatre buildings are not suitable for contemporary artistic practice and that by their nature they are a barrier to wider audience engagement and inclusion. However, it's time to move on from that false assumption.
Just as there are many new artistic voices who prefer to make their work in found or pop-up spaces so there is also an exciting young generation of artistic directors now running many of our long-established theatre buildings.
And while it is true that street performance, site-specific or immersive performance and pop-up venues in shopfronts can often reach a wider demographic, there is still a significant appetite for shows presented in more traditional spaces where theatres are working hard to welcome the diverse communities around them.
Artists and audiences are not rejecting the 'old' in favour of the 'new', but rather artistic practice and audience engagement are widening to accommodate a whole range of theatrical forms and spaces for presenting work.
At Centre Stage some of the exciting new generation of artists running our theatre buildings will talk about how they respond to their spaces and how they push the boundaries of what is possible.
We will also hear about the artistic and audience possibilities of found or pop-up spaces from artists and companies who prefer to create work in these settings. We will get an update on some of the key recently completed and ongoing capital projects from the architects and theatre operators delivering them and explore how they have built the needs of artists and audiences in to their plans.
Reaching wider audiences also means responding to the different cultural expectations and practical needs of different demographics by changing both physical aspects of our theatres and how we manage our spaces. We will explore how theatre operators are creating more welcoming and inclusive spaces and also hear from theatres who are embracing the concept of human-centred design, engaging audiences and communities in planning and scoping capital projects.
Centre Stage will challenge us to place people at the heart of theatre buildings. There's nothing as magical as a full theatre where artist and audience together are engaged in the collaborative process of storytelling. Our theatres are an essential ingredient that make that magic happen.
Centre Stage takes place on Tuesday 15 October at Battersea Arts Centre.
The conference is made possible thanks to the generous support of our sponsors.