Brighton Hippodrome
The UK's most architecturally significant circus theatre – the finest surviving example of its type in the country.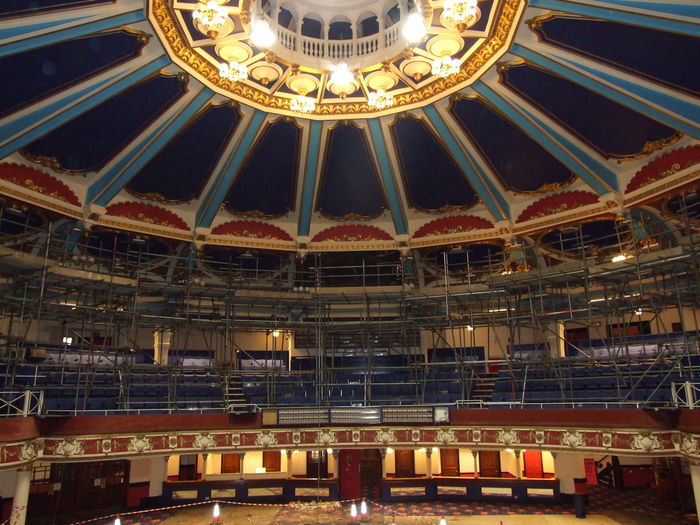 Address

Middle Street, Brighton, East Sussex, BN1 1AL

Risk Rating

9 (risk rating: 3. star rating: 3. community rating: 3.)

Local Authority

Owner

Private Owner

Architect

Frank Matcham

Date of Construction

1901

Listing

Grade II*

Capacity

Estimated at 1,400

Database Link
Significance
Brighton Hippodrome is the UK's most architecturally significant circus theatre – the finest surviving example of its type in the country. It is listed Grade II*. The Hippodrome originally opened as an ice skating rink in 1897, designed by Lewis Karslake. In 1901 eminent theatre architect Frank Matcham converted it into a circus, and in 1902 into a variety theatre. The most spectacular feature is the circular auditorium with its richly decorated ceiling in the form of a panelled tent. The relationship between the stage house, auditorium and circle, as well as the ancillary areas, is significant as a unique example of our past cultural and recreational pursuits.
Why is this theatre at risk?
In 2014 Brighton and Hove City Council approved planning applications to convert the Hippodrome into a Multiplex Cinema. This would have seen the auditorium subdivided, the fly tower demolished and the rear access to the theatre built upon, preventing the building from ever being used as a theatre again. However, in 2015, the proposed cinema operator dropped out. A stakeholder group including Theatres Trust subsequently commissioned a viability study, which concluded the Hippodrome does have a viable future as a venue for live performance, if the challenge of raising funds can be met.
Current situation
Brighton Hippodrome Community Interest Company has been leading the project to restore the Hippodrome and has secured grants to complete a valuation, structural surveys and initial designs. The proposals include residential and retail development on site to support the restoration of the auditorium and stage house which it is envisaged will initially be used as a theatre of varieties. Importantly, this new development will be sensitive to the needs of a performance venue and will not prevent access to the get in and back of house areas, meaning the Hippodrome can ultimately be used as a lyric theatre.
Update
November 2017:
The Hippodrome has been sold by its owner Academy Music Group. While the new owner's plans for the building are not yet clear, any development of the theatre and its surrounding site must be sensitive to the possible future reinstatement of the theatre. Brighton Hippodrome CIC is continuing to build a business plan for the restoration and operation of the theatre.
Campaign video
https://www.youtube.com/watch?v=K39YocGrlW8
Image: Brighton Hippodrome, Theatres Trust