Doncaster Grand
An ornate Victorian theatre with strong community support which could readily be reopened for amateur and small-scale touring theatre.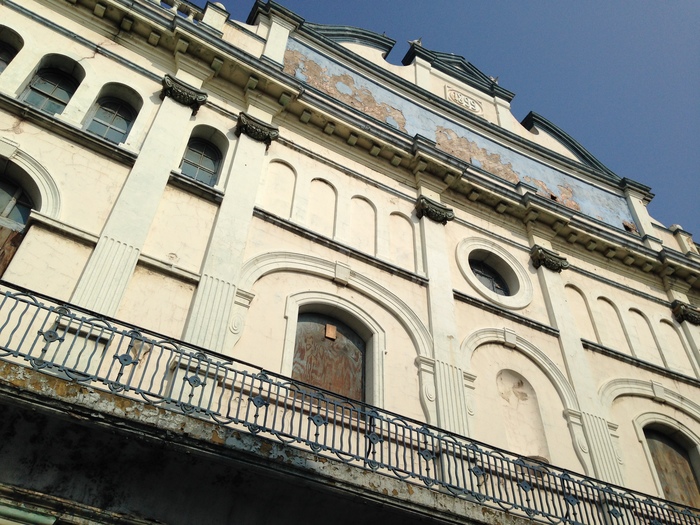 Address

Station Road, Doncaster, South Yorkshire

Risk Rating

5 (risk rating: 2, star rating: 2, community rating: 1)

Local Authority

Local Group

Owner

Frenchgate Limited Partnership

Architect

J P Briggs & Chapman

Date of Construction

1899

Listing

Grade II

Capacity

Estimated at 500-900

Database Link
Significance
Constructed in 1899, the Grade II listed Doncaster Grand originally stood on a prominent site in a shopping street facing the main railway station. However, after town centre improvements, this ornate Victorian theatre became attached rather indirectly to the Frenchgate shopping centre, and its Baroque-styled façade semi-concealed. The frontage, with an improved setting, could again become a local landmark. Internally it retains an intimate auditorium. It could quite readily be restored and reopened to create a home for amateur and community productions, with a future potential for small scale touring theatre and other activities.
Why is this theatre at risk?
The Grand was threatened with demolition until an energetic local campaign eventually led to the building being listed in 1994 and the reversal of a decision to permit demolition. Today, the theatre, which is owned by the company who run the neighbouring Frenchgate shopping centre, remains empty and in a poor state of repair.
Current situation
In 2014 Frenchgate Limited Partnership submitted a planning application for the creation of a multiplex cinema and retail units as part of the shopping centre. Theatres Trust opposed the application but was also in discussion with the planning department to seek a Section 106 planning obligation to secure a strategy for conservation and re-use of the Grand, should the application be successful. Planning permission was refused and a later appeal dismissed. It is not known whether the owner has any long-term strategy for the Grand.
Meanwhile, the Friends of Doncaster Grand Theatre continue to campaign to save the building and raise funds. They are currently focusing on updating their 2005 viability study. Theatres Trust has been providing advice on the processes involved in these early stages of project development including viability study, fundraising, programming and consultant advice. Doncaster Council Culture Department is supportive of the Friends group and would be keen to see a cultural use re-established at the theatre and has recently committed to working with the Friends group to progress the viability study for the theatre. Theatres Trust is facilitating this advisory group which will also include other local stakeholders.
Campaign video (from 2016)
https://www.youtube.com/watch?v=UwM_hX1AKTk
Image: Doncaster Grand, Theatres Trust