Theatre Royal
Built in 1845, this is Manchester's oldest surviving theatre building and one of the finest examples of theatre architecture to have survived in Britain from the first half of the nineteenth century.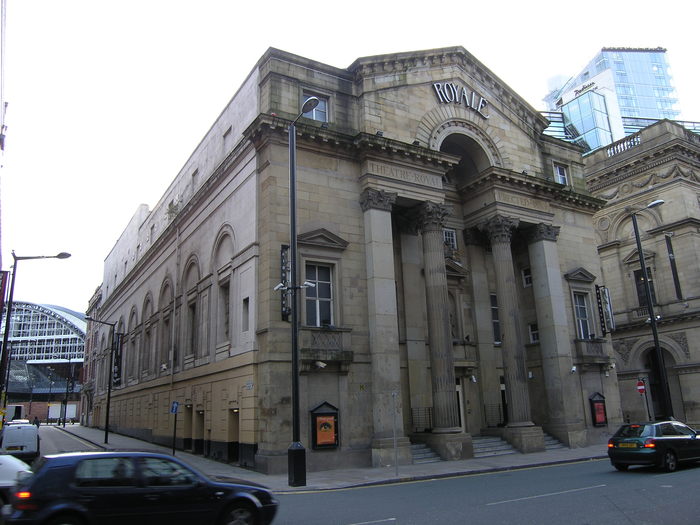 Address

Peter Street, Manchester, M2 3NQ

Risk Rating

4 (Community Value: 1, Star Rating: 2, Risk Factor : 1)

Local Authority

Architect

John Gould Irwin & Francis Chester

Date of Construction

1845

Listing

Grade II

Capacity

1,000 (estimated)

Database Link
Significance
The Theatre Royal is Manchester's oldest surviving theatre building, listed at Grade II for its significance. Built in 1845, it is an impressive building in the Classical style and its monumental façade is one of the finest examples of theatre architecture to have survived in Britain from the first half of the nineteenth century. It was a source of inspiration for Richardson and his partners when designing the front of London's Royal Opera House. The ceiling, although now not easily visible, has deeply coved sides and basketwork enrichment also reminiscent of the Royal Opera House. The theatre was internally remodelled in 1875 and again in 1921 but has retained its ornate plasterwork, and its stage machinery is also understood to have survived. The conversion of the building to nightclub use obscured rather than destroyed the theatre interior, which appears to be capable of restoration. More research is needed to fully understand its architectural and historical significance.
Why is this theatre at risk?
The theatre was used as a nightclub but this closed in 2009. There was a possibility that the former Library Theatre might relocate into the Theatre Royal but this was superseded by the creation of a new venue, HOME. In 2012 the building was bought by hotel developer Edwardian Hotels London for redevelopment, and is currently vacant.
Current situation
The hotel developer has not yet outlined its future plans for the historic building. However, Iype Abraham, Commercial Development Director at Edwardian Hotels London, released the following statement: "We are continuing to review and develop our plans for the Theatre Royal. At the heart of this process is an internal feasibility study to ensure that the theatre is sensitively maximised to its full potential and best reflects the space, location and history. Our current investment focus is the adjacent Radisson Blu Edwardian Manchester hotel, which is going through a major refurbishment. In due course we will review how best to maximise the Theatre Royal alongside that work."
Theatres Trust hope to work with Edwardian Hotels London to ensure that any proposals for the theatre will preserve the significance of this important building and not preclude it from being brought back into live performance use in the future.
Image: Theatre Royal, Ian Grundy