North Pier Pavilion
An Art-Deco pier pavilion dating from the 1930s, now one of only five operating pier theatres in the country.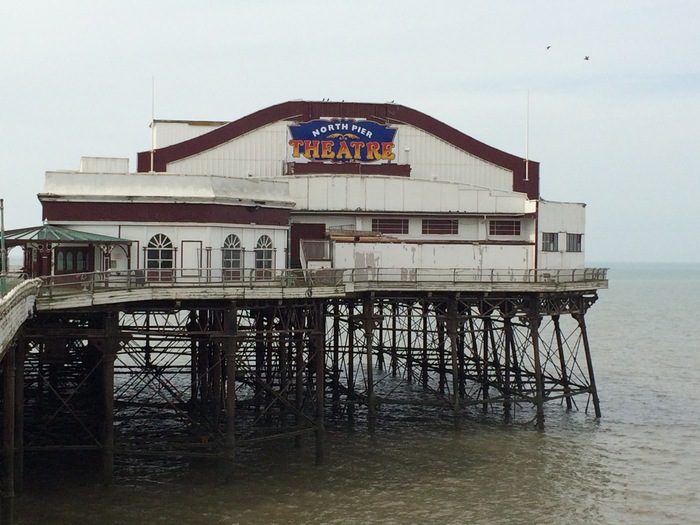 Address

The Promenade, Blackpool, Lancashire

Risk Rating

6 (risk rating: 3, star rating: 1, community rating: 2)

Local Authority

Date of Construction

1939

Listing

Grade II

Capacity

1,465

Database Link
Significance
The Blackpool Pier Company opened the North Pier in 1863, and it is now the oldest of the surviving piers built by renowned promenade pier architect and engineer Eugenius Birch. The current Pavilion, in the Art-Deco style, dates from 1939. This is a popular local venue which forms part of Blackpool's overall cultural offer. It is Grade II listed, and one of only five operating pier theatres in the country, and one of only three operating on the seaward end of the pier. The owner of the North Pier also owns the neighbouring Central and South Piers. Together these structures form an historic grouping of piers which the World Monuments Fund has recently included on its 2018 World Monuments Watch List.
Why is this theatre at risk?
In December 2013 the North Pier was severely damaged by strong winds. This caused the seaward end of the pier to close for health and safety reasons. It reopened in April 2014, however, there are still concerns relating to the safety of parts of the structure. During the storm damage, the orchestra pit was sucked out from underneath the theatre. This has caused a void directly under the front of the stage which has affected the usability of the theatre and is causing issues with water and weather penetration.
Current situation
During the winter of 2015/16 Blackpool Borough Council undertook a structural survey of the pier and has been engaging with the owners on a structural repair programme. It is noted that the survey did not include the theatre. The survey has led to a further review to examine options for the pier structure. The review is being led by Blackpool Council working in conjunction with the pier's owners, Historic England, The National Piers Society, Victorian Society and Theatres Trust.
Theatres Trust supported the successful bid for Blackpool's three piers to be placed on the World Monuments Fund Watch List, a selective list of cultural heritage sites around the world that are at risk. This will help raise visibility and public awareness of the piers, aid in fostering local engagement in their protection, and help leverage for new resources for conservation.
Image: North Pier Pavilion, Theatres Trust