King's Theatre
Kirkcaldy's main cinema until its closure in 2000. Currently being restored to create Fife's largest performing arts venue.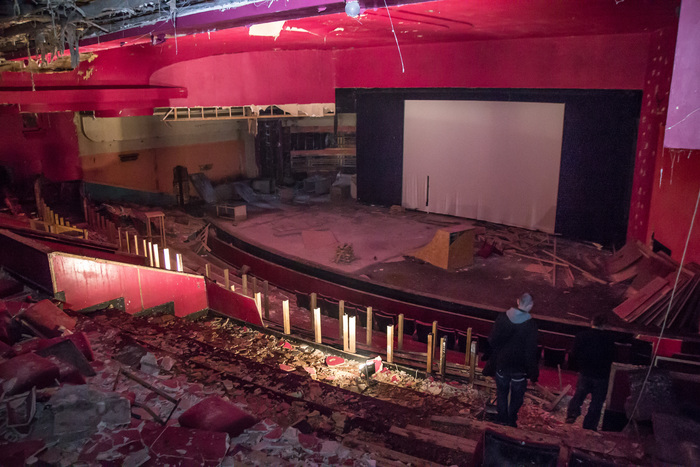 Address

252-262 High Street, Kirkcaldy, Fife, KY1 1LA

Risk Rating

5 (risk rating: 1, star rating: 1, community rating: 3)

Local Authority

Architect

J D Swanston & William Williamson

Date of Construction

1904

Listing

Category B (façade only)

Capacity

Estimated at 2,000

Database Link
Significance
Originally opened as the King's Theatre in 1904, the building at the High Street's east end later became a cinema, remaining Kirkcaldy's main picture house until its closure in 2000. The facade of the original 1904 building still survives. The interior was once similar to the architect's magnificent King's Theatre in Edinburgh, but was gutted in 1937 to be rebuilt in streamlined cinema mode, later converted to three screens. However, some of the original theatre wall decoration has been preserved behind later alterations. There is much local interest in restoring the building for community use.
Why is this theatre at risk?
After closing as a cinema the building was sold to the Commercial Pub Company and planning permission was granted for the conversion to a pub and performance venue. However, listed building consent for internal and external decorations was later withdrawn. In 2005, the building was sold, remaining empty and suffering from a lack of maintenance. The building was bought by Kings Theatre Kirkcaldy Limited in August 2016. They have since made the building weathertight and, with the support of local volunteers, cleared debris from inside. This has allowed the theatre to be opened to the public for building tours/pop up events. A major capital works project is planned to begin in 2018 to fully restore and reopen the building.
Current situation
Kings Theatre Kirkcaldy Limited plans to return the three former cinema screens to one large auditorium to host an audience of between 1,750 and 2,000. The former YWCA at the rear of the building (ownership of which has also been secured by the Kings Theatre Kirkcaldy Limited) is to be adapted to form an event space and a 50 seater café/restaurant to help subsidise the theatre. Fife College is partnering for this aspect of the work. The building will also feature space for a local recording studio, offices, training and community use, as well as a flexible 500-seat multi-use theatre hall.
The project has had great momentum and energy under the strong leadership of the Kings Theatre Kirkcaldy Limited, has been successful in its fundraising to date and has made substantial progress in a very limited period of time. Theatres Trust has been supporting the group through its workshop programme and by providing advice on aspects of building work. It is hoped that the former YWCA building will be fully operational by the end of 2018 and the Kings Theatre itself will open between 2020 and 2022.
Campaign video (from 2016)
https://www.youtube.com/watch?v=8ofQWGUMkZ0
Image: King's Theatre Kirkcaldy, David Clark