King's Theatre
The only surviving theatre in the Dundee area capable of hosting large touring productions. Much of the opulent original auditorium remains and could be restored.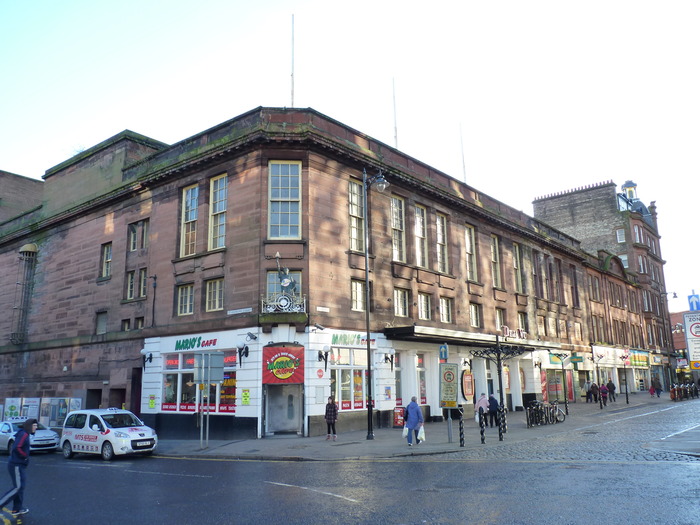 Address

21-29 Cowgate, Dundee

Risk Rating

7 (risk rating: 3, star rating: 1, community rating: 3)

Local Authority

Local Group

Owner

25 – 29 Cowgate: Park Investments (Dundee) Ltd (currently in administration); 23 Cowgate: Duthus Properties Ltd; 21 Cowgate: Private Owner

Architect

James Thomson

Date of Construction

1909

Listing

Category B

Capacity

Estimated at 1,000

Database Link
Significance
If restored, the handsome King's Theatre could become a great asset to the city of Dundee which is in need of a large proscenium touring house. The theatre has an impressive frontage and originally had lavish interiors including commodious front of house spaces, lined in mahogany and teak, and a very opulent auditorium in the Edwardian manner with decorative panels. It features Baroque and Rococo style plasterwork, a fine saucer domed ceiling with frescoes and a marble proscenium frame. Work to the theatre in 1955 sadly included the partial demolition of the balcony and the insertion of a false ceiling above the circle. After closing as a bingo hall, much archaeological investigation took place and it was established that enough of the original interior (including the ceiling) remains intact to enable the theatre to be restored.
Why is this theatre at risk?
After the cinema closed in 1982, part of the building was run as a bingo hall and then partly as a themed bar/nightclub. The retail units at ground floor are currently in use. The nightclub that operated from the auditorium was closed, but appears to have been reopened as of December 2017. The roof that was previously leaking into the billiards room, on the top floor, has been repaired however the Cowgate elevation masonry is damp in sections. The south-western façade is showing extended foliage growth which is a significant risk to both the building and the passing public. Additionally, two second floor windows are beginning to move inwards.
Current situation
The King's Theatre Trust (KTT) has been actively campaigning to purchase and restore the theatre for live performance. Its plans include the adjoining Continental Ballroom which would provide cross-subsidising retail and bar/restaurant facilities. KTT has recently been reviewing different strategies to take advantage of new legislation and funding opportunities in Scotland, including investigating funding for a viability study. In 2017 it achieved success in a funding bid to carry out community engagement which will allow a consultant to be engaged and importantly help raise awareness and gather valuable feedback from the community to aid future funding applications. Theatres Trust is providing fundraising and capital project advice and has provided KTT with links to other similar project teams and links to Historic Environment Scotland, which features the building on its Heritage at Risk Register. In the meantime, the ownership and future of the building remains uncertain. It has been put up for sale twice in the last year, but no bids were received. Whilst KTT would be keen to acquire the theatre, it is currently at the very early stages of its project and would require funding to back an acquisition and subsequent responsibilities resulting from ownership.
Update July 2018
It has been reported that the building has been bought by Sava Estates Limited, and is understood to have been sold for £240,000 – a third of the price it last sold for a decade ago.
Image: King's Theatre, Theatres Trust