Streatham Hill Theatre
One of London's most lavish 'sleeping beauties' and the last theatre designed by W G R Sprague, the architect responsible for some of the most beautiful theatres in London.
Address

110 Streatham Hill, London, SW2 4RD

Risk Rating

7 (Community Value: 3, Star Rating: 2, Risk Factor: 2)

Local Authority

Local Group

Owner

Pollmount Ltd

Architect

W. G. R. Sprague & W. H. Barton

Date of Construction

1929

Listing

Grade II

Capacity

c. 2800

Database Link
Significance
Built in 1929, this was the last theatre designed by theatre architect W. G. R. Sprague. It is possibly his largest and one of the best-equipped in London outside of the West End. The theatre has an imposing faience facade. The foyer is spacious, with tall gilded Ionic columns and arches, terrazzo floor and two round kiosks each side of the grand central stairway. This sweeps up to dress circle and balcony levels, parting at the centre into two flights with iron balustrading. The auditorium is lavish and has excellent sightlines with two balconies. The foyers, auditorium and public areas were described as being 'in the Adam manner' but are quite eclectic, with friezes of sphinxes, angels and garlands in abundance. The theatre was hit by a V1 flying bomb in 1944 but reconstructed in 1950 close to the original Sprague designs. Original wooden stage machinery is also still in situ, together with the counterweight flying and three-part forestage orchestra lifts. It was listed Grade II in 1994 as 'an unusually lavish example of a theatre built in the short-lived revival of building in 1929-30; as a suburban example of this date the building may be unique.' It was registered as an Asset of Community Value in 2018.
Why is this theatre at risk?
Streatham Hill Theatre has been on the Theatres at Risk Register since 2017.
Beacon Bingo closed its operation in the main auditorium in January 2017 and currently operates a Cashino slot-machine lounge out of the rear of the stalls only, leaving the future of the building uncertain. Beacon Bingo's lease expires in 2028 and it is understood that the company will be liable for dilapidations at the end of this term, which could have a substantial cost implication.
In the meantime, it is feared that the current freeholder, Pollmount, may have plans for redevelopment. There is also concern that if the more saleable parts of the building are let or developed separately, such as for offices or flats, the auditorium itself may be left in an unsustainable position, and without the income it would need from the rest of the building.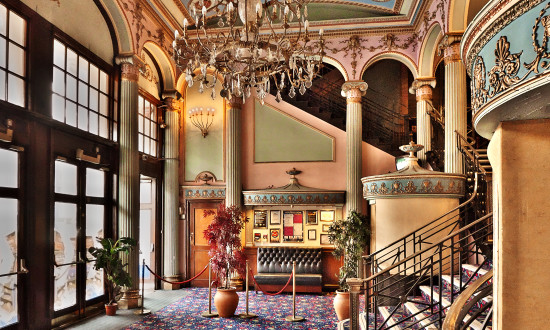 Theatre potential
While a theatre of such a size is unlikely to be viable at this time, it would lend itself to adaptation for smaller-scale and/or studio style performances, which would preserve the historic significance of this beautiful building. By also using the range of ancillary spaces, the building would function well as a multi-purpose arts centre and home for community and arts organisations with co-working space and supported by bar/café/restaurant facilities open to the public. There is currently a shortage of both work space and arts/cultural facilities in the area which this building could address.
Local residents formed The Friends of Streatham Hill Theatre to campaign to save the theatre for the benefit of the community, and are raising funds to complete a viability study to investigate these options further in 2020.
Theatres Trust has been supporting the Friends since its formation and providing fundraising and viability study advice. In addition, the Association of British Theatre Technicians (ABTT) Historical Research Committee has carried out extensive research into the theatre's unique and significant history and its current condition.
Current situation
From 2013 to 2017 the local amateur community theatre company Streatham Theatre staged a number of performances in a pop-up theatre space in the circle foyer, and ran tours and promenade performances around the building. These activities were well-supported by Beacon Bingo, but since bingo ceased, access has not been possible.
Beacon Bingo's parent company had stated in 2017 that it would like to find a cultural use for the building and it is believed that it was approached by a number of potential users and developers, however any further discussions appeared to have ceased.
Meanwhile, local residents have formed The Friends of Streatham Hill Theatre with the ambition to return the theatre to an arts and performance use for the benefit of the community. In November 2018 a flash-mob photo call demonstrated the high level of community support for this campaign.
In January 2019, Lambeth Council's 2018 decision to list Streatham Hill Theatre as an Asset of Community Value was upheld after an appeal by the owners. This offers the theatre additional protection from development. Not only does this decision recognise the theatre's important cultural and social role in its community, it is a sign of the council's support to return the theatre to an arts and performance use, continuing Streatham's path of becoming a more attractive and exciting place for residents and visitors.
London Borough of Lambeth submitted a bid in March 2019 to the Future High Streets Fund for Streatham's high street. The restoration and reopening of Streatham Hill Theatre as a live performance venue formed a part of this bid. Although unsuccessful, the inclusion of the theatre within the bid is a strong indication of the council and residents' support for the theatre as a key pillar in local regeneration.
In June 2019, the local authority's Investment and Growth Strategy for Streatham included a priority action to explore opportunities for the building as part of its objective of providing spaces for better and new experiences in the area.
20 November 2019 marked 90 years to the day since the theatre opened with a production of Wake Up and Dream! and to celebrate the occasion Simon Callow CBE and Catherine Russell participated in a ceremonial event to coincide with the announcement of a crowdfunding campaign to raise funds for a viability study. Following this the Friends of Streatham Hill Theatre were invited to pitch to the Mayor of London's Crowdfund London programme for spring 2020.
In May 2020 The Friends of Streatham Hill Theatre were awarded a Theatres at Risk Capacity Building Programme grant of £6,000 to support the proposed viability study and economic impact assessment.
Alongside our support, that of Lambeth Council and many local supporters, the Friends group successfully reached its viability study crowdfunding campaign target.
In early September, following a tender process, FEI was chosen to produce a Viability Study and Economic Impact Assessment for Streatham Hill Theatre. The company has teamed up with theatre architects Aedas Arts Team, cost and programme consultants Pulse Consult, and creative industry economists Nordicity to look at options for the future of the building as an arts and cultural centre, and then set out a case to decision-makers and interested parties to come on-board. The report is due to be completed by December 2020.
This is an exciting and important step in the journey to breathe new life into this magnificent theatre. Theatres Trust is continuing to support the Friends group with early-stage project advice.
The Friends of Streatham Hill Theatre has launched an online survey designed to collect information on the hiring potential of spaces and facilities that could be available within a re-imagined Streatham Hill Theatre. The survey is available online here until Sunday 8 November 2020
Photos, Streatham Hill Theatre, Tim Hatcher