Streatham Hill Theatre
One of south London's most lavish 'sleeping beauties' and the last theatre designed by William George Robert Sprague, the architect responsible for some of the most stunning theatres in London.
Address

110 Streatham Hill, London, SW2 4RD

Risk Rating

7 (Community Value: 3, Star Rating: 2, Risk Factor: 2)

Local Authority

Local Group

Owner

Poll Mount Ltd

Operator

Praesepe plc (Beacon Bingo)

Architect

William George Robert Sprague & W. H. Barton

Date of Construction

1929

Listing

Grade II

Capacity

c. 2800

Database Link
Significance
Built in 1929, this was the last theatre designed by theatre architect William George Robert Sprague. It is possibly his largest and one of the best-equipped in London outside of the West End. The theatre has an imposing faience facade. The foyer is spacious, with tall gilded Ionic columns and arches, terrazzo floor and two round kiosks each side of the grand central stairway. This sweeps up to dress circle and balcony levels, parting at the centre into two flights with iron balustrading. The auditorium is lavish and has excellent sightlines with two balconies. The foyers, auditorium and public areas were described as being 'in the Adam manner' but are quite eclectic, with friezes of sphinxes, angels and garlands in abundance. The theatre was hit by a V1 flying bomb in 1944 but reconstructed in 1950 close to the original Sprague designs. Original wooden stage machinery is also still in situ, together with the counterweight flying and three-part forestage orchestra lifts. It was listed Grade II in 1994 as 'an unusually lavish example of a theatre built in the short-lived revival of building in 1929-30; as a suburban example of this date the building may be unique.' It was registered as an Asset of Community Value in 2018.
Why is this theatre at risk?
Streatham Hill Theatre has been on the Theatres at Risk Register since 2018.
Praesepe plc closed its Beacon Bingo operation in the main auditorium in January 2017 and currently operates a 'Cashino' slot-machine lounge out of the rear of the stalls only, leaving the future of the building uncertain. The closure of bingo also brought the end of local amateur community theatre use in the building. This had been operating as a pop-up theatre space in the circle foyer and had run tours and promenade performances around the building.
Beacon Bingo's lease expires in 2028 and it is understood that the company will be liable for dilapidations at the end of this term, which could have a substantial cost implication. In 2017, Beacon Bingo's parent company suggested that it would like to find a cultural use for the theatre and it is understood that it was subsequently approached by a number of potential users and developers. However, any further discussions or movements on this front appear to have ceased.
In the meantime, it is feared that the building's owner, Poll Mount Ltd, may have plans for redevelopment. There is also concern that if the more saleable parts of the building are let or developed separately, such as for offices or flats, the auditorium itself may be left in an unsustainable position, and without the income it would need from the rest of the building.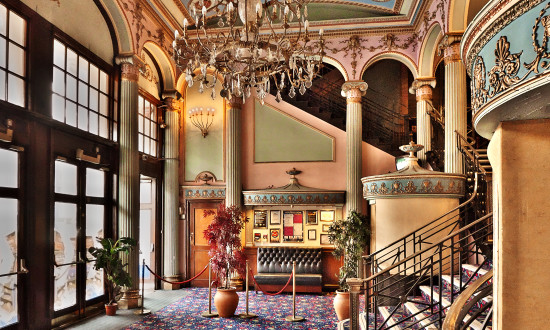 Theatre potential
There is currently a shortage of both workspace and arts / cultural facilities in the area which this building could address.
In 2020, campaign group, The Friends of Streatham Hill Theatre, raised funds to complete a viability study and economic impact assessment to investigate the theatre's potential for a sustainable future. In April 2021, the report confirmed that restoration and phased reuse of the theatre as a leisure and entertainment venue is a viable proposal, and would generate footfall, jobs and economic growth, adding over £70m to the local economy over 30 years.
Theatres Trust has been supporting the Friends since its formation and providing fundraising and viability study advice. In addition, the Association of British Theatre Technicians Historical Research Committee has carried out extensive research into the theatre's unique and significant history and its current condition.
Current situation
Local campaign group, the Friends of Streatham Hill Theatre, has been very proactive and achieved successes both in fundraising and in harnessing strong community support for the building. The group has also been successful in getting the building listed as an Asset of Community Value (ACV), despite an appeal by the owners. Lambeth Council's decision to list the theatre as an ACV recognises the theatre's important cultural and social role in its community. It is also a sign of the council's support to return the theatre to an arts and performance use, continuing Streatham's path of becoming a more attractive and exciting place for residents and visitors.
A further strong indication of the council and residents' support for the theatre as a key pillar in local regeneration was provided by the theatre's inclusion within the council's 2019 bid to the Future High Streets Fund for Streatham's high street, although sadly the bid was unsuccessful.
In June 2019, Lambeth's Investment and Growth Strategy for Streatham included a priority action to explore opportunities for the building as part of its objective of providing spaces for better and new experiences in the area. Furthermore, the Draft Revised Lambeth Local Plan 2020 states that the former Streatham Hill Theatre provides a transformative opportunity to provide a major leisure and entertainment venue with the potential for workspace for creative, digital and cultural industries.
20 November 2019 marked 90 years to the day since the theatre opened with a production of Wake Up and Dream! and to celebrate the occasion Simon Callow CBE and Catherine Russell participated in a ceremonial event to coincide with the announcement of a crowdfunding campaign to raise funds for a viability study and economic impact assessment.
The campaign was awarded £15,000 by the Mayor of London's 2020 Crowdfund London, followed up by a grant of £7,500 by the council in May 2020.
In May 2020 The Friends of Streatham Hill Theatre were awarded a Theatres at Risk Capacity Building Programme grant of £6,000 to support the proposed viability study and economic impact assessment.
The Friends group successfully reached its crowdfunding target and work on the viability study commenced in September 2020.
A Statement of Historical Significance, commissioned as a part of the viability study has shown that the Streatham Hill Theatre is significant on a number of levels: its place in the work of the original architect W.G.R Sprague, being a rare example of interwar suburban theatre buildings, its aesthetic completeness, quality and scale - and its role in the collective cultural memory of its local community.
Update April 2021
The results of the Viability Study and Economic Impact Assessment, supported by our Theatres at Risk Capacity Building Programme, have been published, confirming that with investment and refurbishment the operation of the theatre as a leisure and entertainment venue is a viable long-term proposition.
The report recommends a phased, incremental and collaborative approach, with the immediate focus on making meanwhile use of parts of the building. A minimal refurbishment of the theatre could be implemented as a sustainable operating model in the medium term, while longer-term plans are developed for full refurbishment and operation as a fully commercial theatre.
This is an exciting and important step in the journey to breathe new life into this magnificent theatre. Theatres Trust is continuing to support the Friends group with early-stage project advice.
Update November 2021
Streatham Hill Theatre has been included on Historic England's Heritage At Risk Register, giving it further protection and recognition. Read our news story about its inclusion.
Photos, Streatham Hill Theatre, Tim Hatcher