Viability study shows a way back for Salford Victoria
We are delighted that the viability study funded through our Theatres at Risk Capacity Building Programme has determined a solution to securing the future of this beautiful theatre.
Salford Victoria Theatre Trust was awarded £21,600 through the pilot year of the funding programme to commission a viability study to determine the best use for the building. Colliers International, Foster Wilson Architects and Theatresearch were commissioned to carry out the study.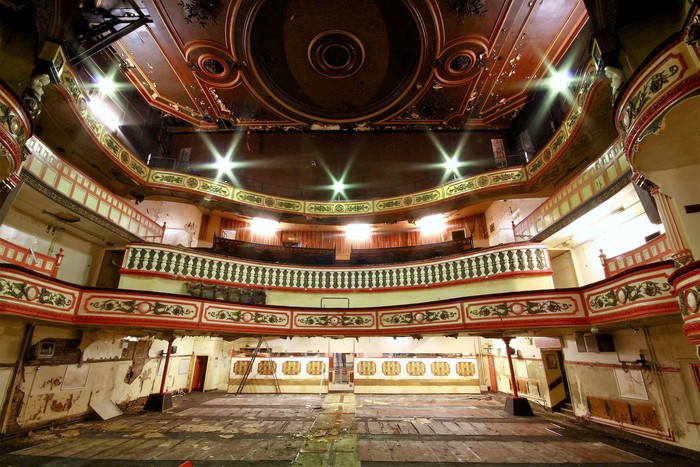 It is an outstanding Victorian theatre and has the potential to become an attractive and vibrant hub for Lower Broughton.

The report outlines a four-stage strategy for restoration:
Repairing the roof, clearing the building and making it safe, externally and internally, and unblocking windows.
Restoring the basement, ground and first floors of the front of house section; the stalls; the ground floor of the stage; the dress circle lobby, front dress circle seating and the dress circle bar.
Restoring the upper and lower levels of the stage house
Restoring the upper levels of the front of house and auditorium.
The optimum viable use in the short-medium term is likely to either be a flexible multi-use events venue plus community hub or a more food and beverage-orientated business. This would not preclude full restoration as an active theatre in the longer term.

There will be a public consultation on 17 February to explain the findings in more detail and allow interested parties to provide feedback. Look out for more information on the Salford Victoria Theatre Trust website.

Theatres Trust will continue to support the Salford Victoria Theatre Trust in its ambition to see the future of this significant building secured. We urge local people, Salford City Council and local partners and businesses to support this vision for both building and community.