Groundlings Theatre
A Grade II* listed Georgian building, originally built as a Beneficial School but with a public hall that was used for concerts, theatres and meetings. It is now an active theatre, which plays an important role in its community.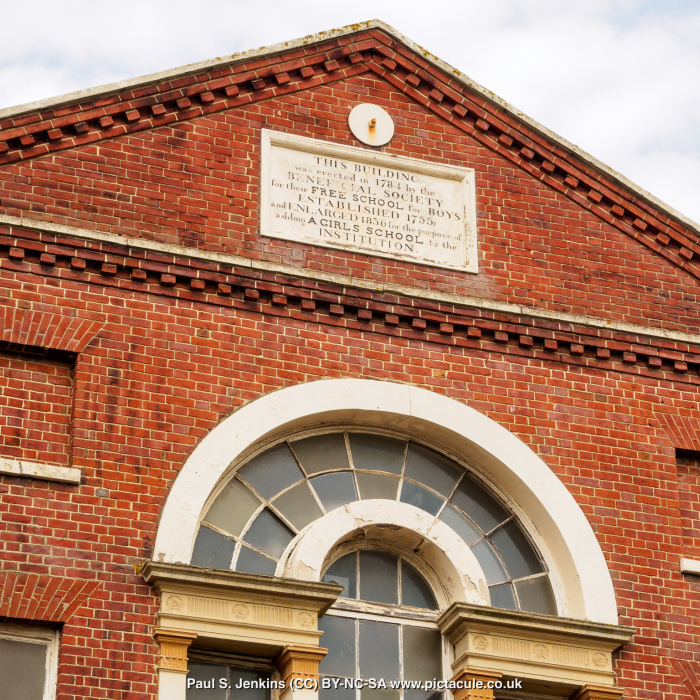 Address

42 Kent Street, Portsea, Hampshire, PO1 3BS

Risk Rating

7 (Community Value: 3, Star Rating: 2, Risk Factor: 2)

Local Authority

Owner

Richard Stride (Private ownership)

Architect

Unknown

Date of Construction

1784

Listing

Grade II*

Capacity

c. 200

Database Link
Significance
The Groundlings is a Grade II* listed Georgian theatre, originally built in 1784 as a Beneficial School and the first free school in Portsmouth. The upstairs rooms were used for concerts, theatre and meetings. The building has connections with many notable people including Queen Victoria, who watched legendary composer Strauss in concert at the theatre, and Elizabeth Dickens who reportedly went into labour with Charles Dickens while attending a dance in the building.
The school closed in 1930 due to World War II and it became a youth training centre in 1962. It was almost burnt to the ground by a stray firework in 2004 but survived and was bought in 2010 by local actor and artistic director Richard Stride, founder of the Groundlings Theatre Company, who was in search of a permanent base for his organisation. The building required major work to repair the 2004 fire damage and with the help and support of local volunteers it was brought back into serviceable condition and opened with its first theatre show in May 2010. It was subsequently named the Groundlings Theatre after the Elizabethan theatre patrons who frequented the ground (or yard) of the theatre because they could not afford the balconies.
The theatre still retains many original features such as floorboards and fireplaces. The flat-floored theatre space currently has a stage with a proscenium arch. Versatile tiered seating and steel deck staging allows the space to be used in the round, for studio space or dinner theatre.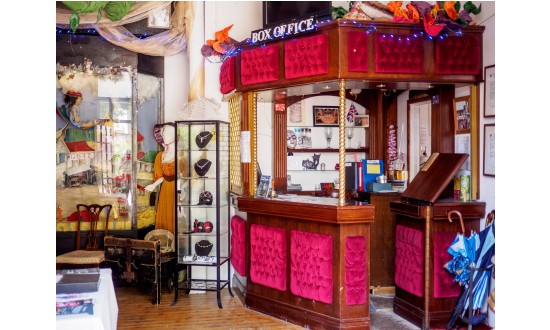 Why is this theatre at risk?
Groundlings Theatre has been on the Theatres at Risk Register since 2020.
The theatre has suffered problems with maintenance and repair of its historic fabric and is also included on Historic England's Heritage at Risk register, noted as in poor condition and a state of slow decay. In 2019, the level of risk to the building and operation heightened due to a break-in causing damage to the building and its contents. Furthermore, ongoing financial concerns led to the owner (and then operator) seeking funding support from redevelopment of the building's car park. A developer-led scheme for student accommodation was subsequently submitted for planning and listed building consent. While enabling development can be of positive support to theatres, the proposal that was submitted for planning was of poor quality and design, showing little understanding of theatre operation and failing to take into account the building's heritage. Overall, the development was considered of more harm than benefit to both the historic significance of the theatre and its ongoing operation. The application has since been withdrawn.
In April 2020, The Groundlings Theatre Trust, took over the operation of the theatre, leasing it from the current owner. However, the lease, which is a full repairing lease, is only short-term and this prevents eligibility for funding grants to carry out the essential repair works required to protect the listed fabric of the building. Until such time as this is resolved and the necessary repair works completed the building remains vulnerable.
Theatre potential
The theatre plays an active role in its local community, working closely with local schools, running a successful drama school and is well-used by youth groups and groups working with vulnerable people. The company produces the majority of its own work and is becoming well known for the unique opportunities it provides to its local community, in particular the opportunity to work alongside professional actors and creatives.
The auditorium is usually set up for audiences to be seated cabaret-style, giving performances here an intimate feel and making the venue quite unlike any other in the local area. The venue also offers rehearsal rooms, offices and a dance studio for hire and houses an extensive costume department with more than 10,000 items available for loan.
Current situation
The Groundlings Theatre is operated by a passionate team, determined to keep this valuable resource open for its local community.
In 2018 Historic England helped the theatre undertake a condition survey on the building. This identified problems with the roof structure and windows. However, access to funding to cover the necessary repairs had proven difficult due to the building being in private ownership. Unfortunately, even now as the theatre is operated by The Groundlings Theatre Trust, a charitable trust, the lease terms currently prevent access to public funds. Discussions are ongoing and it is hoped that this issue will be resolved. The Groundlings Theatre Trust is being supported in its discussions by Portsmouth City Council with input from both Historic England and Theatres Trust.
In May 2020 Groundlings Theatre Trust was awarded a Theatres at Risk Capacity Building Programme grant of £19,000 to support governance and business planning works for the organisation, and to undertake a new conditions survey for the building. The conditions survey is due to complete in January 2021, with governance work completing in spring 2021.
In January 2020 The Groundlings Theatre Trust was successful in its application to Historic England's Covid-19 Emergency Heritage at Risk Response Fund. The grant will support essential repairs to the front of the building.
Theatres Trust together with Historic England will continue to advise The Groundlings Theatre Trust and support it in ongoing discussions with the owner and potential funders to find a route to securing both building and operation.
Main and interior photo Paul S. Jenkins Photography www.pictacule.co.uk