Winter Gardens
A landmark building, architecturally striking and a rare survivor of its type, situated in the heart of Morecambe.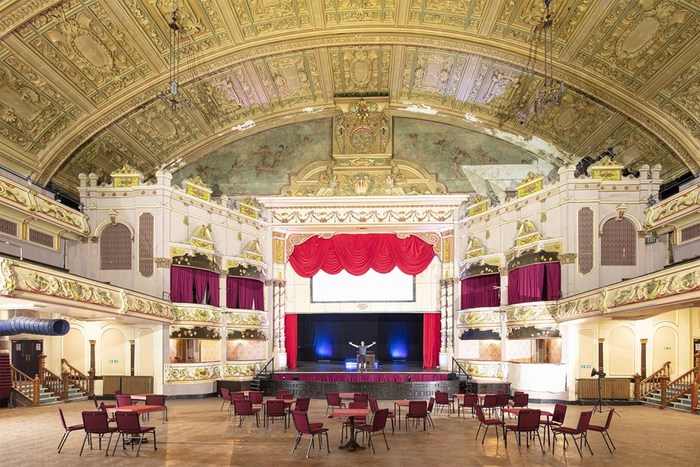 Address

209 Marine Road Central, Morecambe, Lancashire, LA4 4BU

Risk Rating

8 (Community Rating: 3, Star Rating: 3, Risk Rating: 2 )

Local Authority

Local Group

Owner

Morecambe Winter Gardens Preservation Trust Limited

Operator

Morecambe Winter Gardens Preservation Trust Limited

Architect

Mangnall & Littlewood

Date of Construction

1897

Listing

Grade II*

Capacity

2,150

Database Link
Significance
Morecambe Winter Gardens is a Grade II* listed building of a rare type, that is, a big concert party or minstrels' hall. It is now thought to be unique of its kind. It was built in 1897 to the designs of Mangnall & Littlewood, with noted theatre architect Frank Matcham as consultant. Prominently sited on the seafront, the main elevation is an ornate, symmetrical composition in brick and terracotta. The foyer and stair hall are richly decorated with the original mosaic, faience tiling and fine joinery. Beyond, a curving promenade with timber and glazed screens lead to an impressive auditorium. This wide and elaborately decorated hall is oversailed by a spectacular tunnel vaulted ceiling. A flavour of Matcham is detectable in a building quite unlike any of his surviving works. This is a landmark building at the very heart of Morecambe, which has seen a great amount of support from the local community over many years. The continued use of this building would assist with urban renewal.
Why is this theatre at risk?
The building is operated by Morecambe Winter Gardens Preservation Trust Limited (MWGT), which along with the Friends of the Winter Gardens, is slowly restoring the theatre and bringing it back into use. The theatre is open to the public and currently shows a mixed programme of entertainment, operating from the ground floor and stalls only. The upper balcony areas are in poor condition and not currently accessible to the public. Whilst the circle level is open for public tours it is not available as audience seating. MWGT continues to progress the restoration through its loyal volunteer groups, however both the scale of the work and the costs involved are substantial. Significant funding is required to allow the Winter Gardens to be fully restored and reopened, and to allow it to operate to its full potential.
Current situation
While restoration work is slow, much progress has been made: the front bar has been reopened as have offices at the front of the building, the raked parquet floor and timber panelling to the stalls have been painstakingly renovated, and dressing rooms refitted. The theatre is currently looking to open a new bar and event space front of house. In the meantime, the upper levels of the building are closed to the public, heating remains a problem, particularly over the winter months, and a proportion of audience toilets are temporarily located in portakabins. MWGT is currently applying to the Coastal Communities Fund for a grant to help resolve some of these issues.
Theatres Trust has been providing support to the MWGT regarding operational set up after a difficult year which has seen the passing of the group's founder member, Evelyn Archer. Theatres Trust has been working with MWGT to review current fundraising needs and is also looking to facilitate future meetings between Historic England, MWGT and the Trust to determine a support package and route to allow this magnificent Grade II* listed building to be fully restored and reopened.
In March 2019 Morecambe Winter Gardens was awarded a grant through the Government's Coastal Communities Fund, to replace its heating system. This will make a significant difference to the visitor experience in the theatre. Read our comment on this news.
With our help the original seats at Morecambe Winter Gardens have returned home and await reinstallation. The chairs were rescued in May from a Masonic Lodge in the Leyland area which is being demolished.
In May we were delighted to support the theatre with a grant as part of our Theatres at Risk Capacity Building Programme.
Update November 2019
With funding from our Theatres at Risk Capacity Building Programme Morecambe Winter Gardens has commissioned Lower Eaton Consulting to carry out a governance and training review to ensure future resilience of the organisation. Chartered accountant Waters & Atkinson will also provide business plan advice.
Morecambe Winter Gardens has been awarded a grant from Historic England to restore its roof. Read more about this funding.
Image: Morecambe Winter Gardens, Historic England Archive