Winter Gardens
A landmark building, architecturally striking and a rare survivor of its type, situated in the heart of Morecambe.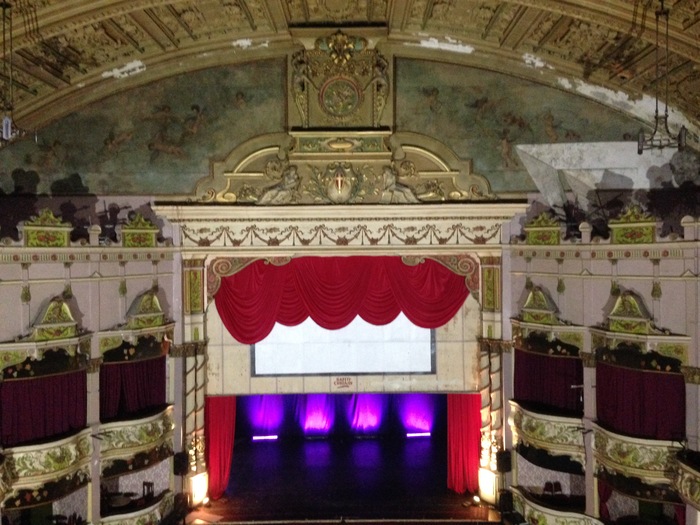 Address

209 Marine Road Central, Morecambe, Lancashire, LA4 4BU

Risk Rating

8 (risk rating: 2. star rating: 3. community rating: 3.)

Local Authority

Owner

Morecambe Winter Gardens Preservation Trust Limited

Architect

Mangnall & Littlewood

Date of Construction

1897

Listing

Grade II*

Capacity

2,150

Database Link
Significance
Morecambe Winter Gardens is a Grade II* listed building of a rare type, that is, a big concert party or minstrels' hall. It is now thought to be unique of its kind. It was built in 1897 to the designs of Mangnall & Littlewood, with noted theatre architect Frank Matcham as consultant. Prominently sited on the seafront, the main elevation is an ornate, symmetrical composition in brick and terracotta. The foyer, stair hall and large auditorium are richly decorated. A flavour of Matcham is detectable in a building quite unlike any of his surviving works. This is a landmark building at the very heart of Morecambe, which has seen a great amount of support from the local community over many years. The continued use of this building would assist with urban renewal.
Why is this theatre at risk?
This building is operated by the Morecambe Winter Gardens Preservation Trust Limited, which along with the Friends of The Winter Gardens is slowly restoring the theatre and bringing it back into use. However, the condition of the upper balcony areas is very poor and this area is not currently accessible to the public. The substantial cost of maintenance, restoration and adaption means it needs substantial funding in order for it to attract the hires and visitors it needs to survive.
Current situation
The theatre is open at ground floor level for events and activities. The front bar has been reopened as have offices at the front of the building. Restoration work is ongoing.
Image: Morecambe Winter Gardens, Theatres Trust