Burnley Empire
Burnley's only Grade II listed purpose-built Victorian theatre. The auditorium was reconstructed in 1911 by eminent theatre architect Bertie Crewe, and survives in its original, elaborate form.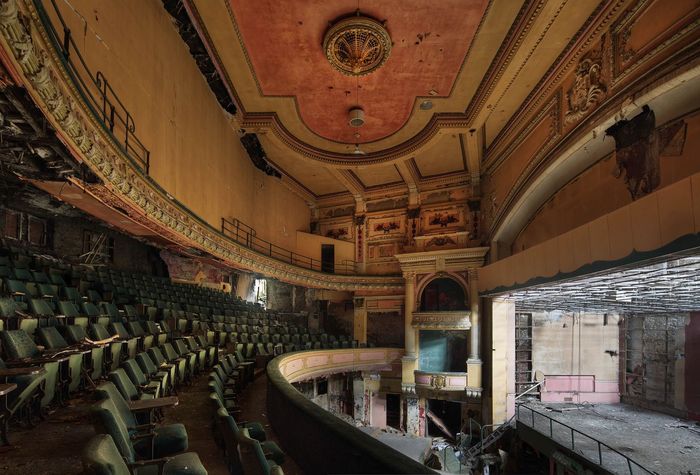 Address

St James Street, Burnley, Lancashire, BB11 1NL

Risk Rating

8 (risk rating: 3. star rating: 2. community rating: 3.)

Local Authority

Local Group

Architect

G B Rawcliffe, Bertie Crewe

Date of Construction

1894

Listing

Grade II

Capacity

1,200

Database Link
Significance
The 1,200-seat Burnley Empire was built in 1894, with the auditorium reconstructed in 1911 by Bertie Crewe. It is Burnley's only Grade II listed purpose-built Victorian theatre. It has a high level of architectural interest of, the principal feature being the Crewe interior which, at the time of statutory listing, retained most of the original structure and elaborate detail with robust and richly formed plasterwork in the Classical style. Although in poor condition, the theatre could be restored to use.
Why is this theatre at risk?
The theatre has been empty since 1995, when bingo moved out. By 1997, the disused upper level showed signs of fairly significant water penetration. More recently, the building has been subject to unauthorised access rendering it vulnerable to further damage and risk of arson. The building is now owned by the Duchy of Lancaster and will be put up for auction in April 2017.
Current situation
A local group, Burnley Empire Theatre Trust (BETT), was formed following publicity surrounding the 2015 Theatre Buildings at Risk Register. BETT is working closely with other stakeholders including Theatres Trust and Burnley Borough Council and has commissioned a viability study on the theatre's future.
The study by Bonnar Keenlyside and Theatresearch has concluded that there is a clear opportunity for the restoration of this Grade II listed theatre through a long-term venture with partnership and training at its core. The proposal, which includes restoring the historic auditorium to its original splendour, is seen as a great opportunity for local heritage skills education and vocational training for young people.
The report identified a preferred option – an innovative and incremental approach to the renovation of the building. In the short term it would allow the development of the stage house into a fully independent night club / events space, with a long term vision to fully restore the auditorium through an initiative with heritage skills training and to reopen it as a working venue.
The stakeholder group will continue to investigate other partnerships to take the scheme forward and to restore the Grade II listed building.
Download Burnley Empire Viability Study Phase One
Download Burnley Empire Viability Study Phase Two
Campaign video
https://www.youtube.com/watch?v=uXGUuZPyqIA
Image: Burnley Empire, Eveleigh Photography