Garston Empire
A rare surviving example of a ciné-variety house, built in 1915 to show both theatre and silent films to the local Liverpudlian working-class community.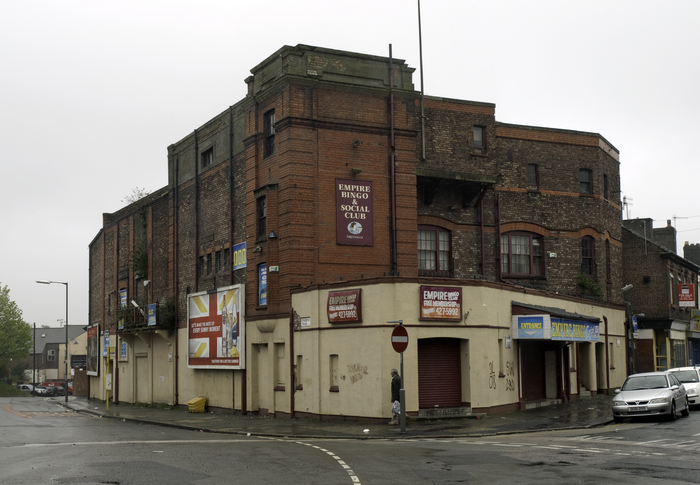 Address

1 James Street, Garston, Liverpool, Merseyside, L19 2LS

Risk Rating

7 (Community Value: 2, Star Rating: 2, Risk Factor: 3)

Local Authority

Local Group

South Liverpool Voluntary Inclusion Programme / Friends of Garston Empire

Owner

Private owner

Architect

Joseph Pearce

Date of Construction

1915

Listing

Not listed

Capacity

Estimated at 1,000

Database Link
Significance
With only three working years as a theatre, this gem has survived with its original features and much decoration intact thanks to over forty years with cinema use, and thirty years with bingo use.
Designed in 1915, the Garston Empire belongs to a class of transitional theatres that were built across a very short period, coming after the Edwardian theatre boom and before the cinema building boom that followed the 1909 Cinema Act. These buildings possess unique qualities as their architects were conscious of the possibilities of continued variety theatre and silent films. This type of entertainment building is therefore a reflection of major changes that affected the social habits of society and comes at a watershed moment in the history of entertainment.
This theatre was designed to serve a predominantly local working-class community. Such provincial variety theatres provided a vehicle for the spread of popular culture and are often referred to as fleapits, characterised by small foyers and relatively plain auditoria. They are increasingly rare with estimates that fewer than twenty survive nationally. It is an architecturally important ciné-variety house, deserving of more research, national recognition and heritage designation.
Why is this theatre at risk?
Garston Empire has been on the Theatres at Risk Register since 2009 when bingo closed and the building fell vacant.
In 2010 Theatres Trust received notification of possible demolition of the building. Liverpool City Council confirmed that according to planning policy at the time the demolition would not require planning permission because the building is neither in a conservation area nor listed. However, the Theatres Trust would be consulted should the site be redeveloped.
The private owner had been keen to sell the building and, in the time since bingo operation ceased, has had several approaches from developers. In 2019 the developer interested in the site moved to exchange of contract, subject to planning, with the intention to demolish the theatre for a social housing development. However, the owner had also been sympathetic to the idea of retaining the building and re-opening it as a theatre for the local community and remained open to discussions with local campaign groups who wished to see the building saved for this purpose. They confirmed that they would be willing to sell to a community group for £250,000. In November 2020 the theatre was sold to a developer, Dam Group UK Property Ltd
Theatre potential
The local community still has fond memories of the building and there has been much support over the years for reopening the Empire as a community facility, including community group Friends of Garston Empire whose ambition is to reopen the building as a theatre. Theatres Trust has been providing various groups who have come forward with early-stage project advice.
Current situation
There has been much interest in the building over the years from many sources, including a local theatre-maker looking for a venue to stage shows, and local community group South Liverpool Voluntary Inclusion Programme, which works to improve the mental and physical health of older people and whose members have fond memories of the Garston Empire when in cinema use. Unfortunately, none have been in the position to take forward a capital works project.
In 2019 the campaign group Friends of Garston Empire was set up by local residents and business people; its ambition was to restore and reopen the building as a live performance venue for the community. Despite receiving offers of support from celebrities, local entertainers, and theatre groups and help from the Theatres Trust, including an introduction to the owner, the group was unable to progress its ambitions and secure ownership, in part due to difficulties caused by the pandemic.
In November 2020 the theatre was sold to a developer, Dam Group UK Property Ltd, whose ambitions for the building are currently unknown. In the same month, new permitted development rights were announced that prevent theatres and other cultural buildings from being demolished without planning permission. While attempts at contact with the owner have not been successful so far, Theatres Trust still hopes to engage with them. We would like to discuss the potential opportunity and community benefits to restoring and reopening the Empire and to help it connect with the many community groups who have shown interest in the theatre with the ambition that historically sympathetic and sustainable reuse for this building can be found.
Main photo Garston Empire, Ian Grundy; interior by Ken Roe.