Garston Empire
A rare surviving example of a ciné-variety house, built in 1915 to show both theatre and silent films to the local working class community.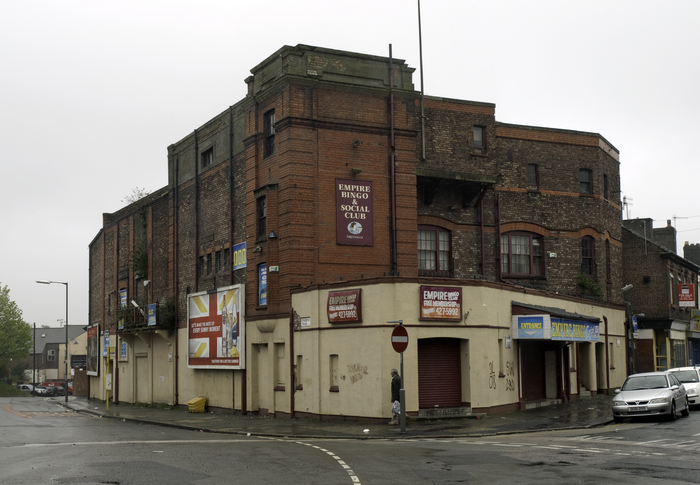 Address

1 James Street, Garston, Liverpool, Merseyside, L19 2LS

Risk Rating

5 (risk rating: 2, star rating: 1, community rating: 2)

Local Authority

Owner

Private owner

Architect

Joseph Pearce

Date of Construction

1915

Listing

Not listed

Capacity

Estimated at 1,000

Database Link
Significance
With only three working years as a theatre, this gem has survived with its original features and much decoration intact, thanks to over forty years with cinema use, and thirty years with bingo use. Designed in 1915, the Garston Empire belongs to a class of transitional theatres which were built for a very short period, coming after the Edwardian theatre boom and before the cinema building boom which followed the 1909 Cinema Act. These theatres possess unique qualities, as their architects were conscious of the possibilities of continued variety theatre and silent films. This type of entertainment building is therefore a reflection of major changes that affected the social habits of society and sits on a watershed moment in the history of entertainment. This theatre was designed to serve a predominantly local working class community. Such provincial variety theatres provided a vehicle for the spread of popular culture and are often referred to as 'fleapits', characterised by small foyers and relatively plain auditoria. They are increasingly rare with estimates that fewer than twenty survive nationally. It is an architecturally important ciné-variety house, deserving of more research, national recognition and heritage designation.
Why is this theatre at risk?
In 2010 Theatres Trust received notification of possible demolition of the building. The council has confirmed that demolition would not require planning permission as the building is neither in a conservation area nor listed. However, the Trust would be consulted should the site be redeveloped.
Current situation
Following the launch of the 2015 Theatre Buildings at Risk Register, Theatres Trust was contacted by several members of the local community who wished to help save the Empire. Unfortunately this interest did not establish into a core group which would be able to lead on the regeneration of the building. However, the interest did establish contact with the owner who met the groups and showed them around the building. It also enabled contact between the owner and Theatres Trust. After so many years of disuse the owner is eager to sell and has had approaches from developers. The local community still has fond memories of the building and there is support for reopening the Empire as a community facility. Recently there has been renewed interest in the building, this time from a local theatre maker looking for a venue to stage shows. Theatres Trust has been facilitating contact with the owner and will be providing ongoing support on the processes involved in bringing a disused venue back to life.
Image: Garston Empire, Ian Grundy