Hulme Hippodrome
A splendid music hall with a spectacular auditorium featuring a riot of gilded Rococo plasterwork. An iconic building of social, historical and architectural significance, currently in a very poor state of repair.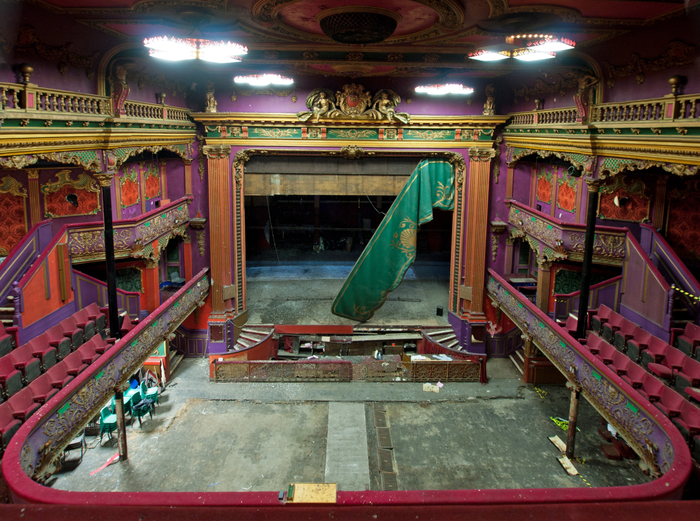 Address

Preston Street, Hulme, Manchester, M15 5EU

Risk Rating

7 (risk rating: 3. star rating: 3. community rating: 1.)

Local Authority

Owner

Gilbert Deya Ministries

Architect

J J Alley

Date of Construction

1901

Listing

Grade II

Capacity

Estimated at 2,000

Database Link
Significance
Hulme Hippodrome is a splendid Grade II music hall. The magnificent auditorium, which has two galleries and a proscenium arch in their original state, is a spectacular riot of gilded Rococo plasterwork. The basic design is very like the auditorium of the Hulme Playhouse next door, but apart from this (and other now demolished theatres designed by J J Alley for the Broadhead Circuit), the concept is quite unlike any contemporary theatre or music hall. The area surrounding the theatre has been substantially redeveloped in the last 20 years and the theatre could find a use as part of the local community. It is an iconic building of social, historical and architectural significance.
Why is this theatre at risk?
Hulme Hippodrome was last used for theatre in the 1960s, then bingo from the mid-1970s until its closure in 1986. The Floral Hall adjacent to the main theatre was then used as a snooker hall. In 2003 evangelist group Gilbert Deya Ministries purchased the building. It was operating from the foyer only, which left the auditorium vacant and in a very poor state of repair. However in 2017 the Council served the owner with a Dangerous Buildings Notice and closed the building. Squatters have since moved in. The theatre remains extremely vulnerable.
An application to list the building as an Asset of Community Value was rejected in 2016.
Current situation
The building is in an increasingly vulnerable state and has deteriorated to such an extent that closure has been necessary. Theatres Trust is in contact with the Council which has been proactive in engaging the Hippodrome's owner in discussions over the disamenity caused by the building and in encouraging them to carry out repair works. The owner has now gone to court and begun legal proceedings to evict the squatters. Once completed it is hoped this will allow the Council and owner to move forward finding a historic led, sustainable long term use for this building.
Image: Hulme Hippodrome, Ian Grundy