Leith Theatre
Empty since 1988, and previously threatened by residential development, the Leith Theatre complex is currently being restored and reopened to provide spaces for a variety of performances, events and classes.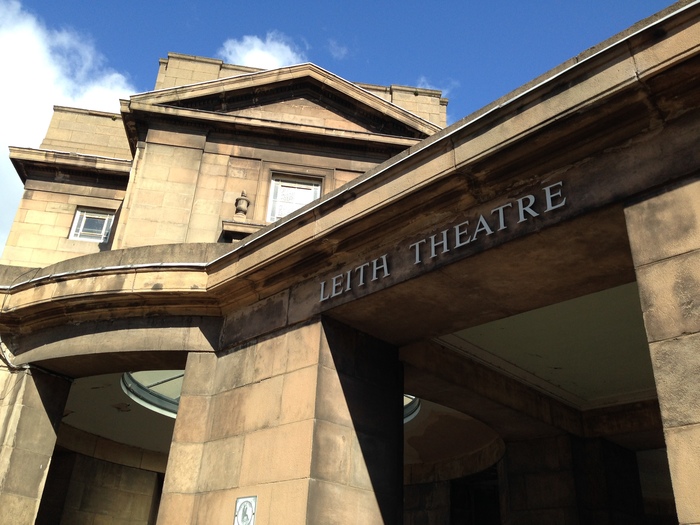 Address

Ferry Road, Leith, Edinburgh, EH6 4AE

Risk Rating

6 (Community Value: 3, Star Rating: 2, Risk Factor: 1)

Local Authority

Operator

Architect

Bradshaw, Gass & Hope

Date of Construction

1932

Listing

Category B

Capacity

1,500

Database Link
Significance
Leith Theatre opened in 1932, built for the people of Leith 'as a gift from the people of Edinburgh', following the Burgh of Leith's incorporation into Edinburgh. The building is part of a complex that includes Leith Library, the Registrar's Office, and Thomas Morton Hall. It is owned by Edinburgh City Council. It has a classical façade and a sumptuous Art Deco circular entrance and box office. This leads to the main auditorium, a flat-floored hall with a U-shaped balcony and proscenium stage. The space is classically detailed with a barrel-vaulted ceiling and glazed roof lights.
Why is this theatre at risk?
Leith Theatre has been on the Theatres at Risk Register since 2016.
Leith Theatre closed in 1983 but continued to host the Edinburgh International Festival every August until 1988, after which time the building was left empty. In 2004 Edinburgh City Council approved the sale of the theatre for residential development – a move that was stopped by concerned locals, and from which Leith Theatre Trust was established. The council granted Leith Theatre Trust a five-year lease on the building with an agreement in principle for a further 30 years. This long-term lease is due for agreement in 2022. The theatre is structurally sound but there is surface deterioration due to weathering.
Although the theatre has recently been in use for pop-up events, there is still much work to be done to enable the building to open, programme, and operate on a permanent basis. This includes essential fabric repairs and the introduction of sanitation. All services within the complex are at end of life or already decommissioned. The theatre operation is still in the early stages of development and remains fragile, with the pandemic being a further difficulty it has had to endure.
Theatre potential
Leith Theatre Trust was granted a five-year lease on the building in February 2016. In May 2017 the building opened its doors for the Hidden Door Festival, a temporary event but the first performance in the main auditorium for almost 30 years. The event was hugely successful and was attended by nearly 13,000 people. It proved a major turning point in the theatre's fortunes, showcasing the potential of the venue and demonstrating its viability. The theatre has gone on to host further pop-up events in the main auditorium including Pianodrome, EH6 festival, the return of the Hidden Door Festival, plus a full-scale theatre production – the theatre's first in more than 20 years – and a regular August contemporary music programme courtesy of Edinburgh International Festival.
The theatre has also been open for a variety of community activities, including weddings and parties, classes, workshops, and small music events.
It is an ideal capacity for a mid-sized music venue in Edinburgh, sitting in an area of regeneration and high population density outside the city centre.
Current situation
Although the theatre had been open for pop-up events prior to the pandemic, there is still much work to be done and Leith Theatre Trust continues to fundraise for a major capital works project to enable the building to open on a permanent basis. Initial grant funding from the Architectural Heritage Fund, the National Heritage Lottery Funding and Edinburgh Council saw strategic work begin: appointing an Executive Director; initializing a feasibility study and beginning electrical capacity works; and, bringing power to the building via the stage by summer 2019. The council pledged £1m in funding for the theatre, to be drawn down in stages. Further extensive building fabric repairs, heating, and toilets are all critical to being able to obtain a permanent license for the venue in the future, and the funding for these works is yet to be secured.
In May 2020 Leith Theatre Trust was awarded a Theatres Trust Theatres at Risk Capacity Building Programme grant of £11,000 to support mentoring and skills training, and a package of consultancy work covering finance, marketing / fundraising, audience development, community membership, and stakeholder engagement. The work, which was completed in 2021, has helped increase knowledge within the team and to strengthen Leith Theatre's position as a viable theatre and cultural business going forward.
Leith Theatre closed its doors in mid-March 2020 due to Covid restrictions. Though unable to host live performances, the theatre continued to play a vital role in engaging with and supporting its local community. Its partnership with Empty Kitchens, Full Hearts continued until December 2021 when the CIC moved into its own premises after preparing and delivering over 1.3m meals from the kitchens and Thomas Morton Hall.
Leith Theatre received Covid emergency funding to stabilise throughout the pandemic. It was awarded Scottish Government's Performing Arts Venue Relief Fund and with this grant set up an in-house production arm, Live in Leith™, initially creating a series of digital gigs that were streamed across March, April, and November 2021.
The year saw council funding go towards a full raft of building health surveys with an architectural report and an updated feasibility study for post-pandemic capital works due early 2022. These fed into a refreshed business plan that is currently in its final stages.
In late 2021 Leith Theatre embarked on a period of consultation to gather a wide range of thoughts and feedback from the public, stakeholders, and interested parties to help plan for the future.
Theatres Trust will continue to support Leith Theatre Trust as it grows in strength and capacity, helping the team achieve the ambition to restore and fully reopen the theatre as a thriving cultural asset for the local community.
Video (from 2020)
Main photo Leith Theatre, Theatres Trust. Auditorium image from Leith Theatre Trust.