Leith Theatre
Empty since 1988, and previously threatened by residential development, the Leith Theatre complex is currently being restored and reopened to provide spaces for a variety of performances, events and classes.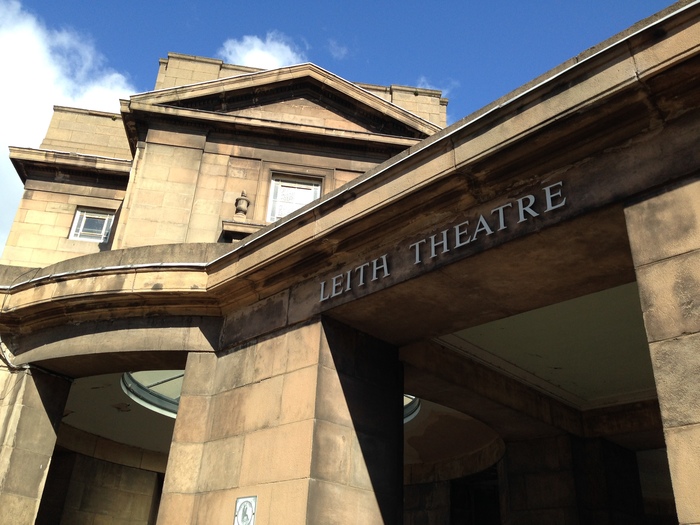 Address

Ferry Road, Leith, Edinburgh, EH6 4AE

Risk Rating

6 (risk rating: 1, star rating: 2, community rating: 3)

Local Authority

Operator

Architect

Bradshaw, Gass & Hope

Date of Construction

1932

Listing

Category B

Capacity

1,500

Database Link
Significance
Leith Theatre opened in 1932, built for the people of Leith 'as a gift from the people of Edinburgh', following the Burgh of Leith's incorporation into Edinburgh. The building is part of a complex that includes Leith Library, the Registrar's Office and the Thomas Morton Hall. It is owned by Edinburgh City Council. It has a classical façade and a sumptuous Art Deco circular entrance and box office, which leads to the main auditorium. This is a flat floored hall with U-shaped balcony and proscenium stage, classically detailed with a barrel vaulted ceiling and glazed roof lights.
Why is this theatre at risk?
Leith Theatre has been empty since 1988. In 2004 the council approved the sale of the theatre for residential development – a move that was stopped by concerned locals and from which Leith Theatre Trust was established. The council has since granted the Trust a five year lease on the building. The theatre is thought to be structurally sound but there is surface deterioration due to weathering. Despite a positive future there is still a way to go with the necessary fundraising for the restoration works so it would be prudent to still consider the theatre to be at risk.
Current situation
Leith Theatre Trust's five year lease on the building was granted in February 2016. There is also an agreement in principle for a further 30 year lease at the end of the five year term. As well as works to the main auditorium Leith Theatre Trust's scheme is to include rehearsal and workshop spaces to allow work to be developed on site and help address a shortage of space for artists in Leith. Theatres Trust has been providing fundraising advice.
In May 2017, the building opened its doors for the Hidden Door Festival and hosted the same event in 2018. In the meantime work continues to fully reopen the theatre to provide a wide range of arts, education and other events for the Leith community.
Update October 2018
We are delighted that Leith Theatre will be hosting its first full-scale theatre production in more than 20 years on 11 November. For more information on both this and other productions visit the Leith Theatre website.
Campaign video (from 2016)
Image: Leith Theatre, Theatres Trust