Conwy Civic Hall
A landmark building situated in a World Heritage Site, with good facilities, this is Conwy's only theatre. It is currently closed and a preferred bidder has been appointed for redevelopment.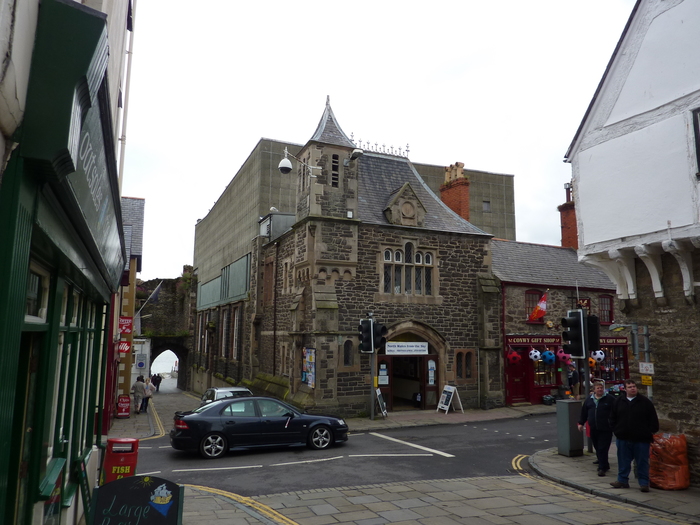 Address

Castle Street, Conwy, LL32 8AY

Risk Rating

6 (Community Value: 2, Star Rating: 1 Risk Factor: 3)

Local Authority

Local Group

Date of Construction

1966

Listing

Grade II

Capacity

240

Database Link
Significance
A landmark building with good facilities, this is Conwy's only theatre. Situated by the quay in the centre of historic Conwy, the original Civic Hall was designed in a Tudor Gothic style. Following a fire in 1966, the great hall was rebuilt in sheet concrete and the remains of the buttressed foyer and tower were incorporated. A 240-seat studio theatre was included in the reconstruction.
Why is this theatre at risk?
Conwy Civic Hall has been on the Theatres at Risk Register since 2011 although temporarily removed from 2012-13 when its future was believed secure. Prior to that, it was on the list in 2011.
Conwy County Borough Council announced plans to close the venue in 2011. Local user groups formed a Community Interest Company to take over the management of the venue but its proposal, submitted in late 2013, was rejected by the council, describing it as 'not viable' and suggesting that implementing it would 'present an unacceptable risk'. The venue closed in March 2014 and has faced an uncertain future since.
In 2016 the council announced a tender process to secure commercial bids for the development and regeneration of the Civic Hall. Theatres Trust provided support to Last Bastion, a local community group, in its initial expression of interest, however, the bid was not taken forward. The council received no other submissions.
The council placed the property on the open market in April 2017. Interest was received from Conwy Feast, an organisation operating from the ground floor of the building, and runs an annual celebration of food, music, and arts in Conwy. Last Bastion decided not to bid but instead to support the bid by Conwy Feast. This was subsequently rejected by the council. The council also rejected an offer on the building from pub chain JD Wetherspoon.
The council has remained resolute in its decision to sell the Civic Hall for development although it has been clear that the building should retain some element of community use.
In June 2019 the building was put on the market again, with a guide price of £500,000. A shortlist of three preferred bidders was drawn up from the submissions received. In September 2020 development company Nautical Point Ltd was selected by council cabinet members to take its scheme forward. It is believed that the proposals are for a mixed-use scheme comprising retail, tourism and residential uses which will see the theatre part of the building redeveloped and lost for live performance use. The proposals were due to go to public consultation in early 2021 however currently no information has been released.
Theatre potential
Since the Civic Hall closed in 2014 the residents of Conwy have been without a community location to meet, celebrate, or present home-grown entertainment or small music and touring shows, all of which were valuable activities prior to its closure. This has meant that local theatre groups that had been operating from the venue have had to relocate elsewhere. This includes Conway Civic Hall Amateur Players Society (CHAPS) which occupied the Civic Hall as its main venue for many years prior to its closure. It has since held performances in a variety of venues in neighbouring towns, however, the lack of a live performance venue in Conwy is a source of concern, and travel distance at times poses an issue to audiences. There is significant local interest in saving the building as a resource for the community.
Current situation
Conwy County Borough Council is committed to the disposal of the Civic Hall for redevelopment and has confirmed that it would welcome uses such as residential, retail and hotel on the site, although it has also stated a requirement for any new proposal to retain some community facility.
The council had stated that the capital receipt from the sale of the building will be allocated to a new culture centre, to house a library, café, arts and heritage hub, and the county's records office. The cultural centre has since been built (prior to sale of the Civic Hall) and is now open but sadly does not include space for live performance although its main room can be hired for rehearsal use. The centre also includes an amphitheatre in its grounds that the council is keen to see programmed for use throughout the summer months.
In February 2021 it was announced that the council had ratified a lease on the Civic Hall with Nautical Point and that the developer was to submit a planning application. In September local press announced that negotiations surrounding the proposed redevelopment were taking longer than anticipated due to Conwy's World Heritage Site status and ongoing discussions with Cadw. It is understood that a sale of the building is dependent on planning permission being granted.
The council recently published its Cultural Strategy 2021 - 26, and while there is a brief mention of existing theatres in nearby Llandudno and Colwyn Bay, and talk of the potential to 'expand programming to work with an even broader range of organisations, supporting smaller independent venues and initiatives', there is no mention of the Civic Hall or of revitalising amateur performance provision in Conwy.
Theatres Trust's preferred outcome is for the Civic Hall to be retained, restored and reopened as a community facility that includes live performance. We also believe that this is the most environmentally sustainable solution for the site. However, this is looking increasingly unlikely.
We have been in contact with both local councillors and the council team managing the bid process to advise them of our position. However, should the sale of the Civic Hall complete, we will look to work with both local groups and the council to ensure that there is a new and adequate replacement for the lost theatre.
Main photo Conwy Civic Hall, Purcell