Derby Hippodrome
A large variety theatre, which could become an elegant touring house for Derby, despite its semi-demolished state.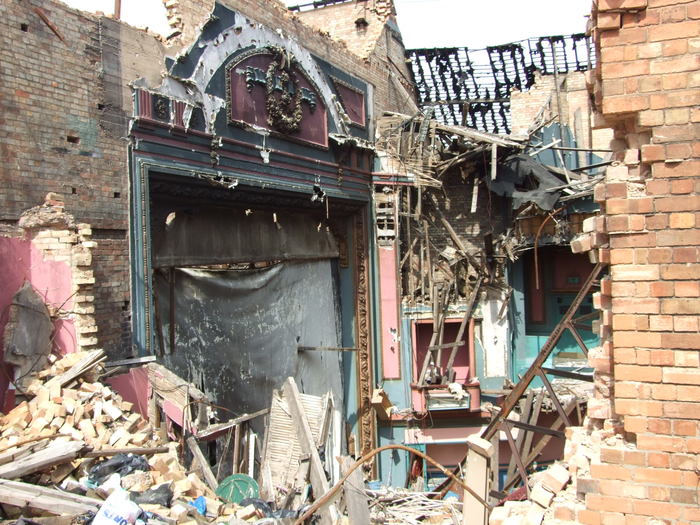 Address

Green Lane, Derby, Derbyshire DE1 1ES

Risk Rating

5 (risk rating: 3. star rating: 1. community rating: 1.)

Local Authority

Local Group

Owner

Blake Finance

Architect

Marshall & Tweedy

Date of Construction

1914

Listing

Grade II

Capacity

Estimated at 1,000-1,200

Database Link
Significance
Derby Hippodrome is a large, Grade II listed variety theatre, built in 1914. It is a rare survival from an early stage in the crossover period when buildings were being constructed for both live theatre and cinema. This building form proved to be the model for most cinema design from the 1930s onwards. The theatre has the potential to be rebuilt and restored to theatre use, and could provide Derby with an elegant 1,000-1,200-seat theatre for the sort of commercial touring productions the city can't currently accommodate.
Why is this theatre at risk?
Since the former theatre's use as a bingo hall ended in 2007, there have been incidents of arson, other small fires and vandalism. Further substantial damage was caused in 2008, whilst the then-owner undertook essential repair works. Disastrously these works have left the theatre partially demolished. There is now vegetation growth throughout and Japanese knotweed reported in the now-unroofed auditorium. It is believed that the current owner has plans for the redevelopment of the site which would inevitably lead to the demolition of the theatre.
Whilst the building has the potential to provide the City with an elegant lyric theatre, its fate is inextricably linked to the council's decision on cultural provision within the city, plans for which are currently under review. Options under consideration include a new build performance venue on the site of the now closed Assembly Rooms, which would greatly impact any plans for the Hippodrome to reopen as a theatre venue.
Current situation
Derby Hippodrome Restoration Trust (DHRT) has been trying to secure and rebuild the theatre. The group successfully listed the site of Derby Hippodrome as an Asset of Community Value in 2013 and received approval for planning and listed building applications to rebuild the front of house as a café, offices and meeting spaces on four floors and construct roofing over the auditorium and stage house. In January 2016, the group secured a Heritage Lottery start-up grant which has allowed them to demonstrate that the main structure of the theatre is sound and to obtain a valuation of the property in its present condition. Theatres Trust has been providing the group further funding advice. DHRT continues to raise awareness and to fight for the restoration of this elegant Grade II listed building.
Image: Derby Hippodrome, Theatres Trust