Walthamstow Granada
How Theatres Trust has been working with the local authority to bring the Walthamstow Granada back into use.
Built as a ciné-variety theatre in 1930, the Grade II* Walthamstow Granada has also been a live music venue, hosting the Beatles and the Stones in the 1960s, before a prolonged period as a cinema.
Theatres Trust's involvement with the building really began in 2003, when it closed as a cinema and was taken over by the Universal Church of the Kingdom of God (UCKG). UCKG applied for a change of use of the Granada to a church, a move we strongly objected to as it would have removed any protection for future cultural use. Thankfully, due to our lobbying along with local residents, and with the support of the London Borough of Waltham Forest, the change of use application was refused.
In 2014 the theatre was bought by pub chain Antic, but we were concerned about the deteriorating state of the auditorium and stage house. When it became clear that the owners were not planning any work to address this, we added the Granada to our Theatres at Risk Register.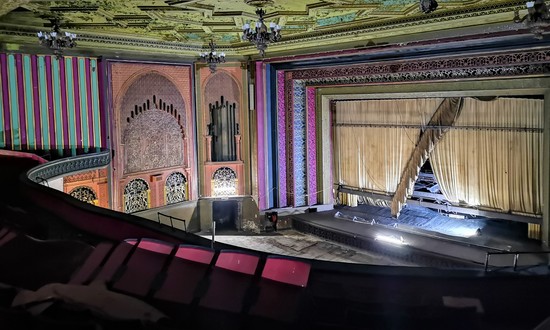 London Borough of Waltham Forest has always been keen to see the Granada restored to its former glory and shared our belief that it has enormous potential as a live performance venue, especially since the borough does not have a permanent theatre space.
We began conversations with the council about what would be needed to make this vision a reality and how the building could be best used to be viable. As well as providing advice on the building's architecture, we also put London Borough of Waltham Forest in touch with other councils who had experience of similar projects.
Waltham Forest Council carried out a study that indicated that the project could add up to £52m to the local economy over a ten-year period.
We were delighted in March 2018 when the council announced its commitment to purchase the Granada, pledging to restore and reopen the venue for live performance. Waltham Forest was chosen as the first London Borough of Culture with the plans to revive the Granada being central to its bid.
The sale was completed in early 2019 and Soho Theatre announced as the operator. The ambition is for a 1,000-seat venue delivering a high-quality programme of entertainment, alongside an annual panto and a wide-reaching community education programme.
We continue to support both the London Borough of Waltham Forest and Soho Theatre with fundraising advice as they work on restoring the building and returning it to community use.
If there is a disused theatre in your local borough, please get in touch with us and we can provide advice on how you might turn the building into a real asset for the whole community.
Photo by Mike Fox