Thameside Theatre
A popular local theatre equipped to take touring shows, located within a complex housing other arts and cultural facilities including a museum and library.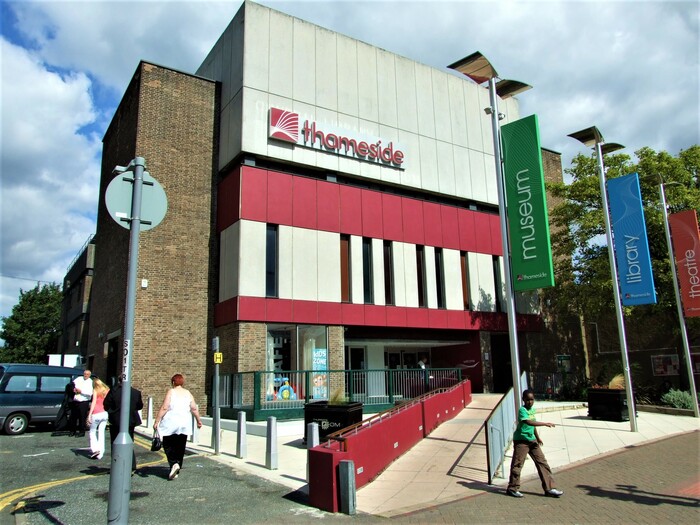 Address

Orsett Road, Grays, Essex RM17 5DX

Risk Rating

5 (Community Rating: 3, Star Value: 1, Risk Factor: 1)

Local Authority

Architect

Unknown

Date of Construction

1971

Listing

Not listed

Capacity

303

Database Link
Significance
Thameside Theatre is a purpose-built, mid-scale council theatre within a larger complex consisting of a library, museum and civic offices. It is the only theatre provision for the town of Grays in Essex. It has been operated by the council since it first opened in 1971 receiving professional and community shows, staging an annual pantomime and hosting smaller-scale work within its studio space.
Why is this theatre at risk?
Thameside Theatre is new to the Theatres at Risk Register in 2022.
In July 2021 the council declared the Thameside complex, in which the theatre is located, surplus to requirements and asked officers to investigate the sale or disposal of the complex. It is understood that the council is looking for a capital receipt on the building and has plans to move the other services out of the building.
While the theatre remains open it has no bookings past February 2022. The council will vote on its permanent closure in March 2022.
Theatre potential
This is a functional and popular local theatre. It is equipped to receive touring productions and although some investment would improve the space, it would be able to function as a theatre immediately. The issues with this theatre are the ongoing maintenance, upkeep of the complex and finding complementary uses.
Current situation
The decision to close the theatre was met by local protests, which prompted the council to reconsider the future of the building and delay a final decision on its disposal. Council officers are now in discussions with local community groups to take over the running of the venue.
While a community-run theatre would be a positive outcome there is still a way to go before negotiations are complete and there remains a danger that the building will be sold for more lucrative commercial redevelopment. The current building also requires some investment to tackle ongoing maintenance issues.
Theatres Trust seeks to engage with the council to encourage bids that retain theatre use and to support the development of community bids. Should the current community negotiations stall and the building be redeveloped, Theatres Trust would seek an appropriate like-for-like replacement provision to provide users and audiences of the current theatre the same professional standards of performance space.
Main image, Thameside Theatre by Theatres Trust