Victoria Theatre
An architecturally important theatre designed by eminent theatre architect Bertie Crewe, with surviving wooden sub-stage machinery.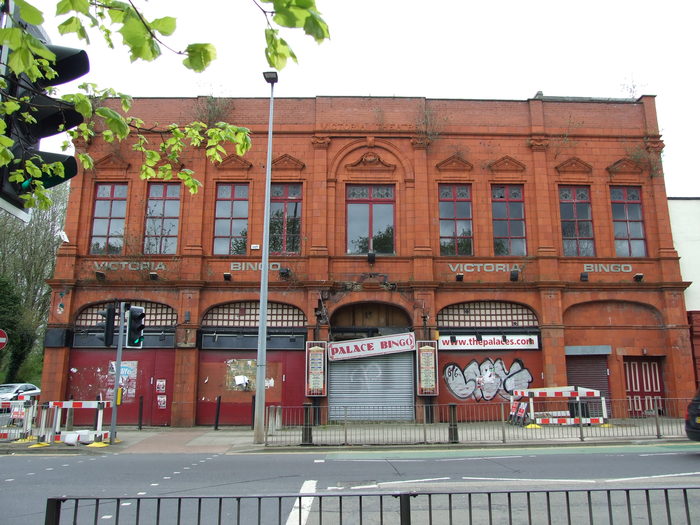 Address

Great Clowes Street, Lower Broughton, Salford, Greater Manchester, M7 1RE

Risk Rating

8 (Community Rating: 2, Star Value: 3, Risk Factor: 3)

Local Authority

Local Group

Owner

Private ownership

Architect

Bertie Crewe

Date of Construction

1899

Listing

Grade II

Capacity

775 (estimated)

Database Link
Significance
Built in 1899 and designed by Bertie Crewe, the Victoria Theatre in Salford is Grade II listed. This architecturally-important theatre has a fine terracotta façade with much stained glass and a beautiful and intimate auditorium featuring richly scrolled plasterwork. There are substantial remains of wooden sub-stage machinery including a complete grave trap. The theatre is included within the top three of Salford's own list of historic buildings deemed to be at risk.
Why is this theatre at risk?
The Victoria Theatre closed as a bingo hall in 2007 and has remained unoccupied ever since. Work is required to remove vegetation growth on the façade and prevent substantial damage to the building fabric. There is a chance of serious and ongoing deterioration if a new use cannot be found soon. The building requires a new use that would preserve its special interest and allow the possibility of a return to theatre use.
Current situation
Salford City Council has had ambitions to redevelop Mocha Parade, a mixed use retail and residential area opposite the theatre for many years. In February 2018 it announced outline plans for the transformation of the parade, which include new shops, a GPs surgery and a major supermarket. Details have yet to be announced and are pending the awarding of contracts. Dependent on the final plan and partnerships, this could provide a springboard for the regeneration of the theatre. The first tranche of demolition of the parade started in May 2018.
In the meantime, local campaign group, Salford Victoria Theatre Trust (SVTT) has opened discussions with the Mayor of Salford and local MP Graham Stringer regarding a council commissioned report on local heritage at risk and what can be done to support these buildings.
The group is continuing to update its business plan and to fundraise for further feasibility study works to determine the optimum viable and sustainable use for the theatre within a city that already has a good and broad cultural and theatrical spread. SVTT is also broadening its engagement with the local community to ensure local needs and aspirations are included within its proposals.
SVTT has also recently submitted an application to list the building as an Asset of Community Value. Theatres Trust continue to provide advice and support to the group both on this and the early stage feasibility work.
The Victoria was put up at auction on 6 September 2018. Whilst not sold on the day, the theatre was sold post auction. SVTT has established contact with and met the new owner. The owner has suggested that he will allow SVTT time to develop their proposals for the building.
Update May 2019
We were delighted to support the theatre with a grant as part of our Theatres at Risk Capacity Building Programme.
Update October 2019
Salford Victoria Theatre Trust, using funding awarded through our Theatres at Risk Capacity Building Programme, has commissioned Colliers International, working with Foster Wilson Architects and Theatresearch, to carry out a Viability Study to determine the best use for the building.
The group said: "The SVTT are delighted to have had so much interest in the project during the commissioning process and are really pleased to have engaged Colliers International to carry out the work. The group would like to thank the Theatres Trust for its support and really appreciate this opportunity for the Victoria."
Image: Victoria Theatre, Theatres Trust