Victoria Theatre
An architecturally important theatre designed by eminent theatre architect Bertie Crewe, with surviving wooden sub-stage machinery.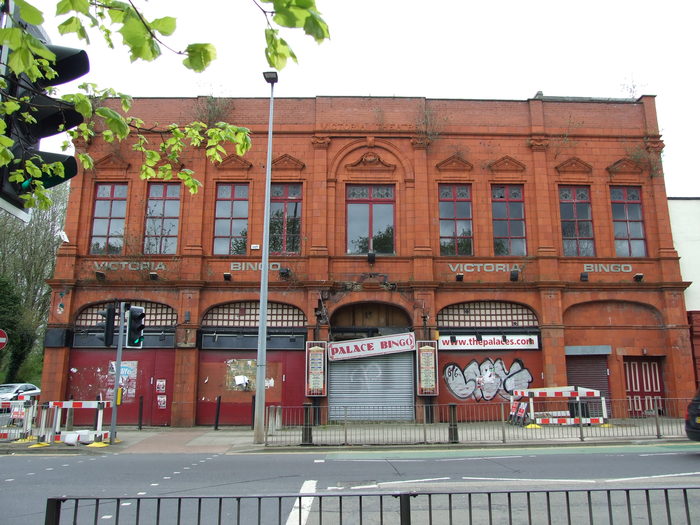 Address

Great Clowes Street, Lower Broughton, Salford, Greater Manchester, M7 1RE

Risk Rating

9 (risk rating: 3. star rating: 3. community rating: 3.)

Local Authority

Local Group

Owner

Architect

Bertie Crewe

Date of Construction

1899

Listing

Grade II

Capacity

Estimated at 775

Database Link
Significance
Built in 1899 and designed by Bertie Crewe, the Victoria Theatre in Salford is Grade II listed. This architecturally important theatre has a fine terracotta façade with much stained glass and a beautiful and intimate auditorium featuring richly scrolled plasterwork. There are substantial remains of wooden sub-stage machinery including a complete grave trap.
Why is this theatre at risk?
The Victoria Theatre closed as a bingo hall in 2007. Urgent repairs are needed as there is plant growth on the façade. There is a chance of serious deterioration if a new use cannot be found soon and it will need investment to maintain its historic fabric. The theatre requires a new use that would preserve its special interest and allow the possibility of a return to theatre use.
Current situation
The owner is open to selling the building but local group Save the Victoria Theatre Trust is unable to afford the suggested price. One possibility being investigated is whether the National Trust might add the building to its portfolio. In the meantime, the building is subject to continued deterioration.
Image: Victoria Theatre, Theatres Trust