Spilsby Theatre
Situated in an impressive former sessions house and gaol, this is the only venue for dedicated arts and community activity in Spilsby.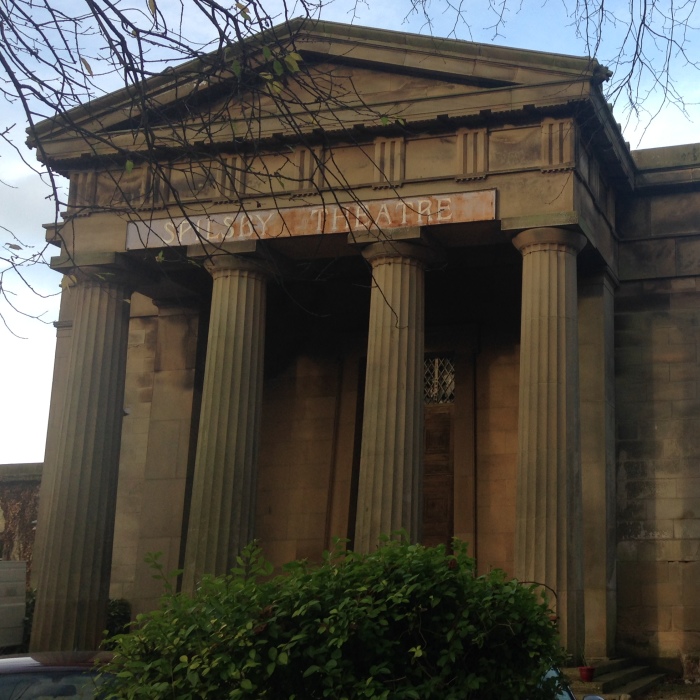 Address

Church Street, Spilsby, Lincolnshire, PE23 5DY

Risk Rating

7 (Community Rating: 3, Star Value: 2, Risk Factor: 2)

Local Authority

Local Group

Architect

Henry Edward Kendall

Date of Construction

1827 (as sessions house)

Listing

Grade II

Capacity

113

Database Link
Significance
Spilsby Theatre was formed in 1984 from a former sessions house and gaol built in 1827. It features an impressive façade with an imposing tetra-style portico. The auditorium is within the original courtroom and has an end gallery facing a low stage. The holding cells (now dressing rooms) still exist. A former coach house adjacent provides rehearsal space and workshop.
Why is this theatre at risk?
Spilsby Theatre has been on the Theatres at Risk Register since 2015.
Spilsby Theatre's owner The Dandelion Trust, like many small charities, has struggled to cope with the costs of maintaining and renovating an historic building. As a result, the auditorium roof had become unsafe and the ceiling in danger of collapse. The auditorium was closed in 2015 and structural support installed, although volunteers continued programming activities in other parts of the building. A section of plaster ceiling collapsed in the theatre's bar area in late 2017, further limiting use of the building. However, operator Spilsby Sessions House Ltd remained undeterred, continuing a programme of activity and events within the Sessions House Lounge.
Despite major challenges and setbacks, Spilsby Sessions House Ltd has been proactive both in maintaining a vibrant arts programme for its community and in looking for solutions to repair, restore and ultimately save this important local theatre. While it has made great progress to date, the condition of the building remains a major concern. There are promising capital plans for stabilisation and essential repair work to create a semi-operational venue in the first instance; further phases would see the building fully restored and reopened.
One crucial element to see this work progressed is transferring ownership of the building to Spilsby Sessions House Ltd. This will allow access to public funding including eligibility to apply to Historic England for grant funding for urgent repair works. Negotiations are ongoing.
These next few years are seen as crucial and if funding cannot be found to prevent further deterioration of the building the theatre could be permanently lost as a community resource.
Theatre potential
Spilsby Theatre is the only dedicated arts and community venue in the small Lincolnshire town of Spilsby. In 2016 a group of volunteers came together with the ambition of taking over the operation and ownership of the building and developing a vibrant and viable programme. Spilsby Sessions House Ltd has now been formed to lead the capital project and the organisation is in the process of registering as a charity.
Spilsby Sessions House Ltd together with the local community have been working incessantly to see their ambitions for this important local theatre realised. This has included successful funding applications to enable the commissioning of a viability study to assess the options and establish the cost of renovating the theatre.
The viability study, which was jointly funded by the Architectural Heritage Fund (AHF) and the Heritage Lottery Fund, now National Lottery Heritage Fund (NLHF), completed in summer 2018. The preferred option from the study is for Spilsby Theatre to become a place for the whole community, providing a broad programme of live performance and cinema as well as community activity, including rentable workspaces.
The work also concluded that as well as serving as a hub for the community, the theatre will play an important role in attracting visitors to the town, boosting the economy through increased footfall. The economic impact assessment indicates that the theatre could generate approximately £500k per year in additional visitor spending to its local area and an additional £80k in additional employment.
Current situation
Following the viability study and subsequent discussions with NLHF and AHF, it was recommended that Spilsby Sessions House Ltd undertake a further package of supporting work before embarking on its capital works project. This work funded by the NLHF and part-funded by the Theatres Trust Theatres at Risk Capacity Building Programme included a review of phasing options for the works, an economic impact assessment, fundraising, and VAT advice. It also included the scoping of a heritage activity plan. The work, which was completed in autumn 2020, indicated a three-phase approach to the project:
Phase 1 is a development and initial delivery phase that will see the purchase of the building from the Dandelion Trust, the appointment of a consultant team to develop the proposals and essential repair works to the roof, allowing the building to return to semi-operational use for a programme of heritage and arts activity.
Phase 2 will provide a fully operational cultural venue with the auditorium fully fitted out and reopened for use, creation of café, bar foyer, and new toilet facilities plus a dedicated heritage display in the original prison cells.
Phase 3 will provide additional facilities including the east-side function room, additional toilets and backstage facilities, first floor offices, and preservation work to the historic façade and forecourt area.
Spilsby Sessions House Ltd is currently fundraising for the Phase 1 works – more information about the restoration works can be found on the Sessions House website.
Spilsby Sessions House Ltd has also been working hard developing partnerships with key stakeholders, broadening links with its local community and arts organisations to deliver and support a wide range of high-quality arts experiences. The organisation and the capital works project have town and district council support. The recent Institute of Place Management Vital and Viable Spilsby report commissioned by East Lindsey District Council highlighted the work as an integral project for the revitalisation of Spilsby.
During its closure by the pandemic, events were streamed online. The organisation also worked in partnership with producers, Different Light, to deliver a Covid-safe, digital arts project for the council during winter 2020. This partnership has continued through 2021 and together the organisations have been developing and producing outdoor arts projects.
Spilsby Sessions House has also submitted a £30k bid to Arts Council England to fund the delivery of Spilsby Light Night 2022 and just produced Festive Fabuloso a community engagement project for the District Council, which included commissioning sculptor and engineer Dave Cranmer to create a 'marvellous mechanical musical machine' for the theatre. Constructed using recycled parts of Spilsby Theatre's old disused church organ, the machine is a fully interactive piece of street theatre. The organ is portable and available for bookings, helping the theatre generate income.
Sale negotiations continue and it is hoped that 2022 will see both the transfer of ownership and Phase 1 works commence.
Spilsby Sessions House Ltd has made great progress towards achieving its ambitions and saving this important local theatre, however until such time as ownership is resolved and funding secured for the capital works project to stabilise and secure the building, Theatres Trust feels it is prudent to retain the theatre on the Theatres at Risk Register.
Theatres Trust will continue to provide advice and support as required throughout the next stages of the project.
Update February 2022
The sale of Spilsby Theatre has completed and Spilsby Sessions House Ltd, the theatre operator, is now the owner of Spilsby Theatre.
Campaign video (from 2016)
https://www.youtube.com/watch?v=BRklv0a3IwM&feature=youtu.be
Main photo Spilsby Theatre, Theatres Trust. Previs by Sessions House Project.