Spilsby Theatre
Situated in an impressive former sessions house and gaol, this is the only venue for dedicated arts and community activity in Spilsby.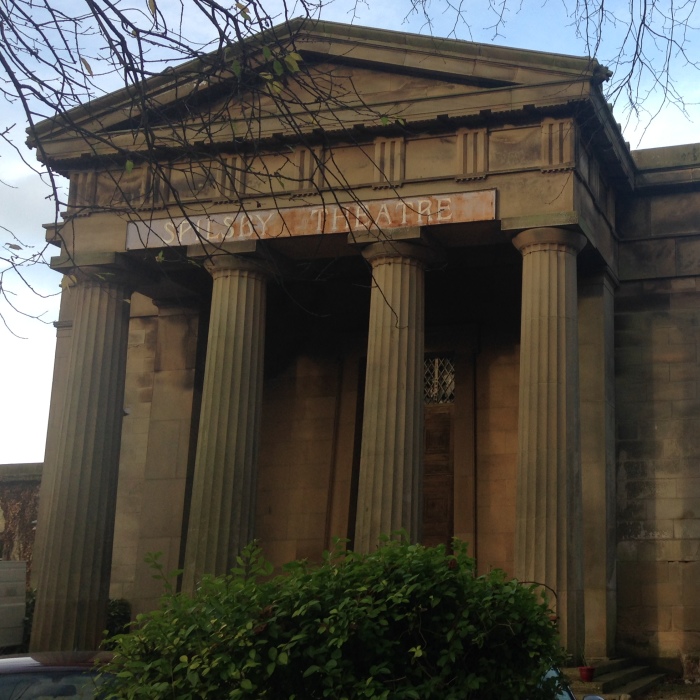 Address

Church Street, Spilsby, Lincolnshire, PE23 5DY

Risk Rating

7 (Community Rating: 3, Star Value: 2, Risk Factor: 2)

Local Authority

Local Group

Owner

The Dandelion Trust

Architect

H E Kendall

Date of Construction

1824 (as sessions house)

Listing

Grade II

Capacity

113

Database Link
Significance
Spilsby Theatre was formed in 1984 from a former sessions house and gaol built in 1827. It features an impressive façade with an imposing tetra-style portico. The auditorium is within the original courtroom and has an end gallery, facing a low stage. The holding cells (now dressing rooms) still exist. A former coach house provides a rehearsal space and workshop. It is the only dedicated arts and community venue in the small Lincolnshire town of Spilsby.
Why is this theatre at risk?
Spilsby Theatre's owner, the Dandelion Trust, like many small charities, has struggled to cope with the costs of maintaining and renovating an historic building. As a result, the auditorium roof has become unsafe and the ceiling in danger of collapse. The auditorium was closed in 2015 and structural support installed. Activities are occurring in other parts of the building. A group of volunteers, known as The Sessions House, have come together, with the ambition of taking over the operation of the building, and developing a vibrant and viable programme, but is facing considerable challenges, given the state of the building. In December 2016 The Sessions House Community Interest Company was officially registered as a not-for-profit organisation, and began working on funding applications to cover the costs of a viability study to assess the options and establish the cost of renovating the theatre.
In December 2017, The Sessions House suffered a set-back when a section of plaster ceiling collapsed in the theatre's bar area. However, a programme of activity and events in the Sessions House Lounge are continuing.
Current situation
In summer 2018 The Sessions House completed a viability study for the theatre. The preferred option from the study is for Spilsby Theatre to become a place for the whole community, providing a broad programme of live performance and cinema as well as community activity. The Sessions House is now fundraising for the £3.5m capital works project to achieve this ambition. The project will also include necessary repair and conservation work.
In May 2019 we were delighted to support the theatre with a grant as part of our Theatres at Risk Capacity Building Programme.
Update November 2019
With support from our Theatres at Risk Capacity Building Programme and a National Lottery Heritage Fund grant, Sessions House is improving its skills, knowledge and capacity to lay the foundations for taking the project to development stage. The financial support will review phasing options for the works, and commission an economic impact assessment, a fundraising strategy and VAT advice.
Campaign video (from 2016)
https://www.youtube.com/watch?v=BRklv0a3IwM&feature=youtu.be
Image: Spilsby Theatre, Theatres Trust