Intimate Theatre
A landmark building in its local community and with a rich theatrical history that is in danger of being demolished.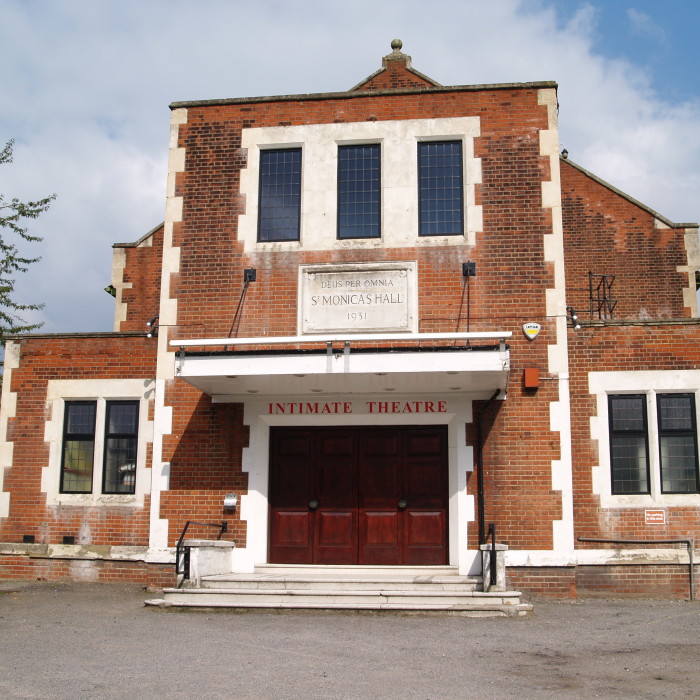 Address

521 Green Lanes, Palmers Green, London N13 4DH

Risk Rating

6 (Community Value: 2 Star Rating: 1, Risk Factor: 3

Local Authority

London Borough of Enfield

Local Group

Owner

Roman Catholic Diocese of Westminster

Operator

Saint Monica's Church Parish

Architect

Unknown

Date of Construction

1931

Listing

Asset of Community Value

Capacity

406
Significance
The theatre was original built as a church hall for St. Monica's Roman Catholic Church, but became a full-time repertory theatre in 1935 when actor John Clements, who had an ambition of operating his own company, leased the building from the church authorities. It continued to stage weekly repertory theatre until 1969, thereafter becoming home to local drama and music societies. In 1988 an application for change of use from theatre to parish community centre incorporating smaller theatre and facilities for arts and social centre activities was granted despite much opposition. The Intimate Theatre is now used by amateur theatre groups and doubles as a church hall.
The Intimate Theatre has a rich social and cultural history, including hosting the first complete play to be broadcast live by the BBC, becoming a pioneer in live transmissions of complete dramas to television. Many famous names have trodden the boards at the theatre, including Richard Attenborough who made his professional stage debut there in 1941 and David Bowie who appeared at the theatre in 1968 as a part of the Lindsay Kemp Company. The building is locally listed and a local group campaigning to save the building has recently been successful in its application to list the building as an Asset of Community Value.
Why is this theatre at risk?
St Monica's Catholic Church considers that the theatre building is no longer fit for purpose and wishes to redevelop the theatre to build a new parish hall and residential accommodation. It is understood that the new plans will not provide for any new theatre space. A planning application is due to be submitted in early 2019.
The current pantomime run finishes in January 2019 after which time the church is no longer taking bookings for the theatre. This has left St Monica's Players and two other groups who perform at the theatre needing to find alternative premises and will leave the building without any performance use prior to any planning consents being determined for the building.
Current Situation
An online petition to save the theatre was started and from this an active campaign group has formed. The group has managed to get the building listed as an Asset of Community Value. Theatres Trust is in contact with the group and is providing advice on how best to offer the building protection, while also seeking discussions with the owner. The campaign is being backed by industry figures including actor, director and author Steven Berkoff and actor and presenter Nicholas Parsons, both of whom have also played at the theatre in the past.
Update September 2019
Historic England has taken the decision to reject the Intimate Theatre's application for statutory listing. Theatres Trust will continue to engage with local stakeholders to make the case to protect this unique theatre.
Update July 2019
We have strongly objected to the planning application seeking to demolish the Intimate Theatre.
Image: Intimate Theatre, David Reed