Explore performance spaces near you
This September, theatres around the country are opening their doors to the public with free in-person and digital events celebrating their architecture and history with Open House London, Heritage Open Days, and Scotland's Doors Open Days.
Celebrating London's architecture and urban landscape, Open House takes place from 6-17 September. There are drop-in sessions at London's local and community theatres including Stanley Arts, Jacksons Lane Arts Centre, Shoreditch Town Hall and Marylebone Theatre, as well as the world-renowned Royal Opera House and the recently restored Soho Poly. Or take a tour at some of London's historic gems including Hoxton Hall, Hackney Empire, Theatre Royal Stratford East and Shaftesbury Theatre. Visit the Open House London website for details.
England's largest heritage festival Heritage Open Days takes place from 8-17 September. More than 50 theatres around the country are taking part this year. See inside two venues on our Theatres at Risk list, Burnley Empire and Groundlings Theatre in Portsmouth. Spot Theatres Trust grant funded work at Little Theatre Gateshead and The Y Theatre Leicester. Take a tour of the Brutalist Reading Hexagon and Chesterfield's inter-war Winding Wheel Theatre or enjoy an illustrated talk about the 250 years of Lincoln's Theatre Royal as each celebrate milestone anniversaries. Visit the Heritage Open Days website for more information.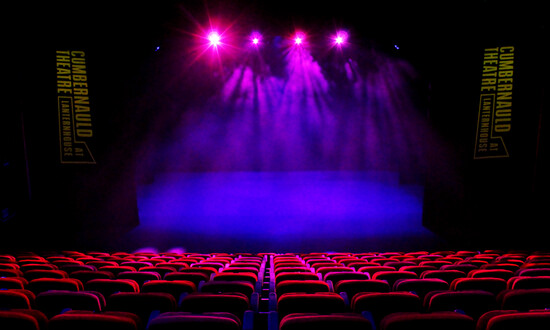 Explore sites across Scotland with Doors Open Days, a free festival celebrating the country's heritage and the built environment, with events every weekend in September. More Scottish theatres are taking part this year than ever before. Look around Theatre at Risk Leith Theatre, visit the new Cumbernauld Theatre at Lanternhouse, which we featured in the summer edition of Theatres Magazine, or learn about the ongoing renovation of Bauhaus-inspired Rothesay Pavilion. Visit the Doors Open Days website for details.
Cover image | New Theatre Royal Lincoln by Ian Grundy, 2021
Inline image | Cumbernauld Theatre at Lanternhouse, 2022