What are the different styles of theatre decoration?
Elizabethan and Jacobean theatres were open to the sky. However, their stages were covered and usually painted underneath with the sun, moon and stars to represent the heavens.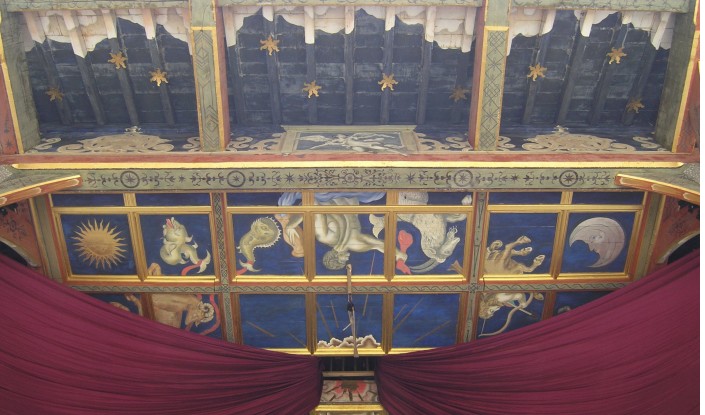 The ceiling above the stage at Shakespeare's Globe, a reconstruction of an Elizabethan theatre.
In eighteenth-century theatres, interiors were usually elegant and simple. Sometimes scene painters, skilled at creating illusion and special effects, were employed to adorn interiors.
During the nineteenth century, architects began to work closely with interior designers to create opulent interiors. These were often an amalgam of past styles. Exotic elements became fashionable, especially Indian, Chinese and Arabic styles. Some interiors replicated the buildings of ancient Rome, Greece or Egypt. Other designers were influenced by the decoration of hippodromes or circuses, which were often adorned with animal motifs.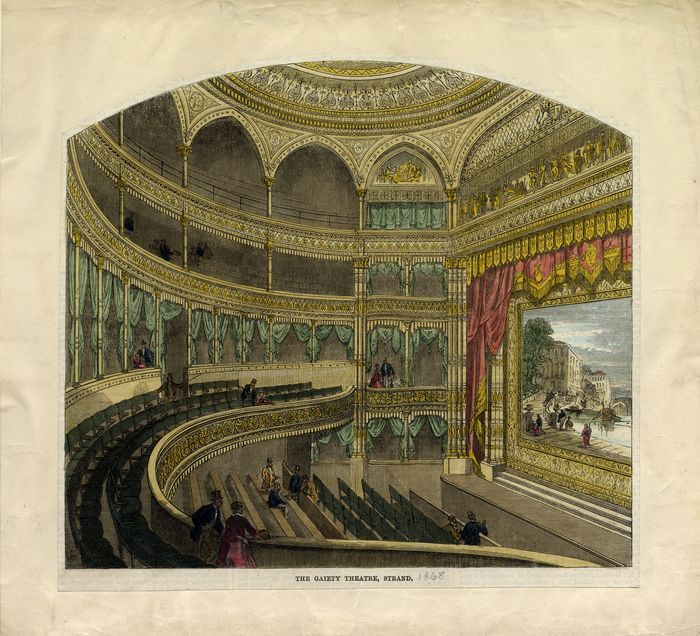 The Gaiety Theatre on London's Strand, 1868.
Variety theatres developed their own form of decoration. Often frivolous and ostentatious, it echoed the gaiety of its productions and drew heavily on the baroque.
Towards the end of the nineteenth century gas and later electric lighting significantly influenced theatre interior decoration. Both were able to illuminate interiors far better than candles or oil lamps and could be dimmed to darken the auditorium during the performance. Designers created more dramatic, sculptural decoration using carved and moulded plaster with deeper shadows and more pronounced surfaces. Gilded plasterwork also became popular, as did the use of mirrors and glass, including chandeliers, creating opulent auditoria and public spaces.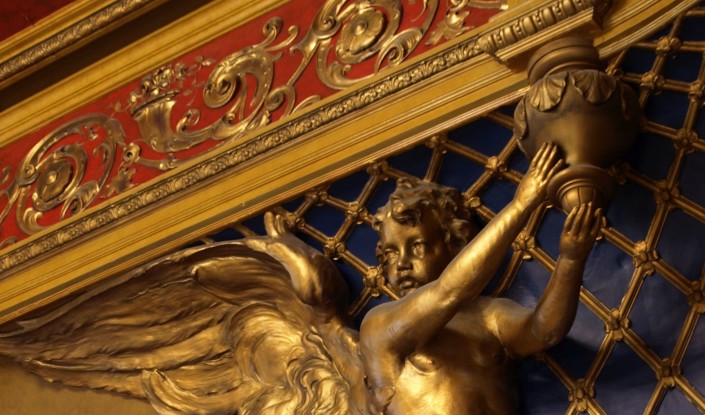 Lattice work above the domes at Hackney Empire, with a cherub supporting an elaborate and richly decorated frieze.
Theatre façades also became more opulent and imposing. They might be topped with pediments, balustrades, turrets and domes, or adorned with statues and sculptures, columns and pilasters. They were skilfully lit to create dramatic sets equal to those inside and offering a tempting glimpse of the theatrical splendour behind their doors. A grand façade was a way of attracting audiences.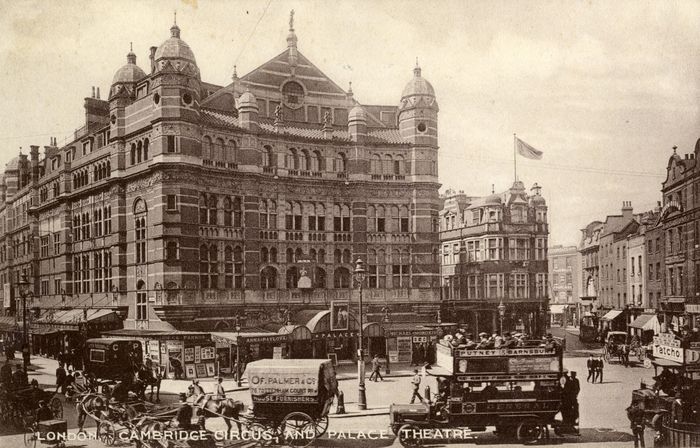 The façade of the Palace Theatre, London.
After the First World War theatre interiors began to be influenced by the United States, where plush new cinemas were being built in the art deco style. This was characterised by strong geometric forms, flat shapes, streamlined images and polished veneers and lighting effects.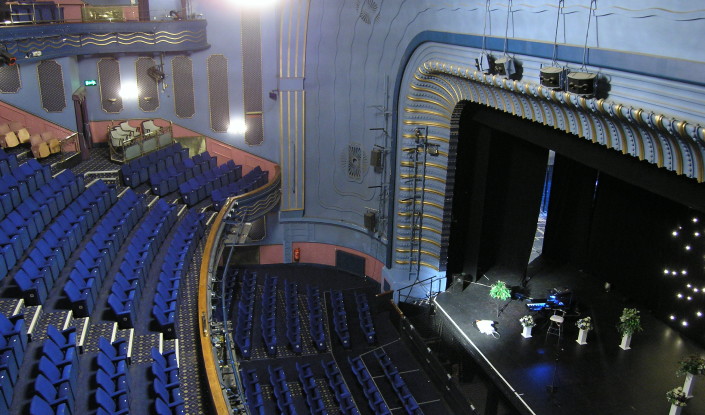 The auditorium at the New Alexandra Theatre, Birmingham, which is in the art deco style.
The 1970s and 80s saw the rise of black box theatres, with stripped bare and blacked out interiors to allow for maximum flexibility of space to accommodate different types of performance.
A more recent trend is to create a theatre interior that celebrates and promotes distinctiveness. Other new theatres have large windowed atria, easily accessible from the street. These new cultural venues encourage the public to enter, as they can easily see inside, inviting them to use their many facilities and welcoming them into the world of theatre.
Images: Ian Grundy, Theatres Trust.