Town Hall
How we helped Renfrewshire Council with planning advice to make Paisley Town Hall its flagship venue.
Paisley's Category A listed Town Hall is one of the town's most iconic and historic buildings, and situated at its heart. Renfrewshire Council identified that to boost the vitality of Paisley it would invest money into improving its cultural infrastructure. The council identified the Town Hall as its flagship project, with plans to transform it into a cultural and event space.
Theatres Trust became involved in January 2019, as a statutory consultee we responded to the planning application submitted to Renfrewshire Council's planning department to improve acoustics, artist and audience comfort, and increase capacity to host a greater number and range of theatre events.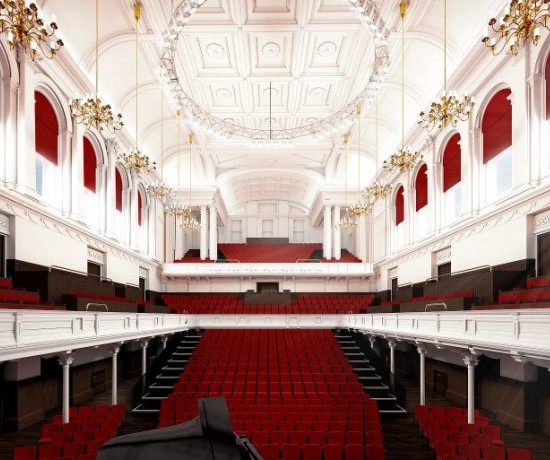 By undertaking a site visit we were able to discuss the implications performance use might have on the historic Town Hall, especially the main hall, and offered comment on the balance needed to ensure viability as a performance space and retain the building's character and historic details.
Satisfied that plans for refurbishment would not only improve the viability of the Town Hall, they would significantly improve the audiences and performer experience, with wide-reaching place making benefits, we recommended approval.
The planning application was approved in May 2019 and initial work to clear out the building is underway, with stonework and roof repairs having taken place over summer 2019, ahead of main construction work within the main hall at the end of 2019.
The building is due to reopen in late 2022. We will continue to talk to Renfrewshire Council about how to make the most of the building, maximise the impact of the capital project and secure the theatre's long-term viability.
Find out more about our free advice service and our planning remit.
Photos: Renfrewshire Council