Matchstick Piehouse
How Theatres Trust supported Matchstick Piehouse with advice, seats and a grant.
Theatres Trust's involvement began in early 2018 when Matchstick Theatre was producing new writing nights in Farringdon at the Winemakers Club and looking to sign a contract to run a venue, including a theatre, arts space and restaurant in arches in Deptford. Knowing we were experts in theatre buildings Lewisham Council had recommended the group contact us.
We provided Matchstick Theatre with the knowledge to help negotiate its lease and secure the space. We advised further on organisational set-up and guidance on theatres in unusual spaces to build a solid foundation for the company and new fringe space to thrive.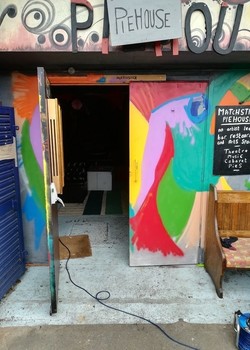 Matchstick opened its 60-seat fringe theatre, arthouse and piehouse, named Matchstick Piehouse, in Deptford in late 2018.
We have good connections with a variety of theatres, funders, and tech organisations and were able to help Matchstick further, initially by passing on details of funding schemes specifically for capital projects that provide new or improved facilities for local communities, and then as a matchmaker for theatre seats.
When the Odeon in Leicester Square underwent a £10m refurbishment to become a deluxe cinema, we were contacted by 8build to see if any theatres might want the Odeon seats. We approached several local theatres, one of which was Matchstick, which saw their potential.
Matchstick Piehouse, being a somewhat different space from a West End cinema, did not simply install the seats in its auditorium, but instead imaginatively recycled them to suit its own needs. The hardwearing material from the Odeon seats has been repurposed as covering for Matchstick's existing auditorium seats, extending the life of those seats and putting to good use fabric which otherwise would have been scrapped. Other seats, in their original state, are being used as seating in the bar area.
There are constraints being situated in a railway arch and we were pleased to award the venue London Small Theatres Grants Scheme funding in 2019 to enhance soundproofing within the venue and increase the flexibility of its auditorium. This will enable the venue to broaden its programme knowing its neighbours are protected from any crossover noise.
Find out more about our free advice service and our grant schemes.