2020 Theatres at Risk Register unveiled
The list highlights the 30 theatres across the UK at risk of being lost that are examples of our rich theatre heritage and could be assets to their communities.
Now in its 13th year, the Theatres at Risk Register highlights theatre buildings under threat of closure, irreversible changes or demolition. Each of the theatres on the list are excellent examples of our rich theatre heritage and they are important to their local community. We believe they have the potential to return to live performance or as a valued asset for their community.

Of the 30 theatres:
24 are in England with 10 of those in the north west and 4 in London
3 are in Wales
3 are in Scotland
Theatres removed – Bradford Odeon and Peterborough New Theatre
We are pleased to announce that two theatres have been removed from the list since last year with their futures as performance venues now looking certain, thanks to investment in the buildings and the appointment of experienced professional operators.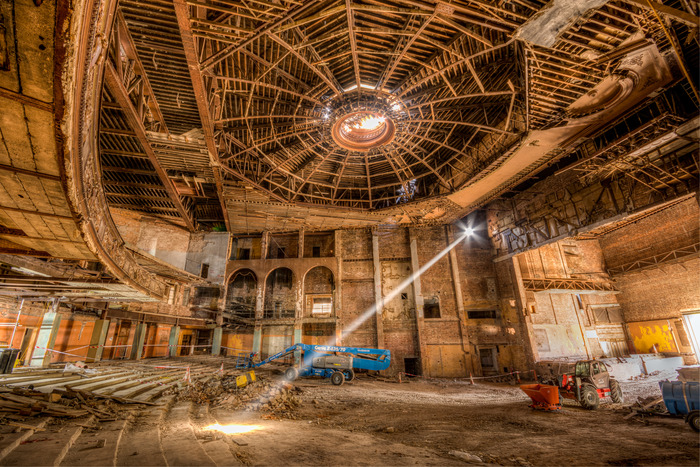 Bradford Odeon, which opened in 1930 as the largest ciné-variety theatre outside London, is being restored thanks to the dedication of Bradford Live and will reopen in 2020-2021 with the NEC Group on board as operating partner. Bradford Odeon will host an expected 300,000 visitors each year with a programme of more than 200 events.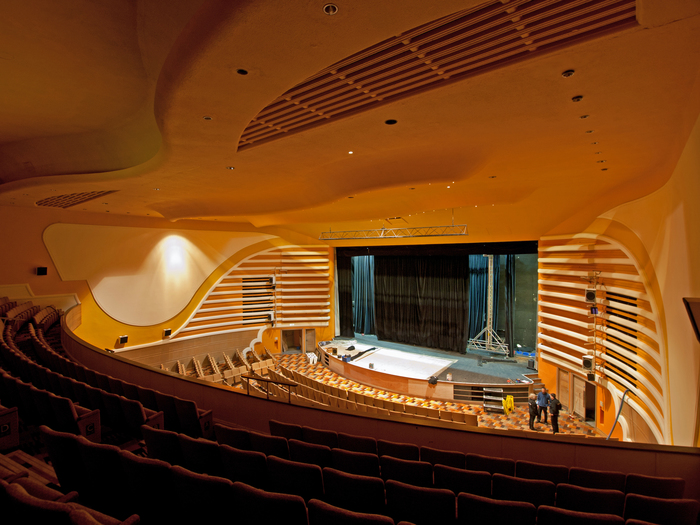 Peterborough New Theatre, a former Odeon cinema with beautifully restored interiors, is now under the management of Selladoor Worldwide and re-opened in September 2019 with a programme of quality large-scale theatre productions.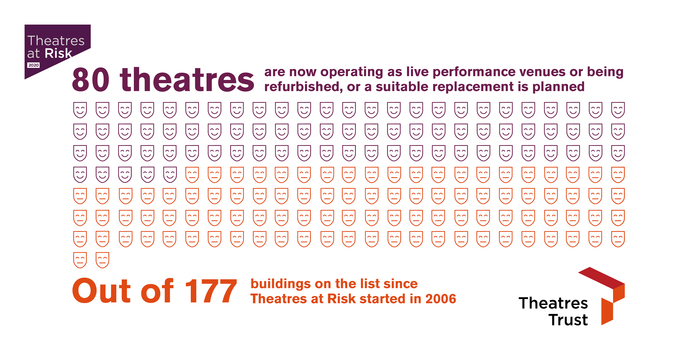 New addition to the list – Groundlings Theatre

Unfortunately, there is one addition to this year's list, Grade II listed Groundlings Theatre in Portsmouth.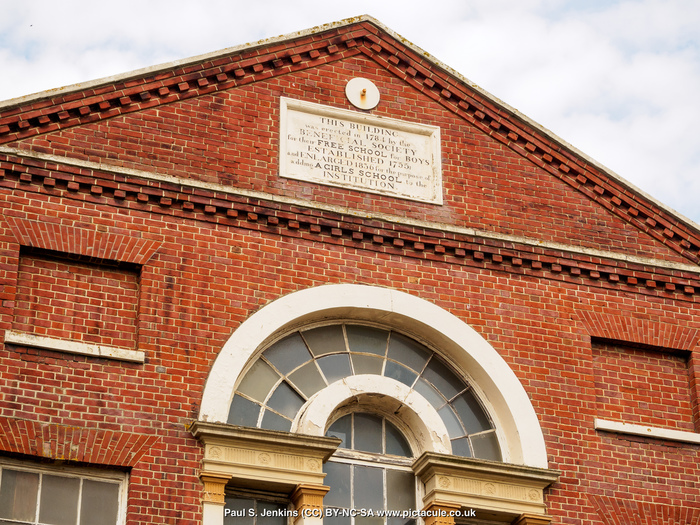 The theatre is a financially vulnerable position following a break-in that damaged building fabric and destroyed computers, leading to the loss of valuable data. The theatre is also at risk due to a development for student accommodation in its car park, which does not take into consideration the theatre operation nor the building's heritage. Read more about this theatre and its fascinating history.
Progress with other theatres
While much of the rest of the list remains unchanged, progress has been made with many of theatres – and returning a theatre at risk to use, especially if it been empty, is a long process. There was good news for Walthamstow Granada when it was bought by Waltham Forest Council in May. The council is working with Soho Theatre to restore and reopen this historic Grade II-listed building and reinstitute live performance.

Positive steps have also been made with the theatres who received support from the Theatres at Risk Capacity Building Programme – Burnley Empire, Morecambe Winter Gardens, Salford Victoria, Spilsby Theatre, Swindon Mechanics' Institute, along with Peterborough New Theatre. Launched as a pilot scheme in 2019, the programme provides grants and in-depth advice from the Theatres Trust for the early stage work that is often difficult to fundraise for but essential to set theatres at risk on the path to revival. We will be announcing details of the second year of the scheme soon.
See the press release for this year's Theatres at Risk Register.
Thank you to Tysers for sponsoring the launch event.
Photo credits:
Bradford Odeon by David Oxtaby
Peterborough New Theatre by Ian Grundy
Groundlings Theatre by Paul S Jenkins Photography pictacule.co.uk