Annual Report 2023
We've published our review of the year until the end of March 2023, which provides financial information and looks at our achievements.
As the UK's theatre sector emerged from the pandemic, theatres continued to face a difficult environment, including lower audience levels, cost of living pressures and funding challenges which impacted both income and expenditure. Theatres Trust worked with a wide range of stakeholders inside and outside government to make the case for support to help theatres weather these storms, as well as supporting theatres directly who were facing these issues.
The Annual Report provides a financial review of the year and looks at our achievements and performance in 2022/23 against our three main priorities:
Advice and planning
Campaigning
Grant giving
Download a copy of Annual Report 23 to read more.
Key impact statistics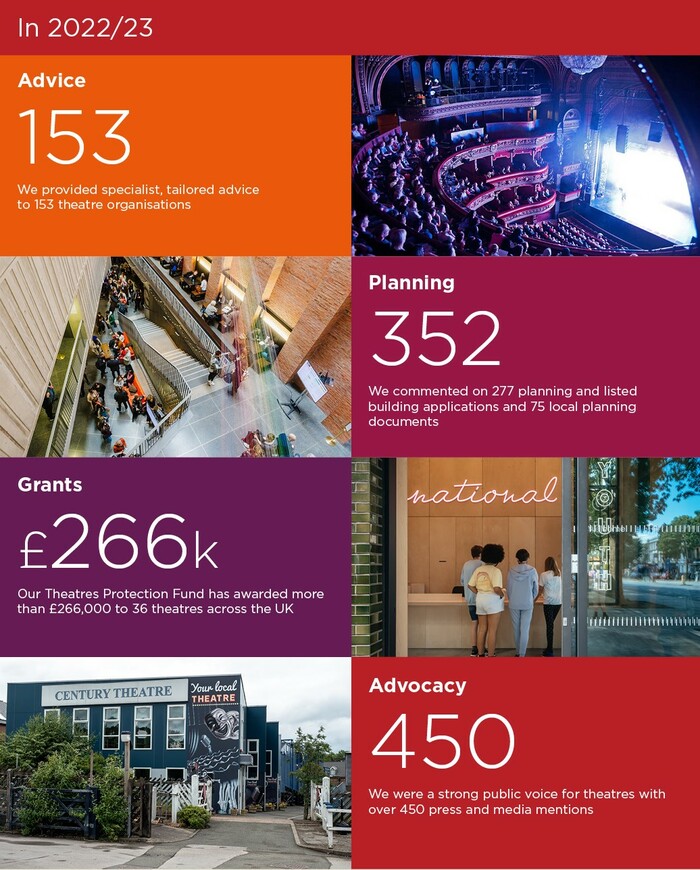 In 2022-23 Theatres Trust:
Provided specialist, tailored advice to 153 theatre organisations on a broad range of issues from business planning and fundraising advice, through to more technical advice on fibrous plaster ceilings and sustainability
Commented on 277 planning and listed building applications and 75 local planning documents
Awarded more than £266,000 to 36 theatres across the UK through two grant schemes, funding projects to improve the accessibility, viability and environmental sustainability of theatres
Was a strong public voice for theatres, responding to national and regional consultations on issues that impact theatres, contributing to external events and gaining more than 450 press and media mentions