Being on the Theatres Trust's Board
Current and former Trustees give a flavour of what it is like being in our Board.
Tim Eyles, Theatres Trust Chair 2015-2021
"What privilege and pleasure to have been Theatres Trust's Chair for 6 years, and a wonderful opportunity to work with a hugely talented group of trustees and staff committed to serving a single and nationally important purpose: to promote and protect the UK's theatres. Through our collective proactivity recent achievements have been multi-layered: securing changes in the law & policy, raising significant funding and increasing our media profile – all in service of our goal to ensure live performance is available to everyone. Theatres Trust is much needed in these straitened times for our industry and is now well placed to increase its influence and impact in the years ahead".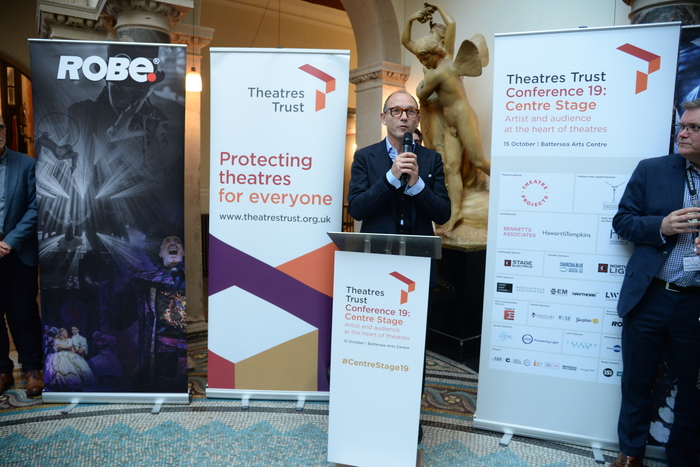 Ruth Eastwood, Chief Executive of Blackpool Grand and Trustee 2011-2020
"It has been a huge privilege to be on the Theatres Trust Board serving as Deputy Chair for just over 6 years. As chief executive of a major regional theatre, I understand the value of the Trust's work directly supporting theatre owners and operators to protect and improve their theatres, alongside working with local and national government to advocate for the value of theatres in communities across the UK. As Deputy Chair, I also chaired the Executive Committee and have been able to draw on both my theatre knowledge and my skills in HR and finance to advise the team during a significant period of organisational change and am delighted to see how much its reach and impact has grown in recent years".
David Ian, theatre producer and Trustee 2017-2020
"I loved being a Theatres Trust Trustee – getting to meet and engage with the various trustees who were experts in the areas of say planning, or architecture, as well as the seasoned theatre operators, who knew the buildings side of Theatre inside out. I particularly enjoyed witnessing the teaming up of Theatres Trust and Crowdfunder to launch #SaveOurTheatres, being a national campaign to save UK theatres at imminent risk of being closed down, for me it cut to the core of what Theatres Trust is all about".
Gary Kemp, musician/actor and current Trustee
"All my adult life theatres have been the place where I work my trade. To give back to these buildings and spaces, to protect them, to defend them, seems like the right thing to do. I'm honoured to be a trustee of the Theatres Trust and feel that my knowledge as a performer is an important asset at the table".
Simon Ricketts, planning lawyer and Trustee 2017-2020
"Being a Theatres Trust trustee was a wholly positive and productive experience - of being around a table with a group of people with an practical understanding of every aspect of the industry - from the art to the money - all with a common purpose. I also felt that even in the three years of my tenure the organisation had moved on immeasurably. Without great fanfare we achieved practical changes in law and policy - and had a positive influence on local authority policy formulation and decision making".